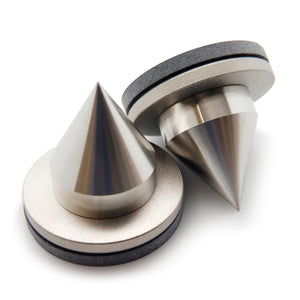 With 1" precision-machined stainless steel cone coupled to a wide stainless steel disc and decoupling layer of Herbie's dBNeutralizer, Superior Decoupling Spike neutralizes vibration, decouples, and holds loudspeaker cabinet or other component motionless for superior performance. Ideal for use on all carpeted floors. Can also be used with cone points facing up (or down) on bare floor or shelf.
Utilizing a wide base for lateral stability, Herbie's Superior Decoupling Spikes need no stud or adhesive (though optional pressure-sensitive adhesive is available); just place three or four under each loudspeaker. Easy to install: just tilt your cabinet a little, place a Superior Decoupling Spike under it, then set the cabinet down. dBNeutralizer gets a good grip, preventing the cabinet from moving or sliding.
Recommended for loudspeakers, subwoofers, amplifier platforms, or other load of virtually any weight.
Sold individually, not as a set.
Dimensions: Overall height: 1.35" (34.3mm) · width: 1.42" (36mm).
Customer Reviews
Write a Review
Ask a Question
I recommend this product
Worth the investment
Good product, sound became more focused, bigger sound stage & better bass extension
09/15/2021
Charles J.

United States
07/16/2020
Anthony S.

United States
decoupling spikes
these spikes worked well on my vintage lk48 intergrated amp very nice bass brought out all the nuances of the music better than the tenderfeet added the iso pucks for even more isolation going to try them under my rega saturn cd player stay tuned.
05/23/2020
Atif Z.

United States
Superior decoupling speaker spikes
The superior decoupling spike was a simple inexpensive upgrade to my speakers. With them under the speakers (four spikes per speaker) the bass was better controlled, but more importantly the mid-bass and mid-range became more resolved. Highly recommended.
05/23/2020
Jeffrey D.

United States
Effective Decoupling
I have been shopping at Herbie's for quite a number of years and have always found each item to be very effective at decoupling equipment from its racks, enhancing the sound without adding coloration. Everything has also been meticulously and consistently constructed, so I've always been a very happy camper. Now, Robert (aka Herbie) please don't retire anytime soon!
choosing a selection results in a full page refresh