Titanium disc with broad depression allows use with rounded feet as well as conventional cones. Great for heavy turntables, amplifiers and other components. Extra-thick dBNeutralizer pad provides grounding for vibration drainage. Works as a two-way decoupling barrier also, preventing vibrations from permeating into the audio rack or floor and subsequently reverberating back to the component or to other components, and vice-versa.
For use on virtually any kind of shelf, platform, stand, bare or thinly carpeted floor. Fat Grounding Base does not mar or smudge. Suitable for components of virtually any weight.
1.57" wide by .375" tall (40mm x 9.5mm).
Bottom of base to bottom of disc depression: .315" (8mm).
Customer Reviews
Write a Review
Ask a Question
03/26/2020
Calvin W.
United States
Gets The Job Done!
I've used the Herbie cone/spike pucks under my speakers for years and very satisfied with their quality and sonic result. I recently bought a used Kuzma Ref 2 turntable, 88 pounds of analog love. It has a main chassis which rests on 3 built in large shallow triangle shaped feet. The main chassis holds two motors and has four spring/silicone suspension towers on which the sub chassis rests. I purchased the Fat Grounding bases for use under the three main chassis feet. Performance improvement mainly in tightening up the bass articulation and improving the soundstage. Love these products and one should never underestimate the improvement they can bring to one's system.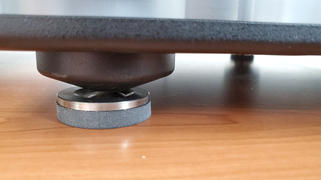 06/08/2019
Thomas M.
United States
Much more for far less
My audio rack is very heavy, made of maple and brass. The addition of grunge washers, fat grounding bases and tenderfeet under the components has made a night and day difference. Everything sounds better and the center channel on fat dots and the decoupling spike and grounding base has made dialogue from movies and television MUCH clearer and nuances like the room acoustics the actors are in are noticeable,i.e. if there is echo in the room then it is heard over the speaker now whereas before the sound(s) weren't even there. Give these products a try they will surprise you. ( In a GOOD way ).
fat grounding base
I put the Fat Grounding Base discs under a Mapleshade rack, which was already very solid but wobbled a tiny bit on its rounded feet and the turntable still suffered occasional disturbance from careless footsteps. With the discs, the rack is impermeable to external vibration. You can hear the difference. Thanks, Herbie.
Fat Grounding Base
I recently added these bases to my system rack and I think they do a fine job preventing vibration up the food chain back to my components. I wasn't deeply concerned before I added a new REL sub, but that device adds a lot of pressure and vibration to the room. Actually, I use a few Herbie's products to control vibration, which I think degrades the sound quality that reaches my ears. I'm not really a "it's pretty cheap so try it" person. I'm more of a "does it work" person. I do some research and consider each application; I have cheap solutions and expensive solutions. That said, who doesn't like an affordable improvement? These bases work great.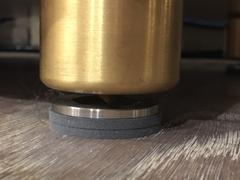 choosing a selection results in a full page refresh