Herbie's Soft Fat Dots provide plenty of compliance for micro-vibration control. Material doesn't mar or "ooze," doesn't dull higher frequencies or mess up the bass like Sorbothane and other soft, compliant materials. Softer than dBNeutralizer Fat Dots, Soft Fat Dots add more compliance when needed for small weight load, extra vibration control, or uneven surfaces. Soft Fat Dots are fast and highly responsive to microdynamic nuance, sonically neutral, very musical.
Large Soft Fat Dots are superior replacements for old Navcom pucks and superior upgrade for the "compliant interface support" pucks used in many Jeff Rowland amps and preamps.
Small: Recommended for desktop speakers and small "satellite" monitors weighing less than 10 pounds, and other light-weight isolation applications requiring a soft, compliant interface. Dimensions: 3/4" (19mm) diameter by 1/8" (3.2mm) thick.
Medium: Recommended for monitor and bookshelf speakers weighing about 20 pounds or less, and other audio and video isolation applications requiring a soft, compliant interface. Dimensions: 1-1/8" (28.5mm) diameter by 1/8" (3.2mm) thick.
Large: for severe vibration conditions involving speakers weighing up to about 30 pounds. Recommended in place of factory feet for use with turntables, CD players, preamps, and other components where a low profile is desired. Dimensions: 1-5/16" (33.3mm) diameter by 1/4" (6.4mm) thick.
Customer Reviews
Write a Review
Ask a Question
01/22/2021
David B.

United States
Shockingly Good!
The fat dots under my SACD player, which sits on a shelf in my wooden component rack next to my left speaker and near my subwoofer, improved my overall sound immediately and in a meaningful way.  Highs were cleaner yet not dulled, midrange tonality became more realistic/organic sounding with increased presence/palpability.  Bass evened out and seemed less out of control and more a part of the soundstage, which in itself became more well defined with better low level detail.  I'm astonished actually at just how many improvements were garnered from such a small tweak!!
12/12/2020
Lalit

United States
Herbie's Soft Fat Dot
I have recently ordered the 'large' fat dots and they have exceeded all of my expectations. I was experiencing pretty bad vibrations (rumble) every time I try to crank up the volume. The low bass energy from my pair of subwoofers was funneling into my SME TT. Most folks suggested to try HRS or SRA platforms to eliminate the vibrations. But I knew Herbie's makes footers that may help so I took a chance on Fat Dot's. I am so glad I did, my TT is now completely immune to any vibrations regardless of how loud I play the music. It's freakin' amazing how these nifty dots works so effectively. I highly recommend the soft fat dots to anyone experiencing issues related to vibrations. They also helped improved the overall soundstage...bass is now much tighter and mid's and high's are crisp and airy.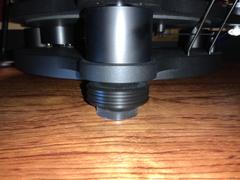 10/25/2020
greg j.

United States
Perfect for me !!!
Purchased these for my audio rack. They fit perfectly. As I gain momentum and fascination with these products, I realize more and the subtle tweaks that were missing in my systems. Thanks again. Another fine product. Looking to get a few more things. I wish they would discount after a few purchases. Just my opinion.
08/19/2020
Kyle S.

United States
Soft Fat Dots - A great addition to my turntable
I purchased a set of 6 small soft fat dots for my Schiit Audio Sol turntable to reduce some noise transferred from the console it sits on. The Sol has three feet supporting it's rather unique aluminum bearing assembly for the platter and a separate motor pod. Using 6 soft dots works perfectly to isolate the table and the motor pod retaining the pulley height and belt tolerances. I had considered a rather expensive isolation block but thought I'd try this as an economical option first. I'm happy to report that the soft fat dots have provided all the isolation I was looking to achieve. Price vs performance gives this 5 stars in my book.
07/02/2020
Peter C.

United States
Soft Fat Dots - Good Product
Applied Soft Fat Dots on my Desktop PC, Klipsch Speakers, and my Klipsch Subwoofer sitting on the floor under my desk. The left & right speaker housings have thin metal stands, that rest on my glass-topped desk. The Soft Fat Dots totally eliminated any vibration/buzzing sounds from the metal contacting the glass. My Subwoofer sits on a hardwood floor and occasionally buzzed on the hardwood floor when I "cranked it up". The Soft Fat Dots eliminated that as well. Good stuff. Thanks.
06/13/2020
Mark O.

United States
I am a long time Herbie's customer!
Always excellent service and products. Thank You! Mark Ostrov
12/11/2019
brendan o.

Ireland
Soft fat dot
Excellent, exactly as described
09/08/2019
robert g.

United States
Still great products...
...wish they would answer emails/phone, though.
Best Desktop Speaker Sound
Exceptional !!! Using small soft fat dots under computer desktop speakers (Monsoon MM-700 Multi-Media Speaker System, dipole radiating planar magnetic speakers, tubular angled wire stands) sitting on birch plywood stand-up desk. Transformed the sound to audiophile quality. Soundstage snapped into focus with increased depth, clearer vocals, more space around instruments, tighter bass. 3 dots, one in back, two under front corners results in an overall very engaging, musical experience. Makes you want to listen all night. Highly recommended!
Helped my preamp
Large fat dots on the hard plastic feet of my already very good 19 lb preamp resulted in easily noticed improvement in overall clarity and depth of tone. Effectiveness of vibration reduction measures depends on how affected your component, or speakers are by vibration, of course. I had excellent results from Soft Booties under a lighter, tube buffer preamp as well. Herbie's stuff is legit.
07/17/2019
David W.

Australia
dustcover buffers
record cleaning is no fun, Styli not cheap to replace, so use my TT dustcover.one fat dot at each front corner of the plinth stops the loud Clunk coming through the system as you close the Dustcover when playing a record., The fat dots de-couple the front edge of the dustcover from the plinth ,whilst a small padded bean bag and closed cell pad placed on the dustcover top whilst playing seems to help cut down any dustcover resonance getting through at the hinge side of the dustcover..Black fat dots match my plinth so not noticeable and do a good job.
07/11/2019
Hans R.

United States
Great, grippy, little, Small Fat Dots
These things really grip your components (without needing any adhesive at all) keeping a very stable surface. The isolation and stability are top notch!
choosing a selection results in a full page refresh