Individually molded with a proprietary platinum-cure silicone blend formulated in-house in consultation with Wacker Chemie AG of Germany for maximum micro-vibration absorption. Recommended for audio and video components weighing from 2 to 220 pounds (100kg).
Particularly well-suited for CD/DVD and SACD players, DACs, Blu-ray Players, preamps, power supplies and conditioners, turntables, and power amplifiers. Delivers a full-bodied and quick, highly articulate result with amazing linear extension. Works equally well with solid-state and tube components. Does not "ooze," mar, or discolor surfaces. A thin decoupling grungebuster Dot is adhered to the base of each Tenderfoot (Extra-Firm version has black grungebuster Dot).
Two versions available:
TenderSoft: for components weighing 40 pounds or less (18kg)
Extra-Firm: for components of virtually any weight up to 220 pounds (100kg).
Dimensions: 1.1" x 1.1" x .65" tall. (28mm x 16.5mm). Default recommendation: four Tenderfoot isolation feet per component.
Though scarcely ever really needed, pressure-sensitive adhesive is an available option.
---
Big Tall Tenderfoot: Same as above except molded extra tall to lift components free of tall factory feet. Also great for turntables having severe footfall or other macro-vibrational issues. Superior upgrade for AR, Thorens, and VPI suspension springs.
Dimensions: 1.18" x 1.18" x 1.02" tall. (30mm x 30mm x 25.9mm)
Customer Reviews
Write a Review
Ask a Question
11/12/2020
Jason P.
New Zealand
Herbies Tenderfoot positive feedback from Parmenter Sound
Dear Robert I would like to thank you for your wonderful Isolation product the Herbies Tenderfoot. I am incorporating your Big Tall Extra Firm Tenderfeet in my Parmenter Sound audio racks to isolate the shelves from the rack frame. The Tenderfoot Isolation product is excellent at reducing vibration from footfall and wood floor vibrations. I am so pleased with your Herbies Tenderfeet that I have made them a standard part of my audio rack design. Very highly recommended audio component. Thank you Jason Parmenter. www.parmentersound.com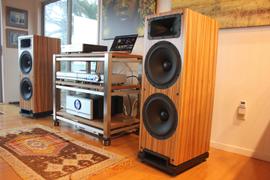 10/29/2020
Don G.
United States
Tenderfoot works
Placed four under my Peachtree Nova integrated amp. I was surprised at the effect they had on the sound. Everything sounds cleaner/tighter. I did a few before and after comparisons and there was definitely a change for the better.
10/18/2020
Glenn K.
United States
They work!
Herbie's footers are very effective isolation devices.
10/13/2020
Greg J.
United States
A long time ago I should have done this....
I just received my package. I put them in place. Its been a few days now. My sound cleaned up a bunch. I will purchase more of this product for my other system. What a difference it can make. WOW. So impressed. Thanks again. Looking forward to the next package.
10/09/2020
Erasto F.
United States
Outstanding Value
Better soundstage, transparency and wider soundstage at a minimal cost! Top quality products al a bargain price. Kudos!
09/30/2020
David S.
United States
Tenderfoot helped well!!
The first use of Tenderfeet was under my Rega TT installed in a compromised environment to remedy feedback, it helped. Then moved the TT to another system/location that I thought was not compromised and enjoyed spinning the vinyl, but sometimes wondered why it was not wowing me more. Voila! Dropped the 3 Tenderfeet under the Rega factory feet and detail was back in spades from controlling vibrations. Also ordered a set to put under my beautiful Eico tube amp. Didn't expect much improvement there, but once they came, dropped them under and you could tell immediately a substantial improvement in SQ. If you think of it simply, it does make sense: the same music vibrations you are enjoying can feed their way back to our tools that are reproducing music and cloud the presentation with destructive interference. Some folks whine about the cost of Herbie's products: they are excellently designed and worth every penny in a system that is of sufficient quality to notice such things. Thanks!
09/13/2020
Paul L.
United States
Tender feet Tube dampers
I have been using Herbies tube dampers for years they for sure lessen vibration and improve imaging , their Tenderfeet are excellent , I just bought a new Denafrips dac and just putting these tall tender feet under it gave a more cohesive performance especially soundstage depth and imaging , Paul J Letteri.
07/29/2020
Will .
United States
Herbie's Audio Lab Tenderfoot
After I installed four (4) Herbie's Audio Lab Tenderfeet under my dac/pre and headphone amp, I realized how much more musical my system sounded. The high & midrange frequencies emerged more clearly, while the bass introduced more impact. I believe the Tenderfeet's improvement provides a big improvement over the gear's stock footers. Comparing my system with and without the Tenderfeet proved to me I much prefer Herbie's Audio Lab Tenderfoot devices. Thank you Robert.
07/23/2020
Patrick G.
United States
Phono preamp
My Keces phono preamp has two chassis. I already had three of these under each chassis. Now they have four under each box. More stable, and better sound with four.
07/16/2020
Peter G.
Australia
Tenderfoot
Used them under arcam reciever and arcam power amp in a mid Atlantic rack. Made sound more transparent.
07/16/2020
Christopher S.
United States
Great Stuff
Calmed down my rowdy MC225. Great price and visually innocuous. I'll have to get some more.
07/15/2020
jacob c.
United States
AMAZING SOUND!!!!!
I purchased "Von Schweikert Special " big improvement on sound for my speakersthen decided to purchase "Tenderfoots" for my tube amplifiers. All I can say I made the right choice, bigger and clearer bass, highs and a bigger sound stage What else can I say but WOW!!!!! Aloha
choosing a selection results in a full page refresh