Individually molded with a proprietary platinum-cure silicone blend formulated in-house in consultation with Wacker Chemie AG of Germany for maximum micro-vibration absorption. Recommended for audio and video components weighing from 2 to 220 pounds (100kg).
Particularly well-suited for CD/DVD and SACD players, DACs, Blu-ray Players, preamps, power supplies and conditioners, turntables, and power amplifiers. Delivers a full-bodied and quick, highly articulate result with amazing linear extension. Works equally well with solid-state and tube components. Does not "ooze," mar, or discolor surfaces. A thin decoupling grungebuster Dot is adhered to the base of each Tenderfoot (Extra-Firm version has black grungebuster Dot).
Two versions available:
TenderSoft: for components weighing 40 pounds or less (18kg)
Extra-Firm: for components of virtually any weight up to 220 pounds (100kg).
Dimensions: 1.1" x 1.1" x .65" tall. (28mm x 16.5mm). Default recommendation: four Tenderfoot isolation feet per component.
Though scarcely ever really needed, pressure-sensitive adhesive is an available option.
---
Big Tall Tenderfoot: Same as above except molded extra tall to lift components free of tall factory feet. Also great for turntables having severe footfall or other macro-vibrational issues. Superior upgrade for AR, Thorens, and VPI suspension springs.
Dimensions: 1.18" x 1.18" x 1.02" tall. (30mm x 30mm x 25.9mm)
Customer Reviews
01/19/2020
Tenderfoot
My turntable's direct drive motor assembly sits on four hard rubber feet and I could hear a hint of rumble while spinning vinyl. I placed four tendersoft tenderfeet under the unit and it eliminated that perceptible rumble.
Michael G.
Denmark
12/12/2019
Tenderfoot
I have used Tenderfoot under my SoTm switch and router. It gives a better sound with more relaxed sound. Great soundstage and details
Richard F.
United States
12/06/2019
Tenderfoot
I sent you a question about this & never got a reply. For my application I found that 4 Tall Tenderfoots were too much. It softened the sound. I then went to 3 Tall Tenderfoots. It was better but not quite right. I then went to 2 Tall Tenderfoots & 1 regular size. In order to get the right heigh I inserted apiece of cork. I found this to be the best way to use the tenderfoots with the Vennie Rossi LIO amp. I did not want to take off the feet so I needed the Tall. I have used the regular Tenderfoot on other equipment & like what they do. Depending on the type & weight of equipment the tall Tenderfoot may add too much damping where as with the regular Tenderfoot is fine.
Frank W.
United States
11/15/2019
Tall Tenderfeet
After replacing the stock power cable on my Hegel CDP with an upgraded one and hearing the impressive results, I thought I was done. I was wrong. I had already purchased tenderfeet for my turntable, gliders for the speaker spikes and the Von Schweikert fat dots package, so I thought I would give the tenderfeet a try on my CDP. I purchased the tall ones to match the stock height. At first listen the improvement was immediate. Deeper, punchier and tighter bass. More pronounced and cleaner highs, extended decays and wider soundstage. But what I noticed most was the instrument timbre. Wow. Accoustic piano was so lifelike. The same for upright acoustic bass. The performance has moved into the room even further. Highly recommended for CD players. I ordered 3 to match the stock setup but will probably order a fourth for better balance. May even try the sonic stabilizers down the road. It's like an equipment upgrade for a fraction of the cost.
Dilhan W.
United States
10/24/2019
Tenderfoot under tube amps and CD transport
Very happy with the results after placing Tenderfoot under my Sophia Electric 300B tube mono amps and CEC CD transport. Improvements in focus, imaging and bass tightness. I didn't expect how the feet cleaned up the high frequencies, I am hearing more details and it's smoother. Planning to order some more feet for the power regenerator and preamp. It would be great if Herbie would consider making some wooden speaker cables elevators.
Mark D.
Canada
10/04/2019
Not better than my existing isolators
I tried the Tenderfeet on my DAC, Amp and Power Plant and they certainly improve the sound over the stock chassis feet, and initially the sound was similar, but not quite the same, to when using Vibrapods with cones. However, over a few days the sound with the Tenderfeet deteriorated somewhat. One by one, I replaced the Tenderfeet under each chassis with the Vibrapods and the sound quality steadily improved until it was back to normal. I had great hopes for the Tenderfeet after reading that others had great success, but they don't work well enough for my system, which is on a sturdy home built baltic birch cabinet system (1.5 inch thick walls and shelves).
Elton C.
United States
10/03/2019
Tenderfeet transformation
I initially purchased a set of these , then kind of sat on it for a while. I was using BDR pucks under my amp, I finally through these in under the amp in their place and I was surprised at the increase in clarity that I got . I made the decision to go all in with Herbies. I placed a set under one of my subs and again shocked as the bass went from kind of a little fat and tubby to clean detailed bass lines. So now both subs, my amp, my dac and transport and phono preamp all have tenderfeet under them and I encourage anyone to give them a try. I've used a slew of those cork sand which squares and these are better.
Glenn W.
United States
09/05/2019
Tall Tenderfoot
exactly what I needed...perfect
Joseph G.
United States
07/12/2019
Footers that almost weren't
You suggestion to increase the number of footers under components was a good one with significant improvements going from three to five footers under preamp and universal player. However, you sent the footers to someone else's address, a vacant house in fact, and was about 10 miles from my home. After visiting three separate post offices I finally found the footers but it was a time-consuming and frustrating experience. Next time pay closer attention to the address I provide and not something you made up.
Joseph G.
United States
07/04/2019
More IS better
I went from three Herbies Footers under audio components to four, then five as Herbies suggested and the improvement in musical richness, detail and impact improved significantly in an already well balanced system and detailed sustem.
David D.
United States
06/30/2019
Worth a try
These feet are probably better than the stock feet of my turntable but I went back to my racquet ball isolation platform. I can tap on my hifi rack with the needle on the record and the raquet balls resist all sound from being fed back into the turntable. The tenderfoot allows a lot of feedback. Just my experience.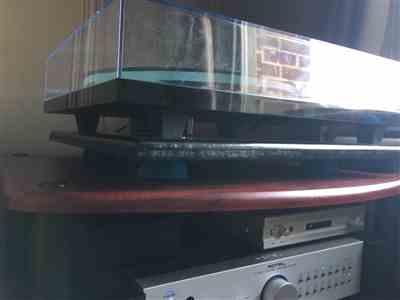 jim s.
United States
06/29/2019
More Tenderfeet
I needed some footers for my new power conditioner and ordered a set of Tenderfeet straight away. No need to audition them since most of my components have Tenderfeet underneath. I've been using Herbie's products for years.
choosing a selection results in a full page refresh