Loudspeaker spikes are more effective when used in conjunction with Herbie's dBNeutralizer decoupling, especially with wood or suspended floors, whether carpeted or bare. Likewise, if your spikes couple firmly to your cabinet and are themselves solid and relatively free of coloration, they will complement Herbie's Decoupling Gliders very well by easing some of the workload and making the Gliders even more efficient. (Herbie's Cone/Spike Decoupling Gliders are used under your present spikes or cones.)
Features fiberglass-reinforced dBNeutralizer(tm) decoupling base and extra-thick brass, stainless steel or titanium disk. Fitted into Magic Sliders, they can be used on virtually any kind of floor, bare or carpeted, with easy-sliding mobility. Extra-deep conical indentation prevents spike from slipping out when lateral pressure is applied. Suitable for audio racks, stands and loudspeakers of virtually any weight.
Regular: 1-3/8" diameter by 1/2" tall. With speaker load, height from bottom of Glider to bottom of conical indentation is about 5/16" (8mm).
Giant: 2-3/8" wide by .67" tall (conical indentation is .144" deep).
Brass: superb hi-end results with most audio systems (our default recommendation).
Stainless steel: superb hi-end results with most audio systems.
Titanium: best-looking and best-sounding results possible.
Customer Reviews
Write a Review
Ask a Question
11/14/2023
Anonymous

United States
I recommend this product
Cone/Spike decoupling gliders
My floors are engineered hardwood laid over a concrete slab. They're not completely flat. Optimal speaker placement initially requires substantial movement to position them correctly. My speakers came with spikes and thin pucks with very shallow depressions so the spikes often would slip out of the pucks when moving the speakers laterally damaging the floor. These gliders have very deep depressions so the the spikes never slide out and make speaker adjustments a breeze. Additionally they decouple the speakers from the floor removing that unwelcome and audible interaction. Highly recommend for those who have spiked speakers and need to move or reposition them safely over wooden floors or carpets. The audible improvement with decoupling is an added bonus.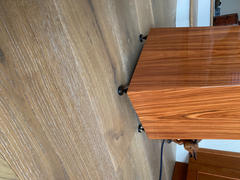 11/05/2023
Ole H.

Denmark
09/23/2023
Gerry C.

Ireland
I recommend this product
Great product
Great product but really too expensive for what it is . I suppose on reflection I would have been happy with my purchase if the large decoupling gliders were between 50-60% less expensive.Sorry Herbie's Audio!
09/12/2023
jeffrey s.

United States
I recommend this product
Cone/spike decoupling gliders
I ordered these decouplers for my spiked feet on my speakers which have found a new home on the second floor of an old barn house. You can feel footfall and movement in the floor easily and my bass seemed mushier. The change was noticeable and welcome. I like tight bass and I could be imaging this, but the whole image seems more cohesive …cool
07/19/2023
John W.

United States
Works as advertised
I selected the Cone/Spike Decoupling Glider - Giant / Titanium - Amazing product, well designed, beautifully built, and they work as advertised. The spikes on my speakers fit perfectly in the indentations, doesn't raise the speakers up to much like other many other products, and makes it incredibly simple to move large heavy speakers. Being able to easily place speakers to an exacting location, is in it's self worth purchasing them. In addition, the decoupling created a larger sound stage, and tighten up the mid-bass and low end. A little pricey, but "you get what you pay for" Thank you Herbies Audio Lab
07/14/2023
Anonymous

United Kingdom
I recommend this product
Isolation
Simple effective way to avoid poor speaker/flooring interaction resulting in faster and tighter bass.
07/12/2023
Larry

United States
I recommend this product
Excel at stability and isolation.
I bought these to replace the smaller gliders on my L/R front surround speaker stands as our cleaning lady occasionally bumps them, carving into the floating wood floor. Overall these are a huge improvement in stability. As the stands were already on the smaller gliders, I'm not noticing much sonic change. That said, years ago when I installed these on my CM10 towers and my speaker stands, the effect was DRAMATIC. Base tightend, boominess vanished and sound stage improved. Highly reccomended.
06/12/2023
Christian M.

United States
I recommend this product
Decoupling Glider Review
I decided to try and see what decoupling my Focal Kanta 3s would do for sound, specifically with the goal of tightening up bass and allowing the midrange to be more pronounced. After reading many forum and online reviews, I figured this would be a good way to try it and not spend a ton. Herbies definitely delivered, and am ecstatic on the improvements in the exact areas I was hoping for. Are there more expensive solutions out there? Sure. But these do exactly what they say and are a terrific value. Highly recommended.
06/08/2023
Ron F.

United States
I recommend this product
Giant Brass Spike Decoupling Glider
Great product! It allowed me the decoupling benefit of spikes while allowing the fine tuning movement of my 270 pound speakers.
05/16/2023
Mark M.

United States
I recommend this product
Love these little guys.
Really was surprised how much these improved my sound (floating subfloor) from my speakers. I also need to move my speakers out from the wall when listening, and these make it so easy to move them now. Highly recommend. No regrets.
05/16/2023
Bernard L.

Canada
I recommend this product
Great quality
Decoupled my spyked focal chora 826 speakers. Glides easily on wooden floors. Very stable.
02/28/2023
John B.

Canada
I recommend this product
Cone Spike Decoupling Glider
Amazing product, each my bass bins has four spikes on carpet with an under pad over a concrete floor. I could hear a reduction in bass fuzz after sliding a glider under the first spike. It only got better from there. Exceeded my expectations.
choosing a selection results in a full page refresh