For decoupling large and heavy speakers, cabinets, and racks. Herbie's extra-thick (3/8") dBNeutralizer Giant Fat Dot, embedded in a Magic Slider with smooth polymer bottom, grips the cabinet bottom (no need for screw or glue). Provides unsurpassed isolation/decoupling, holding loudspeakers vibration-free, reducing vibration-influenced distortion for the ultimate sonic enjoyment. Appropriate for loudspeakers and cabinets of virtually any weight on any bare or carpeted floor.
Perfect as a decoupling/isolation base even when mobility is not an issue.
2.36" wide by .63" tall (60mm x 16mm).
Customer Reviews
Write a Review
Ask a Question
01/01/2021
Daniel V.
United States
Great products across the board
I have been using Herbie's Audio Lab's products for years, and I only have great experience with everything that I have ever purchased from Henie's, and with their customer support. I just recently ordered the Giant Fat Gliders for my monster Von Schweikert VR-7s, and they work great.
12/15/2020
John W.
United States
Just for fun
Got 8 of these for my Klipsch la scala IIs. Thought what would happen would be negligible if I got any results at all. The results were pretty good actually. They seem to give more focus to the mids and highs but the biggest and most needed change came in the lower frequencies. Very cost effective!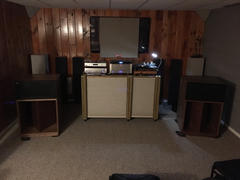 06/24/2020
DHC
Macau SAR China
Giant Fat Glider
I was the ex-user dated back 2002. I have 9 pcs with me for assorted usage in the past which I found it is very warm balance tonal. Recently, I have placed another order for 14 pcs of Giant Fat Glider for my KLIPSCHORN AK6 which weight 220lb per side. I do not want to use the old pcs because I want to make sure I have the fresh Giant Fat Glider to ensure the tonal and optimize the deep bass extension as well as softening a bit the horn tweeter and mid range. Also, the Giant Fat Glider allow me to move the heavy KLIPSCHORN easily on carpet, wood floor or hard floor.
05/30/2020
ron j.
United States
Giant Fat Glider & Giant Threaded Stud Gliders
Fantastic when used with my Transmission Line Sub-woofer Speakers (my PMC XB3's & my XB2's)... notes are distinct/well articulated...boomyness is gone... they allow my sub-woofers to sound totally/incredibly Musical...
04/28/2020
Santan F.
United Arab Emirates
Still waiting for my order
I have not received my order yet. I have been tracking it , I can see it has not moved fro Chicago from the 9th of April. I would appreciate if Herbies can follow up and try to speed up the delivery. Thanks Santan
03/18/2020
Bruno M.
Italy
Spike decoupling glider.
A wonderful tweak ! Highly recommended.
10/06/2019
Peter H.
Australia
BIG Fat Gliders
The gliders certainly work in decoupling my main speakers and subwoofers from my bare wooden floor. Bass is a lot tighter and doesn't come through the floor. Spikes are just old tech, don't do anything. The big advantage is being able to move the speakers very easily. My only issue is that the Gliders move around and I need to reposition the gliders after moving. Highly recommended
Absolute bargain price with outstanding performance.
I found these are only bettered by the Townshend Audio Seismic Podiums under my Sound lab Majestic 545. I decided not to send the Giant Fat Gliders back because they are so good and very fairly priced, so I use them under my REL Studio mk11, REL Stentor mk1 and between Sound Labs Majestic 545 and Townshend Seismic Podiums. They do exactly what they say on the tin, decoupling your speakers/subs/equipment from floor/room. I highly recommend these Giant Fat Gliders they are truly magical and dare a say a High End Audio bargain, along with the other Herbie Audio Labs products I have tried and kept, you will not be disappointed.
Giant Fat Glider
These are great at both isolating speakers from the floor and sliding them..highly recommended!!!
Good product - medium communication
Love this product. Ordered 6 fat gliders some time ago, recently ordered another set of 2 because my Rel Gibraltar need 4 gliders each. I specifically requested shipment as a gift because the first order a whole bunch of tax was added. This was not done so I paid taxes again. Maybe it wasn't possible for some reason. However, it would have been nice if this was communicated in some way.
choosing a selection results in a full page refresh