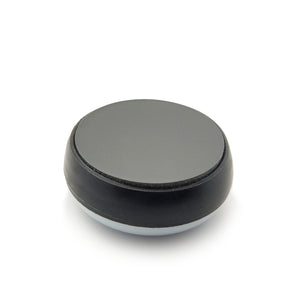 Herbie's dBNeutralizer Fat Dot with Magic Slider provides mobility and superb "Fat Dot" decoupling on almost any kind of smooth floor or thin, unpadded carpet. With extra-thick dBNeutralizer pad and smooth polymer bottom, Little Fat Glider achieves a superior level of sonic perfection. Superb for loudspeakers and cabinets weighing up to about 100 pounds (45kg) on bare or thinly carpeted floor. 
Available with or without pressure-sensitive adhesive.
Recommended to support broad, flat surfaces only; not for use under spikes.
Dimensions: 1-3/8" diameter by 1/2" high.
Customer Reviews
83
reviewers would recommend this product
Write a Review
Ask a Question
I recommend this product
Not sure it's right product, need help, please contact me
I have called and emailed you several times requesting someone contact me. I believe I ordered the wrong product and need to speak with someone about a different one. It's hard to do when no one will contact me. Not sure what the issue is but I'm not impressed with situation. Rusty Nixon
05/22/2022
Sonkpol K.

Thailand
I recommend this product
Superb product
I'm very impressed with the gliders, as they changed nothing in sound of my Harbeth with Tontreger stand, but improved image and soundstage. Really happy with them.
08/29/2021
Anonymous

United States
I recommend this product
Jury Is Still Out!
Just put the Little Fat Gliders in play yesterday under some granite slabs that my speakers now sit on. There has been little to no affect on the sound, negatively or positively. They do make it easier to slide the speakers for positioning. Thanks!
01/24/2021
Stephen C.

United States
These are excellent and the perfect solution to what I was looking for
The title says it all. My new Klipsch reference speakers were too heavy to move in and out of their locations with no room on either side when I needed to get behind them. These dodads did the trick! Now they slide quite easily while remaining firmly on the floor.
01/20/2021
Hank D.

United States
Little Fat Gliders taming my Dynaudios
These little guys are on duty isolating energetic Dyns from my loft flabby wood floor. When I'm finished near field listening, the pads allow speakers to easily slide back up against the wall... faster than Derek Jeter stealing a base. Spikes can be a pain in the neck.
11/21/2020
Michael C.

United States
Perfect solution
Allowed me to easily work thru the best position for my speakers and improved the tightness of the music.
11/16/2020
Richard M.

United States
Little Fat Gliders work well
After having a great experience with decoupling gliders on the stands for my main speakers, I decided to try some little fat gliders on my old NHT 2.3 tower speakers which have been repurposed for our basement. Adding the gliders to some outriggers I fabricated helped remove a low midrange resonance and also provided at least the perception of a clearer top end. And the speakers are much easier to move to optimize placement!
10/14/2020
Denis G.

Canada
Little Fat Gliders
Great product and great service.
10/02/2020
Pope m.

United States
07/09/2020
Vincent C.

Australia
Wow!!! Just wow. Thank you
I don't usually do online reviews but I am so impressed with these, I really want to write a review. I moved to my new house and my living room is on the 1st floor. I removed my floor standing speakers spikes because I have polished timber floor. My system sounded really bad with no bass at all and really rough sounding. At first I thought it was my room acoustics. Then I read about decoupling devices for speakers for situation like mine. I thought I'll give the "Little Fat Glider" a go and if I get marginal improvement, I'll be happy. Installation is straight forward. My speakers now sounding better than ever. Bass is back and it's both tight and extended. Lots of details in mid range but still sounding very natural and smooth. Basically, my speakers can finally perform properly and I can enjoy music again. I would highly recommend Little Fat Glider.
02/12/2020
Roland Z.

Switzerland
Very satisfied
My speakers have never sounded so good. And as a bonus, they can be moved very easily. Happy wife;-)
01/19/2020
Ric G.

United States
Good purchase
The Little Fat Gliders work fine on my Directstream Jr. and seem to be a fair price as well.
choosing a selection results in a full page refresh