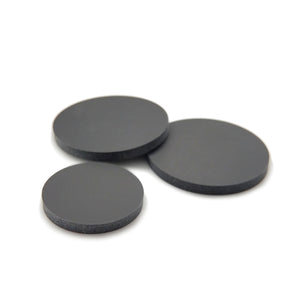 A thin layer of Herbie's dBNeutralizer material for decoupling and isolation in a moderate vibrational environment. Great as an interface between top of loudspeaker cabinet and weight. Polished granite slab, sandstone, paving block, ceramic tile, or other material placed on top of a loudspeaker cabinet or subwoofer can help to stabilize cabinet vibrations. Using "Thin" Fat Dots as an interface makes these materials even more effective and at the same time eliminates any sonic character the material might introduce.
Also great under heavy vibration-control platforms and other general decoupling applications where a semi-firm interface is desired.
Sold individually, not as a set.
"Thin" Fat Dot: 1-5/16" diameter x 1/8" thick
Small: 15/16" diameter x 1/8' thick
Customer Reviews
83
reviewers would recommend this product
Write a Review
Ask a Question
01/26/2023
T.T.

United States
I recommend this product
Very Good Solution
I use the "Thin Fat Dot" (small, adhesive) under the feet at my rack Solidsteel S3-2. What I got was a lower floor noise level and a more natural sound. I chose "Thin Fat Dot" because it keeps more of the leading edges. Unfortunately, too much damping can make the music sound lifeless.
11/24/2022
Stephen E.

United States
I recommend this product
Reliable solution
I've been a customer for many years and find Herbies product are reliable solutions to the audio problems they address. Never expensive and always effective.
06/20/2022
Richard H.

Canada
I recommend this product
Excellent
Excellent product. Placed under my Audio Note AN/E to stands. Well worth it. Better than bluetac.
04/05/2022
Lawrence S.

United States
I recommend this product
Pleased with a more secure and isolated foundation on my stands…
My B&W CM5's are my L/R in my surround system. They sit on aluminum stands filled with sand bags, which in turn, sit on Herbies spike sliders on a floating hardwood floor. I added these between the speakers and stands. Have I noticed any sonic difference? Not really but they sit more securely.
02/14/2022
Ingolf W.

Canada
I recommend this product
Thin Fat Dots
I used the "Thin Fat Dots" under the 4 feet of my Project turntable. Noticeable differences' are tighter bass, and improved imaging. I've been using various Herbie's products for almost 20 years now, and performance of products are top notch. Great value for the money as well. Highly recommended. Ingolf Canada
03/09/2021
Fredrik

Sweden
04/05/2020
Christopher H.

United States
Impressed with Items Purchased
28 Cone/Spike Decoupling Glider & 2 Fat Grounding Base - All 4 Towers and 2 Subs utilizing the Decoupling Gliders impressed and amazed me with the quality of improved imaging and bass was increased with being clean and tight. Did not expect this difference to be an instant change. The Fat Grounding Base was used to sit under the center channel in using same materials for decoupling and angling up. Simply IMPRESSED and Robert provided great guidance! Thanks Christopher
03/05/2020
Volker M.

Germany
Thin fat dot
A great interface between your audio gear (amps, preamps etc.) and diverse metallic tuning feet. More than stunning results (at least according to my experience)!!! Not to be missed!!
08/09/2019
Mick B.

Australia
Thin Fat Dots work a treat!
Used between my 32kg Loudspeakers and their dedicated stands the "Thin "Fat Dots work very well indeed. Loudspeaker performance is much improved by replacing the BluTack blobs I was using. Stability is excellent too.A highly recommended tweek. Regards Mick
Great! Great! Great!
Fast shipping. Did I mention Great?
11/28/2020
Scott S.

United States
cool dots
love the dots. I couldn't say if they improved the sound but I can say they are perfect in size and function. they made my setup more easy and convenient. The friction they provide for speaker mounted to stands is excellent. I do wish the shipping was more timely. I've ordered twice from Herbie's and both times they took three days before the product was even shipped. Certainly not a deal breaker. They will eventually arrive packaged with professional care in a precisely labeled heat sealed plastic sleeve and doggone it, you can't help but feel good about that. Cheers!
Thin Fat dots
In my experience, Herbies Audio offer a fast service, good communication and they make products that are great value for money. I've now tried both the Thin Fat Dots and the Standard Fat Dots. When both products were inserted between my wooden cones (from Russ Andrews in the UK) and my amp stand, they both noticeably improved the sound, bringing greater ease and naturalness to the equation. The Thin Fat Dots retained more of the leading edges and the thicker Standard Dots provided a slightly richer & fuller sound. It really depends on what flavour you want. Good isolation makes a difference and is worth experimenting with - and Herbies is a good place to head.
choosing a selection results in a full page refresh