Nifty glider replaces threaded spikes or cones for loudspeaker or rack isolation and mobility with superb lateral stability. (With an efficient decoupling approach, spikes are not really needed at all.) Fiberglass reinforced dBNeutralizer-filled vinyl base with smooth polymer bottom handles virtually any weight load on bare or carpeted floor. With jam nut to lock-in height adjustment. (Superb also for use as turntable or amplifier feet.)

Dimensions: width: 1.3" (33.3mm) · fully mounted height: ≈ .4" (10mm)
Note: Threaded Stud Gliders are sold as a single unit.
Threads available:
8-32 (1/2" or 3/4" long)

10-32 (1/2" or 3/4" long)

1/4"-20 (1/2", 3/4", 1", 1.5" or 2" long)

5/16"-18 (1/2", 3/4", 1", or 2" long)

3/8"-16 (1", 1.5" or 2" long)

5/8"-11 (female for Salamander)

M5 (16mm long)

M6 (16mm, 20mm, 25mm, or 40mm long)

M8 (16mm, 25mm, or 40mm long)

M10 (25mm long)

Metric thread pitch:
M5=0.8, M6=1, M8=1.25, M10=1.5
 Common manufacturer thread sizes
Giant Threaded Stud Glider: Same as above with threaded stud embedded with fiberglass-reinforced dBNeutralizer into large Magic Slider. Broad footprint provides superior lateral stability, with ample dBNeutralizer "beef" to isolate the heaviest speakers in the most severe vibrational conditions (nearly five times more vibration-absorbing dBNeutralizer than regular Threaded Stud Gliders).
Dimensions: width: 2.36" (60mm) · fully mounted height: ≈ .585" (15mm)
  Threads available:
1/4"-20 (1/2", 3/4", 1", 1.5" or 2" long)

5/16"-18 (1/2", 3/4", 1", or 2" long)

3/8"-16 (1", 1.5" or 2" long)

5/8"-11 (female for Salamander)

M6 (16mm, 20mm, 25mm, or 40mm long)

M8 (16mm, 25mm, or 40mm long)

M10 (25mm long)

Metric thread pitch:
M5=0.8, M6=1, M8=1.25, M10=1.5
Customer Reviews
Write a Review
Ask a Question
09/19/2020
Charles T.
United States
As good as all the reviews indicate
Finally made the move to Herbie's and so glad I did.
08/19/2020
Herb H.
United States
Improved sound & mobility
MY Bowers & Wilkens Speakers became crisp and cleaner with more cymbals and all round improvement. I bought the longer threads [1"] so I could add 2 nuts and a 1" washer on top to get the speaker slightly above my carpet. The 1" washer lets the weight of the speaker sit on the washer instead of the speaker insert. Worked very well.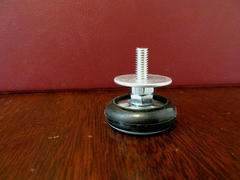 08/16/2020
Frank L.
United States
purchased Threaded Stud Glider
like all of Your products I've purchased over the years, I'm very happy with the functionality and value.
07/26/2020
Sean M.
Canada
Room rattles gone!
These plain looking little feet removed what were major rattles. Cleaning that up makes the kids and highs so much nicer and cleaner. Unquestionably the best $200 tweak my system has seen by far.
07/23/2020
Roger M.
United States
Got 4 large for my HiFI Rack: they are so good I bought 8 more for the speakers
We have a 200 year old farmhouse with old, uneven, suspended oak floors that can transmit considerable vibration as people walk by or the dogs are playing. I had a bespoke HiFi Rack made by T&L Woodworking of Stevens, PA using 1.5" Cherry butcher block with wedged dowel construction for the legs. Based on recommendations from Audiogon I got the large 3/8" threaded stud gliders to provide isolation as they were the easiest socket inserts to acquire to screw them into (I wish Herbie's sold these too). The improvement in sound quality over the previous Oak Mission table that I was using is huge - tremendous improvement in image stability and separation of instruments. My wife liked the new sound so much she asked me to get 8 more for my Spendor A4 speakers (M8 thread) both to help the isolation and to make it harder for the dogs and small children to knock them over. I would say the improvement from the speakers is not as dramatic but still a very worthwhile improvement for the price and they are indeed now much harder to accidentally knock over.
07/04/2020
Klaus .
United States
Careful comparison leads to stunning result
I had a horrible time with some B&W 803 matrix series 2 speakers. Couldn't find out what was wrong and finally got into isolation from the floor (suspended hardwood floor - yes, I understand now). Did a careful comparison between the Herbie's gliders and the Gaia. Had the two speakers on mono, side by side about 3 feet apart in the middle of the floor. By moving the balance from one to the other could clearly hear the conversion in sound characteristics. The Gaia did a good job and definitely helped, but the Herbie's were clearly superior (and it certainly didn't hurt that they cost a tiny fraction as much). What I didn't realize was how useful it would be to be able to slide the speakers around on the floor using the Herbie's. I am simply pushing my heavy towers around with one hand to accommodate my wife when she entertains, to use different spacings for different recordings etc. That alone made these really worthwhile. Had to let other people know - made such a difference3 for me. By the way, Gaia was very good about taking their feet back when I returned them - no questions asked after two weeks. In fairness, this may well depend on the particular floor and speakers, but I am very impressed and quite happy.
06/19/2020
John
United Kingdom
Protect the floor and more
I freely admit that I bought these primarily to protect my early 19th Century timber floor from spike damage or the marks often left by spike cups. Finding nothing in the UK between the rubber the feet found on refrigerators and so on and very expensive over-engineered absorbing feet I found Herbie's in the US. The feet do a five star job of lifting my Spendor speakers from the floor and levelling them. I was more surprised hearing the sonic effects. I expected some tightening of the bass as the speakers are no longer in direct contact with the floor and this is apparent, but the greater clarity of the treble and a slightly sharpened rasp to trumpets etc was a surprise. In my set up this has been particularly beneficial to vinyl replay. My wife says the sound is richer which is true but I think instrument placement is slightly more diffuse. So four and a half stars here. I am delighted that the US postal service tracked the parcel to delivery when I signed up for tracking as this was more than Royal Mail could manage. A warning to Brits here. The package was held up in customs for a week and I have been monstrously overcharged for VAT - not Herbie's fault but it does take the edge off the experience. There is an appeal process but the way it is set up makes you sympathise with the way the same body treats immigrants (or even passport holders it decides to sent back to the Caribbean - yep we have racism here too). So to conclude this is a good product which I would recommend, but it would be even better if you could get yourself a British distributor to cut out the hassle.
06/14/2020
ron j.
United States
another Excellent Purchase Experience!
i keep coming back for more...really fantastic with my Sub Woofers and also with my Equipment Racks... seems everywhere it's tried, improvements are immediately Very noticeable... and being able to move heavy equipment is effortless for one person to do... a true Value in all respects!
05/22/2020
Ed G.
United States
Threaded Stud Glider is a great accessory
I ordered the Threaded Stud Glider so I could easily move my speakers around on carpet to find the sweet spot for my audio system. They are well made and easy to install. It made moving the speakers a breeze. What I didn't expect was how well they made my speakers sound. Better than my spikes on hard surface. Thank you!
02/04/2020
Marco C.
Italy
Giant threaded stud glider... excellent
Finally I found the feet I needed for my extremely heavy speakers. The giant threaded stud glider reach an ideal compromise: sturdy construction and assure easy moving of the speakers in the room; all this at a price that without doubt it's a real bargain in high-end audio in comparison to competitors. Last but not least, their contribution to an overall better sound through the entire spectrum is absolutely clear. Well done Herbie! my best Marco
01/05/2020
Kyle S.
United States
Threaded Stud Glider to the rescue!
As with many people, my listening room is dual purpose and needs to be aesthetically pleasing in addition to being functional. In my case, my speakers (Spatial M3 Turbo S) must sit half on a thick area rug and half on vinyl floor over concrete. In addition to this need, I've found the sound stage of my Spatials to be a tad low. I had read good reviews about the Herbie's Audio Lab products and decided to give them a try. While I skeptical that I would hear enhanced sound over the spikes from the speaker manufacturer, I was hopeful to at least raise the sound stage and level the speakers across the different flooring surfaces. I'm very happy to report that the addition of 2" threaded stud gliders successfully raised the sound stage. These gliders also made it easier to level the speakers and move them into the room when in use. Additionally, I did hear sonic improvements beyond the increased height of the sound stage. Bass extension is deeper and faster. Resolution of the mids is more dynamic. Music sounds more alive. I would recommend Herbie's Audio Lab Threaded Stud Gliders to anyone looking to enhance their setup.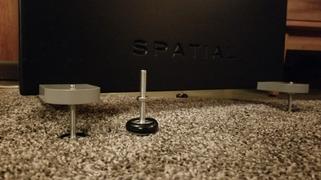 11/10/2019
Sebastian B.
United States
Threaded stud gliders
I purchased these feet for my Boston Acoustics T1000, they make moving the speakers a breeze and they have improved the bass depth and clarity noticeably. Also, they were shipped very promptly.
choosing a selection results in a full page refresh