Nifty glider replaces threaded spikes or cones for loudspeaker or rack isolation and mobility with superb lateral stability. (With an efficient decoupling approach, spikes are not really needed at all.) Fiberglass reinforced dBNeutralizer-filled vinyl base with smooth polymer bottom handles virtually any weight load on bare or carpeted floor. With jam nut to lock-in height adjustment. (Superb also for use as turntable or amplifier feet.)

Dimensions: width: 1.3" (33.3mm) · fully mounted height: ≈ .4" (10mm)
Note: Threaded Stud Gliders are sold as a single unit.
Threads available:
8-32 (1/2" or 3/4" long)

10-32 (1/2" or 3/4" long)

1/4"-20 (1/2", 3/4", 1", 1.5" or 2" long)

5/16"-18 (1/2", 3/4", 1", or 2" long)

3/8"-16 (1", 1.5" or 2" long)

5/8"-11 (female for Salamander)

M5 (16mm long)

M6 (16mm, 20mm, 25mm, or 40mm long)

M8 (15mm, 25mm, or 40mm long)

M10 (25mm long)

Metric thread pitch:
M5=0.8, M6=1, M8=1.25, M10=1.5
 Common manufacturer thread sizes
Giant Threaded Stud Glider: Same as above with threaded stud embedded with fiberglass-reinforced dBNeutralizer into large Magic Slider. Broad footprint provides superior lateral stability, with ample dBNeutralizer "beef" to isolate the heaviest speakers in the most severe vibrational conditions (nearly five times more vibration-absorbing dBNeutralizer than regular Threaded Stud Gliders).
Dimensions: width: 2.36" (60mm) · fully mounted height: ≈ .585" (15mm)
  Threads available:
1/4"-20 (1/2", 3/4", 1", 1.5" or 2" long)

5/16"-18 (1/2", 3/4", 1", or 2" long)

3/8"-16 (1", 1.5" or 2" long)

5/8"-11 (female for Salamander)

M6 (16mm, 20mm, 25mm, or 40mm long)

M8 (15mm, 25mm, or 40mm long)

M10 (25mm long)

Metric thread pitch:
M5=0.8, M6=1, M8=1.25, M10=1.5
Customer Reviews
Write a Review
Ask a Question
02/04/2020
Marco C.
Italy
Giant threaded stud glider... excellent
Finally I found the feet I needed for my extremely heavy speakers. The giant threaded stud glider reach an ideal compromise: sturdy construction and assure easy moving of the speakers in the room; all this at a price that without doubt it's a real bargain in high-end audio in comparison to competitors. Last but not least, their contribution to an overall better sound through the entire spectrum is absolutely clear. Well done Herbie! my best Marco
01/05/2020
Kyle S.
United States
Threaded Stud Glider to the rescue!
As with many people, my listening room is dual purpose and needs to be aesthetically pleasing in addition to being functional. In my case, my speakers (Spatial M3 Turbo S) must sit half on a thick area rug and half on vinyl floor over concrete. In addition to this need, I've found the sound stage of my Spatials to be a tad low. I had read good reviews about the Herbie's Audio Lab products and decided to give them a try. While I skeptical that I would hear enhanced sound over the spikes from the speaker manufacturer, I was hopeful to at least raise the sound stage and level the speakers across the different flooring surfaces. I'm very happy to report that the addition of 2" threaded stud gliders successfully raised the sound stage. These gliders also made it easier to level the speakers and move them into the room when in use. Additionally, I did hear sonic improvements beyond the increased height of the sound stage. Bass extension is deeper and faster. Resolution of the mids is more dynamic. Music sounds more alive. I would recommend Herbie's Audio Lab Threaded Stud Gliders to anyone looking to enhance their setup.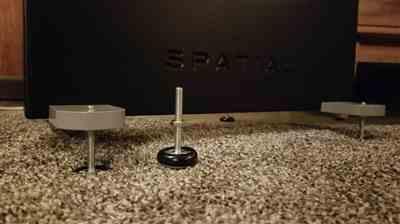 11/10/2019
Sebastian B.
United States
Threaded stud gliders
I purchased these feet for my Boston Acoustics T1000, they make moving the speakers a breeze and they have improved the bass depth and clarity noticeably. Also, they were shipped very promptly.
10/16/2019
Brad F.
United States
Gliders work as advertised. Excellent!
They fit my Revel Performa3 F206s like a charm. Solid, stable and easy to slide on my hard wood floor should the need arise.
10/10/2019
Harry H.
United States
Great product/Great service
I have ordered from Herbie's in the past and like always, the items I ordered were shipped out very quickly and work great. I had been using the Spike Decoupling Gliders and they were well built and worked great also. I ordered the Threaded Stud Gliders to replace the spikes on new Sound Anchor stands. Super customer service, too.
07/17/2019
Mike D.
United Kingdom
Brilliant
I have had Stud Gliders on my rack for a few weeks and was delighted with the results. So with no hesitation I placed my second order also for Stud Gliders for my Horning speakers and after a couple of weeks (long way to travel!) I got them. 20 seconds later my speakers had their new feet and I'm really happy with the result. Again. Just a bargain upgrade which lets the music out. Buy some!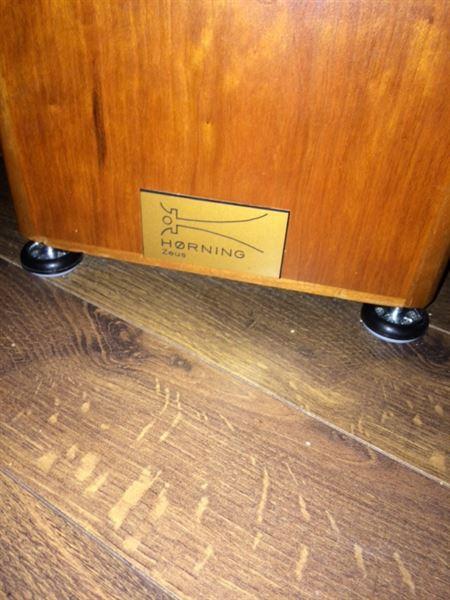 07/16/2019
Michael A.
New Zealand
Excellent Things
Hi I now have three racks and one quite large pair of speakers all standing on Gliders and I have to say they one of the best tweaks I have ever used, I don't see me ever going back to spikes. Mike
06/27/2019
Edward S.
United States
Mixed Experience
I been 'using' my Threaded Stud Glider for about a week now. Still doing some listening tests and will do more this weekend. But to date: The glide part on the bottom separates easily from the vibration absorber. 3 of 8 came off screwing them into the speaker sockets. The leveling/lock nut is difficult to reach unless the stud is twisted out about 1/3 to 1/2 way out. The Gliders DO work enabling the speakers to move around for exact placement, but they (large size) do not move as easily as larger padded gliders from Home Depot I had been using temporarily until all adjustments made prior to spiking. (Your ad and Jim Smith's advice, caused me to back away from spiking). So far, I can hear no difference between your Gliders and those from Home Depot, but the jury is still out until this weekend. For your information, the speakers are partially modified Definitive Technology BP7000sc's which weigh about 130 lbs each. The speakers sit on a med-low pile (and priced) carpet over a 1/2" pad. The floor is particle board on plywood on 2 x 12 joists spanning 12'. I welcome your suggestions for getting optimum performance from these or another product you have. So far, I cannot recommend these for applications similar to my own. Regards, Rhett Simpson
06/14/2019
michael p.
United States
06/04/2019
Mike D.
United Kingdom
Stud Glider
Absolutely, Unequivocally, Definitely the most cost effective addition and great upgrade to my system. Fitted to my old uk made Target Audio TT5 rack, which sits on a wooden floor, everything I listen to whether radio, cd or records just sounds so good. I will order more for my floorstanding speakers. I was convinced by all the reviews I read and I am delighted with my choice. Many other reviews have described the effects better than I could so I have nothing to add. Enthusiastically recommended.
05/02/2019
John D.
United States
Threaded stud glider
Easy to install, and definitely make the speakers easier to move on my wood floors.
These are sweet!
Makes moving heavy floor standers a breeze. Shipping was immediate. Very happy. Thank you!!!!
choosing a selection results in a full page refresh