Nifty glider replaces threaded spikes or cones for loudspeaker or rack isolation and mobility with superb lateral stability. (With an efficient decoupling approach, spikes are not really needed at all.) Fiberglass reinforced dBNeutralizer-filled vinyl base with smooth polymer bottom handles virtually any weight load on bare or carpeted floor. With jam nut to lock-in height adjustment. (Superb also for use as turntable or amplifier feet.)

Dimensions: width: 1.3" (33.3mm) · fully mounted height: ≈ .4" (10mm)
Note: Threaded Stud Gliders are sold as a single unit.
Threads available:
8-32 (1/2" or 3/4" long)

10-32 (1/2" or 3/4" long)

1/4"-20 (1/2", 3/4", 1", 1.5" or 2" long)

5/16"-18 (1/2", 3/4", 1", or 2" long)

3/8"-16 (1", 1.5" or 2" long)

5/8"-11 (female for Salamander)

M5 (16mm long)

M6 (16mm, 20mm, 25mm, or 40mm long)

M8 (16mm, 25mm, or 40mm long)

M10 (25mm long)

Metric thread pitch:
M5=0.8, M6=1, M8=1.25, M10=1.5
 Common manufacturer thread sizes
Giant Threaded Stud Glider: Same as above with threaded stud embedded with fiberglass-reinforced dBNeutralizer into large Magic Slider. Broad footprint provides superior lateral stability, with ample dBNeutralizer "beef" to isolate the heaviest speakers in the most severe vibrational conditions (nearly five times more vibration-absorbing dBNeutralizer than regular Threaded Stud Gliders).
Dimensions: width: 2.36" (60mm) · fully mounted height: ≈ .585" (15mm)
  Threads available:
1/4"-20 (1/2", 3/4", 1", 1.5" or 2" long)

5/16"-18 (1/2", 3/4", 1", or 2" long)

3/8"-16 (1", 1.5" or 2" long)

5/8"-11 (female for Salamander)

M6 (16mm, 20mm, 25mm, or 40mm long)

M8 (16mm, 25mm, or 40mm long)

M10 (25mm long)

Metric thread pitch:
M5=0.8, M6=1, M8=1.25, M10=1.5
Customer Reviews
Write a Review
Ask a Question
11/27/2020
Larry S.
United States
Threaded Sliders
Used to avoid rug damage with my Vandersteen CT Quatros. Worked well sonically and provided speaker stability.
11/27/2020
Marcin D.
United States
Threaded Gliders
Drilled in threaded inserts on my Cornwalls and added the gliders. Awesome quality and now I can level and easily move the speakers around. Highly recommended.
11/22/2020
truman w.
United States
Stud Gliders
Looking to provide mobility for 80lbs towers to improve positioning for SQ. Regular size was just right. Bass improved significantly! Still searching perfect position but the process of moving the speakers is a breeze with the sliders.
11/04/2020
Robert C.
Canada
Herbie's Audio Threaded Stud Gliders are awesome!
Sold our house in Toronto and moved my system to the basement of our cottage, where my father-in-law built a sub-floor over 2x6 studs! Needless to day it bounces like a drum skin and the bass was a muddy mess. Ordered Threaded Stud Gliders for my speaker and equipment stands and problem solved!!!! Bass guitars now sound like strings being plucked, sound stage is wide and deep!!!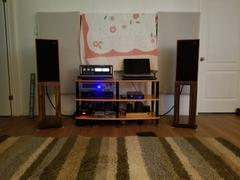 10/31/2020
Donald B.
United States
Threaded Stud Glider
They did tighten the bass and think overall sharpened the soundstage. One of the gliders came apart while sliding my 118 lbs. speakers. Maybe I should have ordered the giant version. In any event, I am keeping the gliders because I will not be moving the gliders across carpeting. Don B
10/21/2020
Troy B.
United States
Easy to install.
The the reader stud gliders were easy to install. Skylab stands for Harbeth 30.2. But the end result on a carpeted, suspended floor was a muddy presentation. The jury is still out on the tender feet. I think they helped with the sustain of individual notes under my GoodNote DAC/ streamer, it's power supply, and my Isotek power conditioner. The tender feet did not improve upon my Clearaudio Concept Wood turntable. Again, they softened the presentation. I feel they might be a good fit for a highly resolving, analytical, fatiguing system. I am running an all tube Luxman setup and I don't need any more softening or warmth. It's just right the way it is in that regard. I haven't been able to get a response from Herbie's to process a return for the gliders with email or phone calls.
10/03/2020
Michael B.
United States
Herbies gliders
love this product, provides excellent isolation and mobiiity
09/19/2020
Charles T.
United States
As good as all the reviews indicate
Finally made the move to Herbie's and so glad I did.
08/19/2020
Herb H.
United States
Improved sound & mobility
MY Bowers & Wilkens Speakers became crisp and cleaner with more cymbals and all round improvement. I bought the longer threads [1"] so I could add 2 nuts and a 1" washer on top to get the speaker slightly above my carpet. The 1" washer lets the weight of the speaker sit on the washer instead of the speaker insert. Worked very well.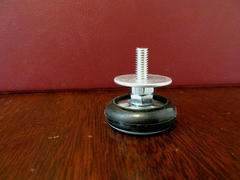 08/16/2020
Frank L.
United States
purchased Threaded Stud Glider
like all of Your products I've purchased over the years, I'm very happy with the functionality and value.
07/26/2020
Sean M.
Canada
Room rattles gone!
These plain looking little feet removed what were major rattles. Cleaning that up makes the kids and highs so much nicer and cleaner. Unquestionably the best $200 tweak my system has seen by far.
07/23/2020
Roger M.
United States
Got 4 large for my HiFI Rack: they are so good I bought 8 more for the speakers
We have a 200 year old farmhouse with old, uneven, suspended oak floors that can transmit considerable vibration as people walk by or the dogs are playing. I had a bespoke HiFi Rack made by T&L Woodworking of Stevens, PA using 1.5" Cherry butcher block with wedged dowel construction for the legs. Based on recommendations from Audiogon I got the large 3/8" threaded stud gliders to provide isolation as they were the easiest socket inserts to acquire to screw them into (I wish Herbie's sold these too). The improvement in sound quality over the previous Oak Mission table that I was using is huge - tremendous improvement in image stability and separation of instruments. My wife liked the new sound so much she asked me to get 8 more for my Spendor A4 speakers (M8 thread) both to help the isolation and to make it harder for the dogs and small children to knock them over. I would say the improvement from the speakers is not as dramatic but still a very worthwhile improvement for the price and they are indeed now much harder to accidentally knock over.
choosing a selection results in a full page refresh