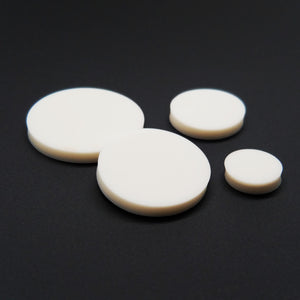 1/8" (3.2mm) Extra-Thick 
grungebuster
 Dots are perfect for severe vibration conditions, heavy-duty rack/shelf/platform decoupling, desktop speaker isolation, turntable plinth and platform support, general decoupling and vibration control. (Available with optional pressure-sensitive adhesive.)
Customer Reviews
Write a Review
Ask a Question
10/01/2023
Wayne E.

United Kingdom
I recommend this product
Great product Made a difference to the sound in a positive way Highley recommend your products Be visiting you site soon
09/04/2023
Fernando E.

United States
I recommend this product
Threaded stud gliders
Gliders provide a better foundation which gives the music tighter bass and highs that sound more natural and less strident. Recommended upgrade!
05/03/2022
Anonymous

United States
I recommend this product
Superb Isolation
Great product to use in combination with carbon fiber and other materials for speaker and component isolation.
01/15/2021
Pat B.

Ireland
Great
Excellent products at real world prices
11/16/2020
Michael B.

United States
Gearboxes big dots
Great product for bottom of maple isolation platform.
01/12/2020
eugene v.

United States
Love them dots!
I bought the thicker dots to put under my turntable platform. Works like a dream! Exactly what I was after. Thanks Herbies!!!
01/01/2020
Robert S.

United States
Extra-thick Grungebuster Dots for Turntable Isolation
To support and isolate my (KAB modified) Technics SH1210M5G turntable I replaced the stock feet with brass spikes, which rest on a maple board. Four of the Extra-thick Grungebuster Dots are sandwiched between this board and the top shelf of my Sanus rack. The isolation effect is excellent, and the role of the Dots quite significant. For example, they are more effective here than the cork-and-rubber pads often recommended for this type of isolation scheme.
12/03/2019
Mick B.

Australia
Grungebusters are Great
Mounted my Extra Thick Grungebusters on the base of each component footer of my audio components. Difference was quite remarkable and all traces of vibration are gone. Great product and a great company!
06/16/2019
Michael O.

United States
I recommend this product
Worth their weight in gold!
These were recommended to me by a friend and I was skeptical. How much difference could these little rubber dots really make? Well, I'm here to tell you they make a HUGE difference. I'm using them to dampen vibrations for a turntable and a tube amp. No more foot falls. No more pinging from tubes as they pick up stray vibrations from the surrounding environment. Everything sounds as it should. Highly recommend to all!
Awesome products!
I've ordered quite a few products from Herbie's Audio Lab and they never fail to make a difference in my system. I wish I had discovered this company years ago!
Love Dot
Easy to chnage helps w imaging detail kinda like altering VTA. I tend to loose these in daily use. So i added more love the mat. Linn LP12 Thiel 3.5 W/O bass solid state decie and all tubes in system Benz carrridge
choosing a selection results in a full page refresh