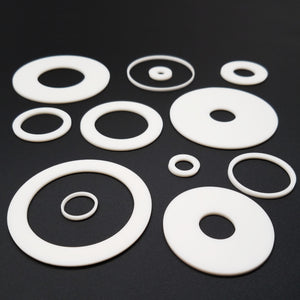 Round grungebuster washers in a variety of sizes for audio and electronic applications, for decoupling and vibration control. Same silicone-based formula as our highly regarded grungebusterDots and Damping Sheets. Withstands continuous temperature up to 400° F (204° C). Washers are individually hand-punched, so may not be perfectly concentric.
Note: tightening a nut directly against a grungebuster washer will grab and pinch the material. Use a PTFE washer, nylon washer or metal washer between nut and grungebusterwasher.
Sizes available:
Customer Reviews
Write a Review
Ask a Question
11/04/2020
Ben G.

Singapore
Better than I expected!
I bought a couple of these Grungebuster washers to better isolate the suspension of my turntable. The improvement I heard was quite dramatic and obvious! The sound seems to have 'cleaned up' significantly. I had done my research before my purchase, so I had expected an improvement, but wow, these went beyond my wildest expectations! Thank you Herbie - these Grungebusters really do work! Worth a try!!!
11/25/2019
Robert F.

United States
Grundge busted!
Used a combination (washers and PTFE) of Herbie's grunge buster washers at tonearm / arm board mount and was truly surprised. I bought them as an afterthought working on other aspects of my turntable and noticed a not subtle improvement in the depth and overall warmth of sound with no downside. Very impressed.
10/16/2019
Stephen L.

United States
Great Products - Great Service!!!
I have purchased many, many products from Herbie's Audio Lab over the past number of years. I have always been impressed with all the products and the excellent service that Robert provides on every order. I've found solutions for just about every audio related need I've had and the products are first-rate. Also, Robert is glad to help you choose just right the product(s) for whatever application you may have.You won't be sorry if you purchase any of these products!
I recommend this product
Vibration Solution
For those of you who think vibration doesn't affect your gear, I can state that it does in my system, in a basic and visible way. I recently added the thin Grunge Buster washers and PTFE washers to my Mapleshade rack, which, frankly, has been nothing but problems. The brass lock-rings that support/hold the shelves on the vertical threaded rods routinely loosen as I play music over the course of 2-3 weeks. This seems to me to be from vibration moving through the rack, over time (unless one asserts it's just gravity, which alone seems unlikely to me). I have to move a few things to get in there to tighten them up, which has become a routine bother. I even considered teflon tape and blue thread-lock. After only a year(!), it occurred to me I could add the thin Grunge Buster washers with the hard PTFE washers to prevent crushing/bunching, and cinch the rings down to prevent vibration from slowly loosening the assembly. Problem solved. In fact, I have used a number of HAL products to compensate for quality issues with the Mapleshade rack and plinths, which are NOT flat. Well, one out of five was, to be fair. By adding strips of dbNeutralizer under speakers and shelves, I have been able to avoid purchasing a new, "professionally" made rack. Herbies products: big help. That other guy's: make me an offer!
11/07/2020
Andrew H.

United Kingdom
The Grungebuster - did just as it said!
I bought two of the thicker Grungebuster/ PTFE washer, for isolation of my RB600/Michell VTA adjuster above and below the armboard collet and it did make a make noticeable difference when used with with an Origin Live Headshell Enhancer (cartridge/washer isolator). Micro-detail that was missing on Rimsky-Korsakhov's "Scheherazade" suddenly appeared eg the tap of a side drum and the low hum of the violins at different points that were indistinct before. I will use a Grungebuster/PTFE washer on my next turntable too! Very good tracked delivery service and comms. from Herbie's throughout and I'm writing from overseas in the United Kingdom.
choosing a selection results in a full page refresh