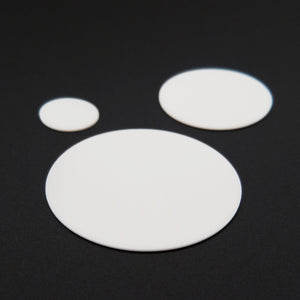 Same as regular Grungebuster Dots, except 1/32" thick (.8mm). Use between constrained layer materials instead of adhesive for superior damping and wherever a slightly compliant decoupling interface is desired. Ideal as an interface between cones and component or shelf - placing a grungebuster Dot on the flat side of a cone absorbs vibration and allows the cone to work more efficiently with a little less of its own "character." Though rarely needed, all Thin grungebuster Dots are available with optional pressure-sensitive adhesive on one side. Black grungebuster Dots are a little firmer than off-white grungebuster Dots, better suited for loudspeaker applications and other uses where a firmer interface is needed.
Customer Reviews
Write a Review
Ask a Question
12/13/2019
Ruben T.

United States
Very good
Works as advertise.
G Dots make great TT shims!
Got a tonearm or TT that needs a shim or two to level? These are as good as it gets. I've used them in both a Technics SP-10 and a Victor TT-81 for isolation and leveling with excellent results. Definite increase in detail retrieval.
Grunge Buster Dots
I have purchased and used various thicknesses of the Grunge Buster Dots in my system. I initially bought them to compensate for the inaccuracy of some maple plinths made by a well-known audio company; I used them (with dBNeutralizers) to shim around the inconsistant thickness they caused to my set-up. More recently, I found the new REL subs could wobble a bit due to small perfections in my floor. I added a couple of different sized dots to the primary dBNeutralizer "pads" I have beneath the stock feet. They work well and I think are a very practical solution to stabilize things without resorting to a kluggie fix like paper or wooden shims. I recommend these products.
choosing a selection results in a full page refresh