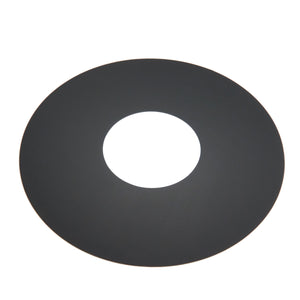 Firm elastomer "donut" is a great record/platter interface for Raven AC, Verdier Platine, and other turntables that typically do not use a platter mat. Standard .81mm-thick mat has sufficient body/weight that it stays in position on the platter and records lift right off. Herbie's Donut is also handy to use instead of awkward-to-use shims and to avoid adjusting VTA between records: just place on top of your present mat when you need a height boost for thin records, take it off for use with thick records.
Dimensions:
Outside diameter: 280mm (11") Inside diameter 108mm (4.25")
Thickness: .81mm (.032") or optional .5mm
Optional spindle washer allows use of record clamp.
Customer Reviews
Write a Review
Ask a Question
02/06/2022
Brian H.

United States
I recommend this product
Great results
On my Rega P8, I have two Way Excellent II Turntable Mats, 2mm and 3mm, and two of these, one in each size. I like the flexibility and the possibilities --> .5mm, .8mm, 2mm, 2.5mm, 2.8mm, 3mm, 3.3mm, 3.5mm, 3.8mm (also these sizes, although I've yet to use them: 4.3mm, 5mm, 5.5mm, 5.8mm, and 6.3mm!) As suggested, "place on top of your present mat," which really helps dial in VTA/SRA for records of different thicknesses, but I've also had great results using just these donuts on the glass platter, no mat, either one by itself, or two donuts stacked on each other. Best practice for thick vinyl reissues, which sounded a bit dark and dull even with my 2mm mat, has been an .8mm directly on the glass; it really livens up the sound. Can't recommend these enough for Rega turntables.
09/24/2020
Bradford S.

United States
Thin donut
Love the mat ... lower VTA
03/16/2020
Gregory S.

United States
Great Mat
I bought this to go on the non-vacuum plater of a Sota Saphire. The results are great: a significant reduction in surface noise over the bonded aluminum/acrylic playing surface of the stock platter. Well played!
12/30/2019
Glenn I.

United States
Good Products!
I have had a Herbie's mat on my VPI Scout for years and it works great. I just bought a Donut Mat for a 1980s B&O turntable that I put back into service in our living room and it is just what I needed. It dampens the platter and raises the record up just enough so it doesn't scrape on the plinth.
choosing a selection results in a full page refresh