Loudspeaker spikes are more effective when used in conjunction with Herbie's dBNeutralizer decoupling, especially with wood or suspended floors, whether carpeted or bare. Likewise, if your spikes couple firmly to your cabinet and are themselves solid and relatively free of coloration, they will complement Herbie's Decoupling Gliders very well by easing some of the workload and making the Gliders even more efficient. (Herbie's Cone/Spike Decoupling Gliders are used under your present spikes or cones.)
Features fiberglass-reinforced dBNeutralizer(tm) decoupling base and extra-thick brass, stainless steel or titanium disk. Fitted into Magic Sliders, they can be used on virtually any kind of floor, bare or carpeted, with easy-sliding mobility. Extra-deep conical indentation prevents spike from slipping out when lateral pressure is applied. Suitable for audio racks, stands and loudspeakers of virtually any weight.
Regular: 1-3/8" diameter by 1/2" tall. With speaker load, height from bottom of Glider to bottom of conical indentation is about 5/16" (8mm).
Giant: 2-3/8" wide by .67" tall (conical indentation is .144" deep).
Brass: superb hi-end results with most audio systems (our default recommendation).
Stainless steel: superb hi-end results with most audio systems.
Titanium: best-looking and best-sounding results possible.
Customer Reviews
Jeffrey A.
Canada
02/12/2020
Awesome results using Herbie's Gliders
My 2 channel room I tried Titanium Gliders under Persona 3F tower, & Defiance X10 sub xover @ 45hz. (Oracle Delphi/SME IV, Mytek Brooklyn Bridge, Apolo R, PrimaLuna per/power,Kimber, PS Audio AC) The Herbie's replaced spike/shoe on suspended hardwood floors, and I can tell you I was blown away with so much improvement every where! My 300 watt sub disappeared into the sound stag, and because of the noise floor dropped so much the music became more alive. Not kidding! In the Anthem Theater room, tile on concrete I put Stainless Steel Gliders under Paradigm Premier 800F's. Same thing! Really great product Herbie Jeffrey From North of the border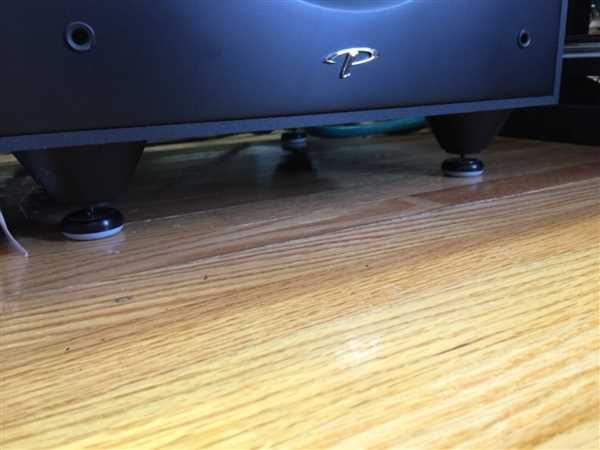 Patrick C.
Canada
02/07/2020
Perfect
Thank you for the perfect transaction. I've bookmarked your website - I'll be back!
Bernard A.
Canada
02/05/2020
Cone/Spike Decoupling Glider- Amazing.
Why was I not aware of these wonderful things before making pocks in my hardwood floor? Under my 170lbs speakers, I can make those minute adjustments that we all have to do to find THAT spot, and these gliders are perfect. Very happy customer.
Patrick C.
Canada
01/28/2020
Great Service
Top notch service and advice. Will use again.
Don A.
United States
01/04/2020
Nice Improvement
I have B&W 802 S3s on spikes on a suspended wood floor. They were sitting in solid steel cups. After replacing the cups with the Spike Decoupling Gliders, the bass and mids became more defined and the bass seemed faster and less bloated. I believe I'm hearing an improvement in the top end and sound stage as well, but I've just started to use them so time will tell. Thanks Herbie's
David D.
United States
12/13/2019
Little Duck Feet
These isolation gliders seem to provide a more open sound and certainly make heavy speakers easier to position for fine tuning. Only two drawbacks. One, the metal inserts are not fused to or imbedded in the base material. As a result, when the spike comes down off-center, the insert pops up rather than guiding the spike inward. This adds difficulty in setup. Two, the surface is rather shiny and light-reflective: cheap-looking. A matte finish would solve this problem. What it wouldn't solve is the disconcerting visual effect when placed on Legacy Signature SE speakers. For some reason, Legacy positions the rubber feet/spikes far inward from the corners, making the spiked Gliders look like little duck feet, as though this refined cabinetry had waddled into the room and might soon waddle out. Though that is perhaps more Legacy's fault than Herbie's.
Josiah B.
United States
12/04/2019
Great Product
I wish I could stop playing with speaker locations, but I can't. These make moving them across a wooden floor so much easier. No damage to floors and glide effortlessly. Minor adjustments are a breeze. Highly recommend.
Blake M.
United States
Steven F.
United States
10/25/2019
These gliders are awesome!
Now I can move my speakers around to get proper imaging in way less time without risking damaging my hardwood floors. Infinitely better than the dime-sized tiny sliders that came with my speakers. They even look much better.
Eric G.
United States
10/18/2019
Spike Decoupling Gliders
If your main listening room is on a suspended wooden floor then you probably already know how important component & speaker isolation is to reproducing accurate sound. I had been searching for something to put under my Klipsch rp-280f towers for a while and nothing I tried was really cutting it. Went through many types of feet, felt pads, even vibrapods but the soundstage always seemed cluttered and bass not so clear. So I decided to try a set of the copper decoupling gliders mated to the original speaker spikes that came with the Klipsches - Wow! An immediate improvement in all areas of the sound. Soundstage cleared right up, bass much tighter, and little nuances of the music are now coming through that previously got lost in the mix. An added plus is they do glide smoothly for easy positioning. Don't wait, just get 'em!
Willie M.
United States
09/09/2019
Cone/Spike Decoupling Glider
I installed six of these underneath my legacy focus speakers. I was not ready for what I heard. What I heard was incredible sound, tight focused, slam, speed, naturalness, musical presence, bass power with definition and agility above the reference level I thought I was already achieving. The isolation devices isolated the energy produced by the 6 12" woofers and the 4 7" mid bass drivers in the speakers system which cleaned up the sound and greatly reduced vibration energy transmission into components, floors and walls of the room! A must have for anyone who uses cones and spikes on their system components already.
JC
Juan C.
United States
08/12/2019
Herbie's Audio Lab Cone/Spike Decoupling Glider a Hit!
I am very pleased with the set of Herbie's Audio Lab Cone/Spike Decoupling Gliders! It's much easier to move my Usher Mini Dancer Two DMD speakers around the room. Previously, when I used the nickel cone/spike protectors that came with my speakers, to move them, the spikes kept popping out of the dimples in the pucks (thank God I the floor I was moving it on was in our basement, which uses vinyl faux hardwood flooring, and not the hardwood floors of our living room! upstairs). With these pucks, that's not an issue. Thank you, Herbie's!
choosing a selection results in a full page refresh