Loudspeaker spikes are more effective when used in conjunction with Herbie's dBNeutralizer decoupling, especially with wood or suspended floors, whether carpeted or bare. Likewise, if your spikes couple firmly to your cabinet and are themselves solid and relatively free of coloration, they will complement Herbie's Decoupling Gliders very well by easing some of the workload and making the Gliders even more efficient. (Herbie's Cone/Spike Decoupling Gliders are used under your present spikes or cones.)
Features fiberglass-reinforced dBNeutralizer(tm) decoupling base and extra-thick brass, stainless steel or titanium disk. Fitted into Magic Sliders, they can be used on virtually any kind of floor, bare or carpeted, with easy-sliding mobility. Extra-deep conical indentation prevents spike from slipping out when lateral pressure is applied. Suitable for audio racks, stands and loudspeakers of virtually any weight.
Regular: 1-3/8" diameter by 1/2" tall. With speaker load, height from bottom of Glider to bottom of conical indentation is about 5/16" (8mm).
Giant: 2-3/8" wide by .67" tall (conical indentation is .144" deep).
Brass: superb hi-end results with most audio systems (our default recommendation).
Stainless steel: superb hi-end results with most audio systems.
Titanium: best-looking and best-sounding results possible.
Customer Reviews
Write a Review
Ask a Question
I recommend this product
Outstanding
I have dealt with Herbie's Audio Lab many times in the passed and will continue to be a customer….have no complaints or worries…always 100% satisfied ……
04/23/2022
Terry E.

United Kingdom
I recommend this product
A Great Upgrade
Much better than the original feet, and they look fab.
04/09/2022
Anonymous

Qatar
I recommend this product
Spike/ Decoupling glider
Excellent product which really improves the frequ3ncy response and performance of any speaker.
04/08/2022
Lee G.

United States
I recommend this product
Speaker Decoupling Glider
Nicely finished pieces that look good while bumping up my system's resolution a notch or two. Plus they allow easy movement of the speakers to help get the soundstage dialed in. Highly recommended.
04/08/2022
James H.

United States
I recommend this product
Works great
I ordered 8 of the small sliders to use in our hi-fi showroom. We move a lot of speakers around and these work perfectly in that capacity. We will definitely be ordering more in the future for us and our customers.
04/03/2022
Rob F.

United States
I recommend this product
Excellent products!
Robert makes fantastic products that are sanely priced, with sound engineering behind their designs. This is my 4th or 5th purchase from Herbie's Audio Lab, and always recommend them to our clients. Rob Fritz Audio Art Cable
03/29/2022
Hank

United States
I recommend this product
Pushing speakers around
My first Herbies purchase was little fat gliders. They allow me to easily move around my standmount speakers (speaker and stand total 80 pounds each.) The gliders also reduce shaking of my loft floor. My recent purchase was cone/spike decoupling gliders. These are being used under spiked tower speakers (70 pounds each) in my downstairs den. These speakers have a steep rake to give proper time alignment. The stock spike saucers don't like to slide, and spikes will slip out of the saucers when the speakers are pushed. Out of concern for my oak planked floors, I ordered up large Decoupling gliders. The slippery pads on the bottom of your gliders allows the speakers to slide easily, even though the spikes are not perpendicular to the floor. The deep spike dimple discourages spike from popping out. The big squishy gliders may be doing a better job of isolation than the solid metal saucer supplied by the speaker manufacturer. Having mobility for my loft and den speakers is really important to me. Both sets were supplied with very non protective grills. When visitors stop by they always wonder why I have turn the speakers around and shoved them up against the wall. I lie and explain that I like a base heavy sound. As soon as folks leave, I place the speakers back on their taped markers. Thank you for supplying such a great product. I have always been impressed with Texas.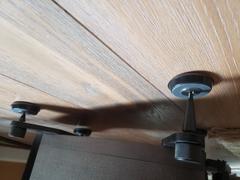 03/28/2022
Jan E.

Malaysia
I recommend this product
That bit that changes how the speakers sound in an imperfect room.
i absolutely needed this for 2 reasons. For one, my room is an attic on wooden floor boards which makes the low frequency bloat and boom if not decoupled from the floor. Previously using Iso Gaia for my previous set of floor standers. They were not bad, and even to move a 20 something kg speaker, it was difficult to get the placement right. changed to another pair of floor standers at 30 something kg and it's no longer viable for Gaia. Did some research and found these Decoupling Sliders and I absolutely love them. Doesn't change the height of the drivers like Gaia. Slides the speakers easily for placement. Decouples and makes the mids and highs clearer since the low freq boom was significantly reduced. In a good room, these would probably do good. In a room with less than perfect floor conditions, these are golden. Actually titanium. I got the titanium ones.
03/27/2022
Anonymous

France
I recommend this product
Small gliders again
I purchased a second set of small gliders, because I found the first set so useful, I haven't used the second set so this is based on the first set. After running my system on a carpeted floor, in a house, for as long as I'd had it I moved to a third floor apartment. Mindful of the neighbour below with a small child I wanted to reduce the chance if complaints, Herbie's gliders looked like a good solution that would also protect the marble tiled floor in the apartment. Speakers at first were Thiel CS1.6 with outriggers. On first use of the gliders I found the sound had become very harsh, particularly high piano notes, it hadn't been before but after a week or two that mellowed out. The gliders made positioning the speakers with mm precision easy (I used Sumiko Masterset to set them up) I removed the outriggers after a while as I kept catching them in passing and having to reposition the Thiels. With Gliders and no outriggers the sound improved too. The Thiels are now replaced with Naim NBLs but the gliders have stayed, you can't use Masterset with NBLs as they're a boundary design but getting both exactly 5.5cm from the wall behind them where the bass balanced out was easy with the Gliders. I bought the second set as I'll be setting up another system on a tiled floor, no downstairs neighbours this time but I want the ease of setting up that Gliders provide.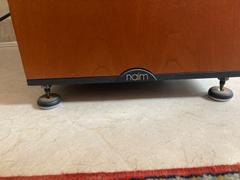 03/27/2022
Larry

United States
I recommend this product
Game Changers
I have these under my CM10 towers and my L/R surround speaker stands. I have a floating hardwood wood floor. The impact was instantaneous. Boomy-ness gone.
03/23/2022
Anonymous

United States
I recommend this product
Gliders are great
Had my hardwood floors refinished. The gliders were a perfect solution to protect the refinished floor from my spiked speakers.
03/11/2022
Charles C.

United States
I recommend this product
Brass standard-sized glider
I bought these on a recommendation from a friend. I have a pair of ProAc Response 3 speakers, with the stock spikes. After installing these, the difference was immediate...more rounded and accurate bass, improved midrange, and a wider sound stage. I am using a Quicksilver tube amp to drive these, in case that helps anyone. I was skeptical about the size, and suffice it to say, I am no longer. Excellent product...certainly worth more than the price, in my opinion.
choosing a selection results in a full page refresh