Loudspeaker spikes are more effective when used in conjunction with Herbie's dBNeutralizer decoupling, especially with wood or suspended floors, whether carpeted or bare. Likewise, if your spikes couple firmly to your cabinet and are themselves solid and relatively free of coloration, they will complement Herbie's Decoupling Gliders very well by easing some of the workload and making the Gliders even more efficient. (Herbie's Cone/Spike Decoupling Gliders are used under your present spikes or cones.)
Features fiberglass-reinforced dBNeutralizer(tm) decoupling base and extra-thick brass, stainless steel or titanium disk. Fitted into Magic Sliders, they can be used on virtually any kind of floor, bare or carpeted, with easy-sliding mobility. Extra-deep conical indentation prevents spike from slipping out when lateral pressure is applied. Suitable for audio racks, stands and loudspeakers of virtually any weight.
Regular: 1-3/8" diameter by 1/2" tall. With speaker load, height from bottom of Glider to bottom of conical indentation is about 5/16" (8mm).
Giant: 2-3/8" wide by .67" tall (conical indentation is .144" deep).
Brass: superb hi-end results with most audio systems (our default recommendation).
Stainless steel: superb hi-end results with most audio systems.
Titanium: best-looking and best-sounding results possible.
Customer Reviews
99
reviewers would recommend this product
Write a Review
Ask a Question
02/02/2023
David L.

United States
I recommend this product
GIANT CONE/SPIKE DECOUPLING GLIDER.
If you have a Wooden Suspended Floor with Carpet & Underpad then buy the Giant Cone/Spike Decoupling Glider. Allow me to explain; My house has a 2 1/2 Car Garage under the Stereo Room and there is nothing that I can do to isolate the Room. Short of Massive Demo of the Drywall in the Garage and or Sell the House which is not feasible nor practical. As an Initial Trial, I had the Regular Cone/Spike Decouplers for about 6 Months on my Spendor SP100 Speakers with Skylan Stands. They made a Noticeable Difference so I knew that the Floor was a problem and how can it not be. There are very few Products on the Market for my needs and the Initial Trial Regualr Decouplers proved to be ideal. I love the ease of adjusting my Spikes for Speaker Height while in the Decouplers, and the ease of Incremental Toe-In or Toe-Out adjustments if needed. I hesitated due to Cost but in hindsight these should have been purchased by myself Years ago. I also feel the Giant Decouplers bear on my Carpet with a much larger Surface Area which is needed with my wonky floor. Do not hesitate like I did and pull the trigger. Highly Recommended! and the Best Solution on the Market for my needs.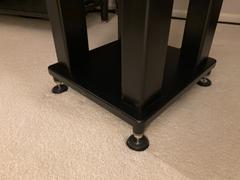 01/20/2023
Anonymous

Canada
I recommend this product
Cone/Spike Decoupling Glider
Beautifully built, strong and sleek.
01/05/2023
Anonymous

United States
I recommend this product
Cone/Spike Decoupling Glider
Great for protection for floors from spikes and allows for easily moving speakers.
12/08/2022
Cameron C.

United States
I recommend this product
Great little pucks
They strike me as a little expensive, but they work great with my Tekton Electron SE towers (w/ default spikes), and they slide well on the wood floors.
11/30/2022
Jack A.

United States
I recommend this product
Decoupling Glider
Very happy with the giant decoupling glider under Vandersteen 3A signatures. The ambience, or "hall sound" is definitely improved, making me aware that removal of subtle resonances results in greater realism (not so subtle!). The ease of moving the speakers is an added benefit. Highly recommended!
11/29/2022
Sean R.

United States
I recommend this product
Great product
I consider myself an amateur audiophile so I'm not going to tell you how my highs were breathtaking or the low end was more pronounced. What I will tell you is the quality is very good and these little pucks make moving and fiddling for my sweet spot perfect. Would buy again. Plus the price was right !!
11/28/2022
Jamison A.

United States
I recommend this product
Great product
Had previously had Isocoustic GAIA's on my Focal 946's. Traded in the 948s and the feet towards a pair of Focal Sopra 3's. I'm set up in a room with carpet and pad over concrete. With the carpet spikes added to the Isoacoustics they were nearly impossible to move accurately. I picked up the fat gliders and the results were very good. I was able to diall my setup in to the nearest 16th of an inch. This greatly improved the Soundstage and clarity of this system. The frequency response in my fully treated room is even smoother as a result of the Herbies. Pretty much a no brainer for the price. Highly recommend, if only to make it easier to position your speakers, but they had the added benefit of resonance reduction in my system as well.
11/22/2022
Mitch R.

United States
I recommend this product
Wasn't Sure
At first, I wasn't sure if these were going to work or be beneficial. They worked great, helped the sound and can actually be moved on our carpet with thick padding.
10/25/2022
Andrew S.

Australia
I recommend this product
Giant Decoupling Glider
Under my speakers the Decoupling Glider tightened the bass and helped with separation. Many people have issues with connecting cables to the rear of their components; then moving the rack back into its original position is impossible with the isolation spikes sticking through the carpet. The Decoupling Gliders are a game changer; I am able to slide my complete rack away from the wall, make cable changes and then slide it back again. Awesome!
09/07/2022
Dave W.

United States
I recommend this product
Fantastic improvment from the Decoupling Glider.
Really didn't see any improvement until I raised my speakers (Spatial Audio open baffle M6) with some slate pavers. The density of the stone really made the gliders shine. I'm getting a very convincing instrument separation from the soundstage. Really adds depth to the whole presentation.
08/30/2022
Manni W.

United States
I recommend this product
I like that they glide!
I moved from a place with carpet to a place with laminate floors. I can't compare the effect on the sound, because I went straight to using the carpet spikes plus these gliders: no A/B testing. But the glide capability is really handy! Also, my speakers, with carpet spikes and gliders, are high enough off the floor that it's really easy to clean dust bunnies out from beneath them. I know a product like this is supposed to be all about the sound, but for me, it ended up being all about the convenience.
08/21/2022
Dan -.

United States
I recommend this product
Cone/Spike Decoupling Glider Giant / Titanium
The 'Titanium Herbie's Cone/Spike Decoupling Gliders' I ordered arrived within 6 days. Within 30 minutes of retrieving them from my mailbox I had them installed under my ProAc D30RS speakers. After installation for the first two and half hours both my wife and I listened to random tracks from artists we enjoy and we are quite happy with the results. Overall improvement in the sound, improved clarity, soundstage and bass. The best part was my wife has hearing loss and uses hearing aides and she was smiling and stating how much better the system was sounding. For the past few days I have listened to about 25 album and I will be keeping the Herbie Gliders. I included a photo and happy that I did buy the Giant Titanium Gliders since they are not just functional but look great with the speakers. The value for money spent for the gliders was outstanding and highly recommend the product.
choosing a selection results in a full page refresh