Loudspeaker spikes are more effective when used in conjunction with Herbie's dBNeutralizer decoupling, especially with wood or suspended floors, whether carpeted or bare. Likewise, if your spikes couple firmly to your cabinet and are themselves solid and relatively free of coloration, they will complement Herbie's Decoupling Gliders very well by easing some of the workload and making the Gliders even more efficient. (Herbie's Cone/Spike Decoupling Gliders are used under your present spikes or cones.)
Features fiberglass-reinforced dBNeutralizer(tm) decoupling base and extra-thick brass, stainless steel or titanium disk. Fitted into Magic Sliders, they can be used on virtually any kind of floor, bare or carpeted, with easy-sliding mobility. Extra-deep conical indentation prevents spike from slipping out when lateral pressure is applied. Suitable for audio racks, stands and loudspeakers of virtually any weight.
Regular: 1-3/8" diameter by 1/2" tall. With speaker load, height from bottom of Glider to bottom of conical indentation is about 5/16" (8mm).
Giant: 2-3/8" wide by .67" tall (conical indentation is .144" deep).
Brass: superb hi-end results with most audio systems (our default recommendation).
Stainless steel: superb hi-end results with most audio systems.
Titanium: best-looking and best-sounding results possible.
Customer Reviews
Write a Review
Ask a Question
07/04/2020
Kevin L.
United States
Thumbs up for Herbie's customer support
I wasn't sure what I needed for my speaker spikes and Robert was very helpful and recommended their Cone/Spike Decoupling Gliders. I received my order very quickly and the packaging was excellent. The sound improvement was definitely noticeable with a more open sound to the speakers.
06/30/2020
Jay S.
United States
Great product
Amazing that such a small thing makes such a difference.
06/07/2020
Chris L.
United States
Good Sopra 2 sliders
I recently bought a pair of Focal Sopra 2 speakers, but the provided metal disks for the spikes didn't really allow for speaker repositioning without Doing It Very Carefully. The Decoupling Gliders are much better - the 'conical indentation' is deeper than the original Focal disks, and they slide easier as well. There's some mention of a speaker weight limit of 120 lbs with these gliders. The Focals come in at 122 lbs, but the gliders seem very solid & comfortable with this load. Worth the money? Come on, we're audiophiles!
Freaking Amazed!
I rarely write reviews, this one is definitely an exception. I have bought a lot of accessories from Herbies over the decades but none ever made a change like these! I bought 8 of the Giant Cone/Spike Decoupling Glider in brass and placed them underneath my Focal Sopra No.3's. OUTSTANDING!!! First I have to say that my speakers (153 lbs each) are on a floating wood floor and I knew this was going to be a problem from the start. The vibration from the speakers transmitting into the floor was ridiculous and really interfered with the sonics. Then my Herbies gliders came. I placed them underneath the speakers and there is such an improvement, the change in the sonics is massive. Everything about the sound improved... it is more holographic, there is better imaging, a bigger sound stage, and the bass and mids are now far, far better and work together more synergistically. I now have a system that I can again recognize as being top notch. As a bonus I can now move my speakers forwards, further away from the wall when I listen to music for even better sound and make those small tweaks for toeing them in. I am absolutely blown away with the change that these made, and I am berating myself for not buying them much earlier. As a side note, if you live in Canada don't UPS them, the UPS charges (not including shipping) for a package of 8 gliders added to approximately $80.00 CDN... what a waste of my money I should have had them sent USPS.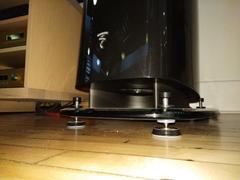 Pleasantly Surprised
I have two down ported speakers and that was one of the features that attracted me to them. Down ported means I can place them closer to the wall and that makes the wife happy. Down ported or not they sound better at least 18 inches from the wall. These beasts weigh in around 100 pounds and I have them spiked to a concrete floor. Extremely difficult to move without trashing the floor and my back. The gliders seemed like a good idea for mobility sake and the more reviews and articles I read I was hopeful that the improvement in sound would also be of benefit. It's been a little over a week and I think I scored on both accounts. These things make my speakers extremely easy to move and there is an overall improvement in sound. What jumped out first was the low end. However, as I launched into a long listening session I started hearing detail in music selections with much more clarity ( midrange and highs) than I had before. This is the second item purchased from Herbie's and I have say again that I am Pleasantly Surprised.
05/17/2020
Richard M.
United States
Decoupling Gliders work great
I originally had some plastic/rubber covers over my speaker stand spikes to protect the wood floor. Speakers sounded great, but were hard to move/adjust. So I tried sonic saucers and the sound suffered; lows became more flabby, lost the zing on string bass, and highs were less articulate. Herbie's decoupling gliders to the rescue. Sonic quality is back to where it was, if not better, and it is now easy to reposition speaker placement.
05/17/2020
Mark W.
United States
Great Product
I recently purchased the Cone Spike Decoupling Glider in Titanium and upon installing, I found some immediate benefits. Tighter bass and a bigger soundstage……. Definitely worth the purchase and Herbies is great about providing advice when called upon! Great addition for a reasonable price!!!!
05/15/2020
Hungpham
Vietnam
Great tuning tweak and sale service
Using 8 giant stainless steel cones for the first day in 12,000 dollar speakers, noticed immediate clearly deeper sound stage with layers of nuance well defined, voice, piano, sax, all become much more lifelike than before when the same speakers were put on stock cones. Very impressive with the impact that I ever experienced spike/cones decoupling can do to the speakers in my 15 years audiophile enthusiastic, equally to thousand dollars spent on other component upgrades. Worth every penny. Great job Herbie's ! Cheers from Vietnam
05/14/2020
Steve E.
United States
Cone / Spike Decoupling Gliders
Since swapping out the carpet in my listening room for laminate planks, I wanted to continue enjoying the decoupling elements of spikes on my speakers. These Gliders are just what the doctor ordered; well designed and assembled. As I purchased the Brass, I can't speak to the sonic benefits of the other available materials. Play on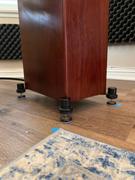 03/19/2020
Bruno M.
Italy
Cone/Spike Decoupling Glider
A wonderful tweak ! Highly recommended.
02/12/2020
Jeffrey A.
Canada
Awesome results using Herbie's Gliders
My 2 channel room I tried Titanium Gliders under Persona 3F tower, & Defiance X10 sub xover @ 45hz. (Oracle Delphi/SME IV, Mytek Brooklyn Bridge, Apolo R, PrimaLuna per/power,Kimber, PS Audio AC) The Herbie's replaced spike/shoe on suspended hardwood floors, and I can tell you I was blown away with so much improvement every where! My 300 watt sub disappeared into the sound stag, and because of the noise floor dropped so much the music became more alive. Not kidding! In the Anthem Theater room, tile on concrete I put Stainless Steel Gliders under Paradigm Premier 800F's. Same thing! Really great product Herbie Jeffrey From North of the border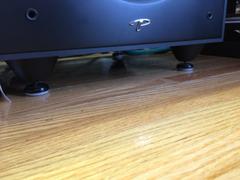 02/06/2020
Patrick C.
Canada
Perfect
Thank you for the perfect transaction. I've bookmarked your website - I'll be back!
choosing a selection results in a full page refresh