Cut your own Dots, squares, gaskets, anything. Cuts easily with razor blade, hobby knife, or scissors. Heat resistant, highly flexible microphonics-absorbing/decoupling/isolation materials. Great as a decoupling interface between different materials and as a damping layer in constrained layer systems.
grungebuster: Versatile, multi-purpose damping/isolation.
dBNeutralizer: Ideal for component chassis damping and loudspeaker applications. At 140 grams per 5" x 8" sheet, this damping sheet is nearly three times heavier and vastly more effective than equivalent-size 3M Damping Sheet.
Adhesive: Damping sheets are available with optional pressure-sensitive adhesive (except GIANT dBNeutralizer). Silicone medical adhesive can also be used as a superior adhesive. Here are links to three very good adhesives:
Hollister #7730 Medical Adhesive (small spray can)
Secure II Medical Adhesive (small bottle w/brush-on applicator)
3M Pressure-Sensitive Adhesive (double-sided adhesive tape)
All damping sheets are 5" x 8" (except dBNeutralizer GIANT 9" x 12" sheet)
Customer Reviews
Write a Review
Ask a Question
11/03/2020
Michel B.
France
Incredibily good !
The usage of the Damping Sheet is less usual than the TenderFeet, but it is another outstanding product from Herbie....
03/04/2020
Hasan L.
United States
Excellent Herbie's damping sheets
I own many sheets of Herbie's damping sheets. They are very effective at helping isolate my open baffle speaker sections from each other and from the floor. I use them in conjunction with springs and steel blocks for mass and I haven't had better sound results than from this combo. I also use Herbie's damping sheets to damp various component chassis through direct contact and also to make my steel/wood combo component bases work still better. Altogether a huge recommendation for a super product and great service over the years. Thank you!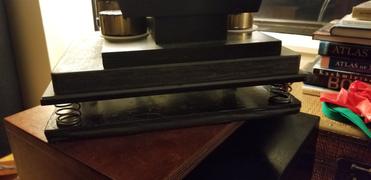 02/17/2020
Matt S.
United States
As always, great product!!!
What can I say that loyal customers don't know already? So I'll speak to first-timers and people on the fence asking themselves "Do I?" … yes, do it. Grungebusters are a quality product that is the only choice for me when it comes to thin sheets of damping material. I haven't tried other products yet, but based on my experience with Grungebuster, I'm pretty sure everything else is top notch.
01/05/2020
Mark H.
United States
No frills, just reliable materials
I've been a Herbie's customer for a couple years now, and I don't see my loyalty to this company wavering any time soon! Every product of theirs has made a noticeable difference in my system, and I won't buy any other isolation materials but Herbie's...
Dense!
Way more dense than Sorbothane and still very easy to cut. This is a superior product on every way, regarding vibration control and mounting solidity.
dBNeutralizer Damping Sheet
I purchased the sheet product having successfully used various pre-cut products with this material. I have a new sub and needed a slightly larger "pad" than any of the stock sizes. Product cuts easily and accurately with a metal straight edge and a razor knife. The dBNeutralizer material works well and sounds great. I just ordered a second REL sub, so I will be ordering another sheet to cut feet for that unit. Had I known I would like the sub so much, I could have ordered the larger sheet! BTW--the service and product support on questions, etc. is excellent.
choosing a selection results in a full page refresh