Cut your own Dots, squares, gaskets, anything. Cuts easily with razor blade, hobby knife, or scissors. Heat resistant, highly flexible microphonics-absorbing/decoupling/isolation materials. Great as a decoupling interface between different materials and as a damping layer in constrained layer systems.
grungebuster: Versatile, multi-purpose damping/isolation.
dBNeutralizer: Ideal for component chassis damping and loudspeaker applications. At 140 grams per 5" x 8" sheet, this damping sheet is nearly three times heavier and vastly more effective than equivalent-size 3M Damping Sheet.
Adhesive: Damping sheets are available with optional pressure-sensitive adhesive (except GIANT dBNeutralizer). Silicone medical adhesive can also be used as a superior adhesive. Here are links to three very good adhesives:
Hollister #7730 Medical Adhesive (small spray can)
Secure II Medical Adhesive (small bottle w/brush-on applicator)
3M Pressure-Sensitive Adhesive (double-sided adhesive tape)
All damping sheets are 5" x 8" (except dBNeutralizer GIANT 9" x 12" sheet)
Customer Reviews
100
reviewers would recommend this product
Write a Review
Ask a Question
I recommend this product
Damping sheet
I recently installed damping sheet between my tonearm mount and the plinth on both sides. I must say that it produced a noticeable effect for the better.
05/10/2022
Anonymous

Malaysia
I recommend this product
Damping sheets
I got these to replace the damping rubber under the transformer in my preamplifier. They eliminated the slight transformer rattle that I hear upon power up. What is even more amazing is the improvement in bass quality coming out of my speakers. Great product.
05/04/2022
Ken R.

United States
I recommend this product
Works very well
I bought this just to see how it worked. I didn't expect much as I was settling it under a lightweight SSD drive. Maybe it's expectation bias, but I think it made a small improvement.
03/31/2022
Anonymous

United States
I recommend this product
dBNeutralizer GIANT 9" x 12" sheet
I purchased the dBNeutralizer material to make "washers" to go between my three 15" subwoofer cabinets and the spiked feet which support them. Two of the subs are located close to my front left and right speakers and are operating in stereo and the third is behind the listening position connected to the LFE of a surround receiver. Before installing the washers, I played a few Blu-ray dvds at a volume which made the subwoofer's cabinets rattle. The volume level at which the system was playing was fairly high, but not excessive. After installing the washers, I played the same Blu-rays at the same volume and experienced no rattling from the subwoofer cabinets. I then increased the volume by about 10db, which is as loud as I would ever comfortably listen, and still no rattles. The dBNeutralizer material works! I still have quite a bit left, so I will experiment with it in other applications. Great product! Thanks, Bill
11/03/2020
Michel B.

France
Incredibily good !
The usage of the Damping Sheet is less usual than the TenderFeet, but it is another outstanding product from Herbie....
03/04/2020
Hasan L.

United States
Excellent Herbie's damping sheets
I own many sheets of Herbie's damping sheets. They are very effective at helping isolate my open baffle speaker sections from each other and from the floor. I use them in conjunction with springs and steel blocks for mass and I haven't had better sound results than from this combo. I also use Herbie's damping sheets to damp various component chassis through direct contact and also to make my steel/wood combo component bases work still better. Altogether a huge recommendation for a super product and great service over the years. Thank you!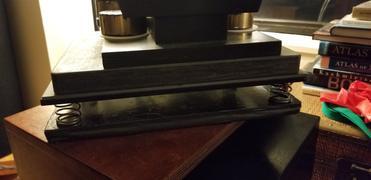 02/17/2020
Matt S.

United States
As always, great product!!!
What can I say that loyal customers don't know already? So I'll speak to first-timers and people on the fence asking themselves "Do I?" … yes, do it. Grungebusters are a quality product that is the only choice for me when it comes to thin sheets of damping material. I haven't tried other products yet, but based on my experience with Grungebuster, I'm pretty sure everything else is top notch.
01/05/2020
Mark H.

United States
No frills, just reliable materials
I've been a Herbie's customer for a couple years now, and I don't see my loyalty to this company wavering any time soon! Every product of theirs has made a noticeable difference in my system, and I won't buy any other isolation materials but Herbie's...
Dense!
Way more dense than Sorbothane and still very easy to cut. This is a superior product on every way, regarding vibration control and mounting solidity.
dBNeutralizer Damping Sheet
I purchased the sheet product having successfully used various pre-cut products with this material. I have a new sub and needed a slightly larger "pad" than any of the stock sizes. Product cuts easily and accurately with a metal straight edge and a razor knife. The dBNeutralizer material works well and sounds great. I just ordered a second REL sub, so I will be ordering another sheet to cut feet for that unit. Had I known I would like the sub so much, I could have ordered the larger sheet! BTW--the service and product support on questions, etc. is excellent.
choosing a selection results in a full page refresh