For decoupling large and heavy speakers, cabinets, and racks. Herbie's extra-thick (3/8") dBNeutralizer Giant Fat Dot, embedded in a Magic Slider with smooth polymer bottom, grips the cabinet bottom (no need for screw or glue). Provides unsurpassed isolation/decoupling, holding loudspeakers vibration-free, reducing vibration-influenced distortion for the ultimate sonic enjoyment. Appropriate for loudspeakers and cabinets of virtually any weight on any bare or carpeted floor.
Perfect as a decoupling/isolation base even when mobility is not an issue.
2.36" wide by .63" tall (60mm x 16mm).
Customer Reviews
Write a Review
Ask a Question
I recommend this product
Well beyond expectations
I must admit I was a bit skeptical. But my system was very expensive, and I thought wasting $200 in the worst case scenario would not be a big problem. So I purchased eight Giant Gliders. I use the album Something Else by Cannonball Adderley with Miles Davis as sideman, as the benchmark for comparing equipment. The difference in sound was dramatic. Especially in the bass, which became much better defined. But also, to a noticeable extent on instruments that generate mid-range frequency sound, like the trumpet, the saxophone, and the piano. The improvement was far greater than I could possibly have expected from such a simple and inexpensive piece of equipment. Hats off. My system: Tidal or Qobuz -> Router -> Windows 10 Desktop PC with Intel i7 chip and Fidelizer -> Playback Designs MPS-5 DAC -> Cary Audio CPA-1 preamp -> VTL 300 monoblocks -> Dali Epicon 8 speakers, now on Giant Gliders.
05/11/2022
Anonymous

United States
I recommend this product
Was Skeptical - Not Anymore...
Was having some distortion, not clean and clear sound. Especially in mid and tweeter. Money back guarantee so tried them. I bought an entire menu of Gliders, etc., and put their products under all components, my steel and glass audio rack, speakers, even the line conditioner.....voila ! Crisp, Clean highs and much tighter, detailed sound, immediately....very impressed. These are not snake oil, don't hesitate to give their products a try!
03/27/2022
Larry

United States
I recommend this product
Very effective
Equipment rack on floating hardwood floor. In combination with other HAL products on components, very very effective.
02/23/2022
Anonymous

United States
I recommend this product
GIANT CONE/SPIKE DECOUPLING GLIDER.
I had the regular cone/spike decouplers for about 6 months on my Spatial Sapphire Speakers. They made a BIG difference in the over all sound. They were used over carpet with no padding on concrete. I upgraded to the Giant C/S DG and I noticed right away MORE IMPROVEMENT IN THE BASS. CLEAN, DEEPER BASS.
08/17/2021
Anonymous

United States
I recommend this product
Giant fat gliders
Excellent product, I have suspension floors in my house, these are great at isolating my speakers ( decoupling) from the floor and also make it so easy to move them about on the hardwood floors
07/09/2021
Anonymous

United States
I recommend this product
Giant Fat Gliders - Did What I Hoped
I bought eight to support Klipsch Cornwall IV speakers and make them easier to move around. I've had no issues and they work exactly as I'd hoped, making it very easy to reposition these heavy speakers on wood floors. I can't say whether they improve the sound as I have never listened to the speakers without them in use.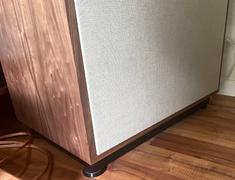 05/10/2021
Anonymous

United States
I recommend this product
Great with Cornwall 4's
Tightened bass and made the Cornwall's moveable, with no downside.
04/02/2021
David L.

United States
Giant Fat Glider For Rel Subwoofers
Have always wondered about Isolating my Two Rel Storm III Subwoofers from the Carpeted Suspended Wood Floor. Was hesitant to try the Giant Fat Gliders but they seemed Ideal with the right diameter for the Sub Feet. I also did not want to buy the Threaded Version since both of the Subs are getting old and the Slip In Gliders seemed Ideal. I was not disappointed since they fit the Rel's perfectly and they also Improved the Sound. Was extremely pleased and Herbie will not be getting these back. Thank You! for offering an Ideal Product for my needs.
01/01/2021
Daniel V.

United States
Great products across the board
I have been using Herbie's Audio Lab's products for years, and I only have great experience with everything that I have ever purchased from Henie's, and with their customer support. I just recently ordered the Giant Fat Gliders for my monster Von Schweikert VR-7s, and they work great.
12/15/2020
John W.

United States
Just for fun
Got 8 of these for my Klipsch la scala IIs. Thought what would happen would be negligible if I got any results at all. The results were pretty good actually. They seem to give more focus to the mids and highs but the biggest and most needed change came in the lower frequencies. Very cost effective!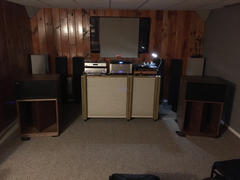 06/24/2020
DHC

Macau SAR China
Giant Fat Glider
I was the ex-user dated back 2002. I have 9 pcs with me for assorted usage in the past which I found it is very warm balance tonal. Recently, I have placed another order for 14 pcs of Giant Fat Glider for my KLIPSCHORN AK6 which weight 220lb per side. I do not want to use the old pcs because I want to make sure I have the fresh Giant Fat Glider to ensure the tonal and optimize the deep bass extension as well as softening a bit the horn tweeter and mid range. Also, the Giant Fat Glider allow me to move the heavy KLIPSCHORN easily on carpet, wood floor or hard floor.
05/30/2020
ron j.

United States
Giant Fat Glider & Giant Threaded Stud Gliders
Fantastic when used with my Transmission Line Sub-woofer Speakers (my PMC XB3's & my XB2's)... notes are distinct/well articulated...boomyness is gone... they allow my sub-woofers to sound totally/incredibly Musical...
choosing a selection results in a full page refresh