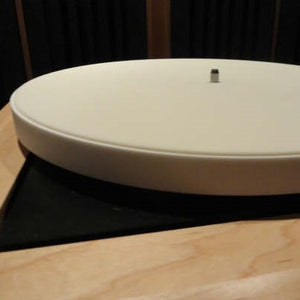 Provides exceptional synergy with matless acrylic-platter turntables like vintage acrylic-platter VPI Scout that are designed to couple the record to an acrylic platter with a clamp. Although manufacturers generally recommend these turntables be used without a mat, our customers have found the grungebuster Turntable Mat brings out significant sonic improvements, oftentimes without a need for the clamp. Also a superior upgrade for Rega P9 ceramic-platter turntables.
Comparative testing with various types of turntables have shown that Herbie's hand-made, super-fidelity grungebuster mat is as sonically natural as the highly acclaimed Way Excellent II Turntable Mat, as quick as Boston Audio's graphite mat, as responsive as Mystic Mat – ascending to a new plateau of analog musical playback, unsurpassed by anything else.
Comprised of a full-size circle of Herbie's grungebuster isolation material. Textured surface grips records yet allows records to lift right off. With drastic reduction of micro-vibrations, with the vinyl held virtually "motionless" in its rotation, with lateral slippage nonexistent, your records will achieve a new level of superior playback. Can be used with or without a record clamp or weight.
Overall mat thickness: 1.6mm; diameter: 11.6" (29.5 cm); weight: 135 grams (4.75 oz.).
grungebuster Turntable Mat: Recommended for VPI and other "matless" acrylic-platter turntables, and Rega P9 ceramic platter (works very well with Rega P7 and RP10, also).
Customer Reviews
Write a Review
Ask a Question
03/05/2022
Nicholas K.

United States
I recommend this product
Immediate improvements!
Own a Rega P10, which has a ceramic platter. Wow, immediate audible improvements...this is a fabulous mat! Noticeably quieter noise floor, mids are more present, tighter bass compared to the stock felt mat. Highly recommend this mat for the higher-end Rega decks with ceramic platters. You won't be disappointed!
12/31/2021
Anonymous

United States
I recommend this product
Perfectly round, well made, well packed
While it did not work out for my turntable (a Bryston BLP-1 (technically a Goldnote 425 SE Plus)), I was impressed with the mat and it worked well on my glass platter Thorens TD-309. Very well made, heavy, appears to do what it is made to do.
04/18/2021
Anonymous

United States
I recommend this product
Static Cling
I use this product on my Rega Planar 3 P3. Prior to your product, every time I went to flip the album the mat would adhere to the album. UGH. Now all is well thank you
08/09/2019
Kurt C.

United States
Grungebuster Turntable Mat for RP-10
Although a bit pricey this mat fits perfectly and provides excellent sound. The stock wool mat also sounds very good, but I'd encountered too many static cling issues for this to be a viable option. The Grungebuster looks and sounds great. Would recommend to other RP10 owners. Kurt
Grungebuster Mat Sadly Incompatible with Michell Orbe
The service and delivery from Herbie's was excellent. The mat looks very well made. My star rating is for this. Unfortunately it has turned out that the mat is not compatible with my J A Michell Orbe SE. The Orbe was designed to be used without a mat and with a clamp. In order to facilitate the clamping the specially designed nut which holds the platter to the bearing protrudes above the platter surface slightly. I had not noticed this before. This, plus a removable ring, forms a dome against which the record is flexed when clamped to push it into contact with the platter. When using the Grungbuster the record is placed even further above the platter by the nut height plus the thickness of the mat. So this and the design of the clamp means that the record will not meet the mat's surface evenly or the mat itself be in contact with the underlying platter surface across its diameter. Without the clamp the record does not even touch the surface of the mat except towards the spindle due to the height of the nut. Using the platter without the nut means that it is liable to rocking so that is not a solution. A pity.
choosing a selection results in a full page refresh