HAL-O III brings out the best potential in extremely hot-running audio rectifier, power tubes and other sensitive vacuum tubes. HAL‑O III subdues heater-generated vibrations and common microphonics, allowing a truer rectified current and truer amplified signal. A less-fuzzy, cleaner rectified current will typically cause other audio tubes in a component to render the music more clearly. Tube output will be more musical, more energetic and less vague, while maintaining your system's unique nature and character.
With spring-tempered titanium C-ring and annealed titanium isolation pads, HAL‑O III is appropriate for all vacuum tubes, ideal for extremely hot-running tubes, able to handle continuous tube heat in excess of 1000° F (538° C).
---
HAL-O III-7: For 7-pin miniature tubes and all tubes approximately 5/8" to 3/4" diameter (16mm to 19mm), including 0A2, 0B2, 0C2, 1S5, 12AE6, 12FK6, 12FM6, 12X4, 304B, 3A5, 3S4, 403A/B, 408A, 5591, 5651, 5654, 5654SQ/W, 6005, 60FX5, 6186, 6AK5, 6AK5W, 6AL5, 6AN4, 6AQ5, 6AQ6, 6AU6, 6BH6, 6C4, 6ER5, 6FG5, 6FQ5A, 6FS5, 6FY5, 6GK5, 6J1, 6J1P, 6J1P-EV, 6J6, 6N4, 6P17, 6X4, 6Z4, 7543, 9001, DCC90, DL92, EC90, EF95, M8100, OA2, OB2, OC2, SBA6. (Most 7-pin miniature tubes, at about 19mm diameter [3/4"], can also use size 9.)
---
HAL-O III-9: Fits miniature 9-pin tubes and all tubes 3/4" to 7/8" diameter (19mm to 22mm), including 10GV8, 12AT7/ECC81, 12AU7/ECC82, 12AX7/ECC83, 12AY7, 12AZ7, 12B4, 12BH7, 12BY7, 12BZ7, 12DW7, 12FQ7, 2C51, 396, 396A, 417, 5670, 5687, 5751, 5755, 5814, 5842, 5879, 5963, 5965, 6072, 6189, 6201, 6267, 6350, 6385, 6414, 6519P, 6688, 6829, 6840, 6900, 6922, 6955, 6973, 6AN8, 6BL8, 6BM8/ECL82, 6BQ5/EL84, 6BQ7, 6BZ7, 6BW4, 6C19P, 6CA4, 6C45, 6CG7, 6CS7, 6DE7, 6DJ8/ECC88, 6E5P/6E5PI, 6EJ7, 6EU7, 6FQ7, 6GC7, 6GF7A, 6GH8(A), 6GU7, 6GW8, 6H23N, 6H30, 6H6PI, 6N1P, 6N2P, 6N30, 6N30P, 6N3P, 6N6P, 6P1, 6P1P, 6P1P-EV/6II1II-EB, 6S19P, 6S4, 6U8(A), 6V4, 7025, 7044, 7058, 7062, 7119/E182CC, 7189, 7199, 7308, 7788, 7AU7, 7DJ8, 8416, CCa, D3a, E288CC, E80CC, E80F, E88CC, EC86, ECC189, ECC802S, ECC803/S, ECC81, ECC82, ECC83, ECC85, ECC86, ECC99, ECF80, ECL86, EF184, EF800, EF86, EL821, EL84, EL86, EM84, EZ80, EZ81, M8162, PCC88, PCL82, PCL86, SV83, (T-6 1/2 bulb).
---
HAL-O III-25: Fits all tubes approximately 1" to 1-1/16" diameter (23mm to 28mm), including metal 12SC7, metal 12SJ7, 5693, "slim" 5Z4, "slim" 6AU4, metal shell 6F6, 6J5, 6R7, metal 6SC7, metal 6SJ7, "slim" 6SN7, metal 6V6, 6X5.*
---
HAL-O III-30: Fits narrow, straight-sided octal tubes and all tubes approximately 1-1/8" to 1-1/4" diameter (28mm to 32mm), including 0A3A (straight-sided), 1266, 12AX3, 12J5/GT, glass 12SJ7, 12SJ7GT, 12SL7/GT, 12SN7/GT, 3CM, 437A, 4P1L, 5691, 5692, 5852, "slim" 5AR4 (G.E., Sovtek/Reflektor, T-9 bulb), 5Y3, 5Y3GA, 5Y3GT, "wide" 5Z4, 6106, 68HC, 6AH4, 6AU4GT, 6AU4GTA, 6AU5, 6AX4GT, 6AX4GTA, 6AX4GTB, 6BL7, 6C5S, 6CJ3, 6D22S, 6DA4/6DA4A, 6DN7, 6EA7, 6EM6, 6EM7, 6EW7, straight-sided 6F6G, 6FD7, 6FY7, 6H4GT, 6J8P, 6K11, "slim" 6L6, 6N8P, 6N9P, 6R7GT (glass T-9 bulb), 6SF5-GT (glass tube), 6FM7, 6SC7 (glass tube), 6SH7, glass 6SJ7, 6SJ7GT, 6SL7, 6SN7, 6SN7GT-series (6SN7GT, 6SN7GTA, 6SN7GTB, 6SN7WGT, 6SN7WGTA), 6V6, 6V6GT (GE, Sylvania, Tung-Sol), 6X5G/GT/WGT, 6Y6, 7355, 7591, 7868, 7N7, C3G, C3M, EC8020, "narrow" EL34 (E-H, Mullard, SED "Winged C," Siemens, Svetlana, Telefunken, NOS Tesla, Tung-Sol), EL34/6CA7 (Svetlana), EL34B (Tung-Sol), GZ30, GZ34 (Gold Lion), MT8 bulb, OA3A (straight-sided), PL504, T-9 bulb, VT-231.*
---
HAL-O III-35: Fits standard, straight-sided octals and all tubes approximately 1-5/16" to 1-7/16" diameter (33mm to 36mm), including 5AR4 (Amperex, G.E., Japanese "Mullard" copy, Mullard, JJ, Shuguang), "slim" 6CA7 (Tung-Sol), 6H6, standard 6L6/5881, 6L6B, 6L6GT, 6L6WGB, 6SF5 (metal shell), 6V6GT (RCA), 6V6S (JJ), E34LS, ECC33, medium-diameter EL34 (Amperex, Philips, JJ, some Mullards, Valvo), EL34B (Shuguang), GZ34 (GE, JJ, Mullard, Philips, Raytheon, RCA), KT77.*
---
HAL-O III-40: Fits wide and bottle-shaped octals and all tubes approximately 1-1/2" to 1-5/8" diameter (37mm to 44mm), including 0A3 (bulb-shape), 0C3, 0D3, 1626, 19, 27, 30, 37, 3DG4, 520B (near bottom of tube), 5881, "fat-bottle" 5AR4 (Amperex, Mullard, T-11 bulb), 5AW4, straight-sided 5R4-types, straight-sided 5U4 and 5U4-GB (T-12 bulb), 5V3, 5V4, 5Y3GB, 5Y4GA, 5Z4G, 5Z4P, 6080, "slim" 6550, straight-sided 6AS7, 6BY5/G/GA (straight-sided), 6C6, 6C8G, "Big Bottle" or Fat Bottle 6CA7 (E-H, Sylvania, GE, etc.), "Black Bottle" 6CA7-Z, 6F8G, 6HB5, bottle-shape 6J5 (ST-12 bulb), 6JN6, 6L6GC (E-H, Mazda, JJ, GE, RCA, Sylvania, Tungsol), 6L6WGC, 6LF6, 6P3P, Sophia Electric "bottle" 6SL7 and 6SN7, 7027/A, 7236, 76, 84, 8417, 85, CV3798, "Fat Bottle" EL34 (Big Bottle), EL509, G75/2D, straight-sided GZ32, "slim bottle" GZ37, KT90, OA3 (bulb-shape), OC3, OD3, PL509, QS150/40, QS75/40, VR105, VR75/40.*
---
HAL-O III-50: For all tubes approximately 1-3/4" to 2-1/8" diameter (45mm to 54mm), including 10Y, 101F, 1610, 2A3 (Brimar, E-H, E-H Gold, RCA, Sovtek, Sylvania, Tung-Sol), 26, 274B (Western Electric), 307A, 35, 350B, 3A/110A, 3A/110B, 3D21A, 421A, 422A, 45 (RCA, Sylvania, TJ, Tung-Sol), 46 bottle-shape, 572-10, 5998, bulb-shaped 5R4-types, 5R4WGA/B (Tung-Sol), bottle-shape 5U4G, 5V4, 5Y3G (Sylvania), 5Z3, 5Z3P/A, 5Z4G (Brimar), standard and wide 6550 (E-H, GE, Philips, RCA, SED, Svetlana, Sylvania, Tung Sol), 6550A, 6550C, bulb-shape 6AS7, 6AS7G, 6B4, 6B4G, 6BY5/G/GA (bottle-shape), 6CA7-Z, 6C33C (upper portion of tube), bulb-shape 6F6G, 6H13, 6H13C, bulb-shape 6L6G, 6N13P, 6Y6G, 71A, 80 bottle-shape, 801/801A, 807, straight-sided 811, 814, C327 ("bulb" 27), CX4, bottle-shaped octals like AZ4, CV181/ECC32, CV181TII (Psvane 6SN7), CV181-Z (Shuguang), CV378 (Mullard), EL156,  EL37, ER300b (Elrog 300b), bottle-shaped GZ32 (Mullard), GZ33, KT120, KT66, KT88 (E-H, EAT, GEC, Gold Lion/Genalex, JJ/Tesla, SED, Shuguang, Sovtek, Svetlana), PX4, ST-14 bulb, ST-16 bulb, U52.*
---
HAL-O III-55: For jumbo-size tubes 2-3/16" to 2-5/16" diameter (55mm to 59mm), including 101D/101F, narrow 211 (RCA), 211/VT-4C (GE), 2A3 (EML), 2A3-Mesh (EML), 274A, 300B "Balloon" (KR), Svetlana 300B, Takatsuki TA-300B, 45 (EML), 46 globe-shape, large bottle 5Y3GB (smaller Mazda uses size 40), 80 globe-shape, "narrow" 805 (RCA, United), 829B, 841, 842, narrow 845 (Amperex, RCA), 845A (Shuguang), 872, GE211, "Big Bottle" GZ37, KT150 (specify size "60" in comments section of order form), SV811-10, ST-17 bulb, T-18 bulb.*
---
HAL-O III-65: With plenty of flex to accomodate a wide range of tube diameters, fits giant tubes from 2-3/8" to 3" diameter (60mm to 76mm), including 101D "tennis ball," 101J, 102B, wide 211 (Sophia, TJ), 274B (EML, Shuguang, Sophia, Valve Art), 2A3-40W (JJ), 2A3 Meshplate (Sophia, TJ), 2A3 Globe Meshplate (Sophia, TJ), 2A3C (Shuguang), 300B (AVVT, E-H, EML, JJ/Tesla, Sovtek, KR, TJ/Full Music, Western Electric), 300B-XLS (EML, KR), Meshplate 300B (EML, Golden Dragon, TJ, Sophia, Shuguang, Valve Art), 300B Globe Meshplate (Sophia, TJ), 32B, Globe 45 (TJ/Full Music/Sophia), 45C, 45N, EML 45-mesh, 50, 520B, EML 5U4G-Mesh & 5Z3-Mesh, 6C33C (wide portion of tube), 803, "wide" 805 (Amperex, Shuguang, TJ), 811A, 813, wide 845 (Sophia, Shuguang metal plate, TJ), 845B (Shuguang), F2A, GM70, PX25, ST-18 bulb, ST-19 bulb, T-20 bulb.*
---
HAL-O III-100: With extra-heavy-gauge stainless steel C-ring and pure titanium isolation pads, HAL-O III-100 thoroughly tames microphonics in super-giant tubes 3-1/2" to 4-5/8" diameter (89mm to 118mm), including 833, KR T-1610 (Kronzilla), and tubes using T-36 bulb.
Customer Reviews
Write a Review
Ask a Question
01/05/2022
Anonymous

United States
I recommend this product
Halo- 11 stabilizer
Works as it should on my 300B WE tubes, Highly recommend
12/24/2021
Norman G.

United States
I recommend this product
Herbie's Audio Lab HAL-O III tube dampers w/ Music Reference RM-10 MKII amplifier
Time tested 75 year old audio fart in dedicated studio = McIntosh, Electrocompaniet, SOTA Star Saphire, Electro-Acoustics CPA-100A JFET Control Preamplifier, NAD M2, Chapmans, Snells & Salks. Close attention to Room Tuning, electricity upgrades, isolation and resonances since mid-90's. The HAL-O IIIs are being used in tandem with Marigo Sound Lab VTS tuning dots on the glass base of the 6 tubes. I began with 2 on the input tubes to experiment, discovering it took about 4 days to fully blossom after a bit of a leading edge etch. Enough improvement to justify 4 more dampers on the output tubes, with similar results. My audio hobby is a process, moving GREAT sound forward. HAL-O's...more dynamic, stage, timbre and more calm...the AAAHHHhhhh factor, as my friend likes to say. Dealing with Robert is icing on the cake. Norm (Pinthrift)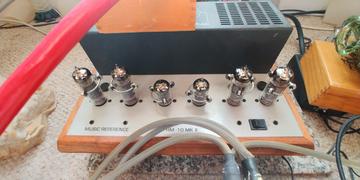 12/21/2021
Anonymous

United States
I recommend this product
Elegantly Engineered
A beautifully made tube damper. Easy to install and remove if you are tube rolling. Sonic impact is subtle and positive in my system.
10/13/2021
Anonymous

United States
I recommend this product
HAL-O III-9 review
I'am an old fan of Herbie's Audio Lab Vacuum Tube Stabilizers. They give total vibration control, and free all the micro-details in sound. Recently got HAL-O III-9 for high temperature tubes (up to 538° C), like in my BAT VK-53 SE preamplifier. Soviet 6H30 SuperTubes are very hot. Their original use was in critical space and military applications within the Soviet Union. They are widely used in High-end audio by BAT, Audio Research and Conrad Johnson. #herbieaudiolab #vibration #tubes #vacuumtubes #balancedaudiotechnology #audioresearch #conradjohnson #highend https://www.instagram.com/p/CU91PibsCnr/?utm_medium=copy_link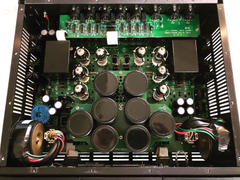 08/03/2021
michael g.

United States
I recommend this product
Halo III delivers!
I started with the basic Herbies damping rings. They made an improvement with my 6922 tubes. I next bought the Rx rings. These were a lot better! Vocals just snapped into place and soundstage got larger. I next bought the Halo-III rings. These were a minor,bit audible improvement over the RX rings. Rings are a good thing when either your tubes or your phono cartridge need to be reigned in. In some instances where the cartridge has a lot on control and grip (Hana) rings still increased focus, but soundstage shrunk. No rings were best solution in this scenario. Overall, as far as damping rings go, Herbies are the best.
02/21/2021
Andrea P.

Italy
11/20/2020
Clayton C.

United States
10/12/2020
Thomas G.

United States
HAL-O III tube stabilizers: Great product and quick delivery
Installed five of the HAL-O III stabilizers in my Audio Note Meishu Tonmeister in two sessions. I saved the two AN4300 tubes for last, and this had the most significant affect. Clearer vocals, improved tonal clarity and focus. Helped reveal a significant difference in two good dacs that had previously sounded very much the same. I would recommend these.
10/11/2020
Ricky W.

United States
Nothing to lose.
To the point. It works. I didn't expect much and I knew I could return them if I heard no difference. Unlike components and other items, there is no break in required for these. The difference was immediate and obvious. Much clearer sound.
09/15/2020
James A.

Australia
Lowers the noise floor on my power amp.
The Herbie's HAL-O III stabilisers on the driver tubes and 50% of the power tubes in my SAP Anniversary OTL cleaned up the soundstage and lowered the noise floor, giving my special power amplifier an added X factor in my revealing system. Surprised and totally delighted with the result.
07/15/2020
Thomas H.

United States
Hal o lll
On my first listen I noticed everything was more THERE....more refined and more clear....voices was much more focused and it wasn't a small difference....i also actually forgot I installed them since I was doin a makeover and cleaning job...also rearranging things....it took me about 4 hrs to clear everything out and then put back into place....i had marked my speakers so to put them back in the same spot....well when I finally settled down I turned the system on to play some diana krall while I put everything back up....so after about 30 min of playing music I finally was relaxed enough to sit down and listen to maybe tweak a speaker in and out of forward or back a bit but when I sat down to listen I was in shock....i was thinking damn this thing sound better than ever but didn't know why, then it hit me....omg could this be these Hal o lll tube stabilizer....so I started to listen serious and was just amazed.....at first I couldn't explain it then I remembered....I have to say so far this is the best tweak I ever had....better than any power cable or speaker/interconnect.....truly shocked and amazed..!!
07/12/2020
Martin J.

Australia
Superb product and Customer Service
My story will focus on Herbie's excellent Customer Service, rather than the quality of the product (the other reviews highlight this already, plus I'm back for more, which speaks for itself). I previously used other tube dampers from Herbie's, the rubber parts of the dampers perished over the years and so I emailed to ask what could be done about it (I wanted to move up to the HAL-O III). Long story short, they let me use my lifetime warranty to move up to this model, minus the cost of my original purchase. Oh yes, I also needed one of the three rings to be made to a custom size (due to tight spacing in my DAC), so they did this free of charge for me. Always a pleasure to deal with and the dampers sound superb - thanks guys!
choosing a selection results in a full page refresh