HAL-O III brings out the best potential in extremely hot-running audio rectifier, power tubes and other sensitive vacuum tubes. HAL‑O III subdues heater-generated vibrations and common microphonics, allowing a truer rectified current and truer amplified signal. A less-fuzzy, cleaner rectified current will typically cause other audio tubes in a component to render the music more clearly. Tube output will be more musical, more energetic and less vague, while maintaining your system's unique nature and character.
With spring-tempered titanium C-ring and annealed titanium isolation pads, HAL‑O III is appropriate for all vacuum tubes, ideal for extremely hot-running tubes, able to handle continuous tube heat in excess of 1000° F (538° C).
---
HAL-O III-7: For 7-pin miniature tubes and all tubes approximately 5/8" to 3/4" diameter (16mm to 19mm), including 0A2, 0B2, 0C2, 1S5, 12AE6, 12FK6, 12FM6, 12X4, 304B, 3A5, 3S4, 403A/B, 408A, 5591, 5651, 5654, 5654SQ/W, 6005, 60FX5, 6186, 6AK5, 6AK5W, 6AL5, 6AN4, 6AQ5, 6AQ6, 6AU6, 6BH6, 6C4, 6ER5, 6FG5, 6FQ5A, 6FS5, 6FY5, 6GK5, 6J1, 6J1P, 6J1P-EV, 6J6, 6N4, 6P17, 6X4, 6Z4, 7543, 9001, DCC90, DL92, EC90, EF95, M8100, OA2, OB2, OC2, SBA6. (Most 7-pin miniature tubes, at about 19mm diameter [3/4"], can also use size 9.)
---
HAL-O III-9: Fits miniature 9-pin tubes and all tubes 3/4" to 7/8" diameter (19mm to 22mm), including 10GV8, 12AT7/ECC81, 12AU7/ECC82, 12AX7/ECC83, 12AY7, 12AZ7, 12B4, 12BH7, 12BY7, 12BZ7, 12DW7, 12FQ7, 2C51, 396, 396A, 417, 5670, 5687, 5751, 5755, 5814, 5842, 5879, 5963, 5965, 6072, 6189, 6201, 6267, 6350, 6385, 6414, 6519P, 6688, 6829, 6840, 6900, 6922, 6955, 6973, 6AN8, 6BL8, 6BM8/ECL82, 6BQ5/EL84, 6BQ7, 6BZ7, 6BW4, 6C19P, 6CA4, 6C45, 6CG7, 6CS7, 6DE7, 6DJ8/ECC88, 6E5P/6E5PI, 6EJ7, 6EU7, 6FQ7, 6GC7, 6GF7A, 6GH8(A), 6GU7, 6GW8, 6H23N, 6H30, 6H6PI, 6N1P, 6N2P, 6N30, 6N30P, 6N3P, 6N6P, 6P1, 6P1P, 6P1P-EV/6II1II-EB, 6S19P, 6S4, 6U8(A), 6V4, 7025, 7044, 7058, 7062, 7119/E182CC, 7189, 7199, 7308, 7788, 7AU7, 7DJ8, 8416, CCa, D3a, E288CC, E80CC, E80F, E88CC, EC86, ECC189, ECC802S, ECC803/S, ECC81, ECC82, ECC83, ECC85, ECC86, ECC99, ECF80, ECL86, EF184, EF800, EF86, EL821, EL84, EL86, EM84, EZ80, EZ81, M8162, PCC88, PCL82, PCL86, SV83, (T-6 1/2 bulb).
---
HAL-O III-25: Fits all tubes approximately 1" to 1-1/16" diameter (23mm to 28mm), including metal 12SC7, metal 12SJ7, 5693, "slim" 5Z4, "slim" 6AU4, metal shell 6F6, 6J5, 6R7, metal 6SC7, metal 6SJ7, "slim" 6SN7, metal 6V6, 6X5.*
---
HAL-O III-30: Fits narrow, straight-sided octal tubes and all tubes approximately 1-1/8" to 1-1/4" diameter (28mm to 32mm), including 0A3A (straight-sided), 1266, 12AX3, 12J5/GT, glass 12SJ7, 12SJ7GT, 12SL7/GT, 12SN7/GT, 3CM, 437A, 4P1L, 5691, 5692, 5852, "slim" 5AR4 (G.E., Sovtek/Reflektor, T-9 bulb), 5Y3, 5Y3GA, 5Y3GT, "wide" 5Z4, 6106, 68HC, 6AH4, 6AU4GT, 6AU4GTA, 6AU5, 6AX4GT, 6AX4GTA, 6AX4GTB, 6BL7, 6C5S, 6CJ3, 6D22S, 6DA4/6DA4A, 6DN7, 6EA7, 6EM6, 6EM7, 6EW7, straight-sided 6F6G, 6FD7, 6FY7, 6H4GT, 6J8P, 6K11, "slim" 6L6, 6N8P, 6N9P, 6R7GT (glass T-9 bulb), 6SF5-GT (glass tube), 6FM7, 6SC7 (glass tube), 6SH7, glass 6SJ7, 6SJ7GT, 6SL7, 6SN7, 6SN7GT-series (6SN7GT, 6SN7GTA, 6SN7GTB, 6SN7WGT, 6SN7WGTA), 6V6, 6V6GT (GE, Sylvania, Tung-Sol), 6X5G/GT/WGT, 6Y6, 7355, 7591, 7868, 7N7, C3G, C3M, EC8020, "narrow" EL34 (E-H, Mullard, SED "Winged C," Siemens, Svetlana, Telefunken, NOS Tesla, Tung-Sol), EL34/6CA7 (Svetlana), EL34B (Tung-Sol), GZ30, GZ34 (Gold Lion), MT8 bulb, OA3A (straight-sided), PL504, T-9 bulb, VT-231.*
---
HAL-O III-35: Fits standard, straight-sided octals and all tubes approximately 1-1/4" to 1-7/16" diameter (32mm to 36mm), including 5AR4 (Amperex, G.E., Japanese "Mullard" copy, Mullard, JJ, Shuguang), "slim" 6CA7 (Tung-Sol), 6H6, standard 6L6/5881, 6L6B, 6L6GT, 6L6WGB, 6SF5 (metal shell), 6V6GT (RCA), 6V6S (JJ), E34LS, ECC33, medium-diameter EL34 (Amperex, Philips, JJ, some Mullards, Valvo), EL34B (Shuguang), GZ34 (GE, JJ, Mullard, Philips, Raytheon, RCA), KT77.*
---
HAL-O III-40: Fits wide and bottle-shaped octals and all tubes approximately 1-1/2" to 1-5/8" diameter (37mm to 43mm), including 0A3 (bulb-shape), 0C3, 0D3, 1626, 19, 27, 30, 37, 3DG4, 520B (near bottom of tube), 5881, "fat-bottle" 5AR4 (Amperex, Mullard, T-11 bulb), 5AW4, straight-sided 5R4-types, straight-sided 5U4 and 5U4-GB (T-12 bulb), 5V3, 5V4, 5Y3GB, 5Y4GA, 5Z4G, 5Z4P, 6080, "slim" 6550, straight-sided 6AS7, 6BY5/G/GA (straight-sided), 6C6, 6C8G, "Big Bottle" or Fat Bottle 6CA7 (E-H, Sylvania, GE, etc.), "Black Bottle" 6CA7-Z, 6F8G, 6HB5, bottle-shape 6J5 (ST-12 bulb), 6JN6, 6L6GC (E-H, Mazda, JJ, GE, RCA, Sylvania, Tungsol), 6L6WGC, 6LF6, 6P3P, Sophia Electric "bottle" 6SL7 and 6SN7, 7027/A, 7236, 76, 84, 8417, 85, CV3798, "Fat Bottle" EL34 (Big Bottle), EL509, G75/2D, straight-sided GZ32, "slim bottle" GZ37, KT90, OA3 (bulb-shape), OC3, OD3, PL509, QS150/40, QS75/40, VR105, VR75/40.*
---
HAL-O III-50: For all tubes approximately 1-3/4" to 2" diameter (44mm to 50mm), including 10Y, 101F, 1610, 2A3 (Brimar, E-H, E-H Gold, RCA, Sovtek, Sylvania, Tung-Sol), 26, 274B (Western Electric), 307A, 35, 350B, 3A/110A, 3A/110B, 3D21A, 421A, 422A, 45 (RCA, Sylvania, TJ, Tung-Sol), 46 bottle-shape, 572-10, 5998, bulb-shaped 5R4-types, 5R4WGA/B (Tung-Sol), bottle-shape 5U4G, 5V4, 5Y3G (Sylvania), 5Z3, 5Z3P/A, 5Z4G (Brimar), standard and wide 6550 (E-H, GE, Philips, RCA, SED, Svetlana, Sylvania, Tung Sol), 6550A, 6550C, bulb-shape 6AS7, 6AS7G, 6B4, 6B4G, 6BY5/G/GA (bottle-shape), 6CA7-Z, 6C33C (upper portion of tube), bulb-shape 6F6G, 6H13, 6H13C, bulb-shape 6L6G, 6N13P, 6Y6G, 71A, 80 bottle-shape, 801/801A, 807, straight-sided 811, 814, C327 ("bulb" 27), CX4, bottle-shaped octals like AZ4, CV181/ECC32, CV181TII (Psvane 6SN7), CV181-Z (Shuguang), CV378 (Mullard), EL156,  EL37, ER300b (Elrog 300b), bottle-shaped GZ32 (Mullard), GZ33, KT120, KT66, KT88 (E-H, EAT, GEC, Gold Lion/Genalex, JJ/Tesla, SED, Shuguang, Sovtek, Svetlana), PX4, ST-14 bulb, ST-16 bulb, U52.*
---
HAL-O III-55: For jumbo-size tubes 2-1/16" to 2-5/16" diameter (51mm to 59mm), including 101D/101F, narrow 211 (RCA), 211/VT-4C (GE), 2A3 (EML), 2A3-Mesh (EML), 274A, 300B "Balloon" (KR), Svetlana 300B, Takatsuki TA-300B, 45 (EML), 46 globe-shape, large bottle 5Y3GB (smaller Mazda uses size 40), 80 globe-shape, "narrow" 805 (RCA, United), 829B, 841, 842, narrow 845 (Amperex, RCA), 845A (Shuguang), 872, GE211, "Big Bottle" GZ37, KT150 (specify size "60" in comments section of order form), SV811-10, ST-17 bulb, T-18 bulb.*
---
HAL-O III-65: With plenty of flex to accomodate a wide range of tube diameters, fits giant tubes from 2-3/8" to 3" diameter (60mm to 76mm), including 101D "tennis ball," 101J, 102B, wide 211 (Sophia, TJ), 274B (EML, Shuguang, Sophia, Valve Art), 2A3-40W (JJ), 2A3 Meshplate (Sophia, TJ), 2A3 Globe Meshplate (Sophia, TJ), 2A3C (Shuguang), 300B (AVVT, E-H, EML, JJ/Tesla, Sovtek, KR, TJ/Full Music, Western Electric), 300B-XLS (EML, KR), Meshplate 300B (EML, Golden Dragon, TJ, Sophia, Shuguang, Valve Art), 300B Globe Meshplate (Sophia, TJ), 32B, Globe 45 (TJ/Full Music/Sophia), 45C, 45N, EML 45-mesh, 50, 520B, EML 5U4G-Mesh & 5Z3-Mesh, 6C33C (wide portion of tube), 803, "wide" 805 (Amperex, Shuguang, TJ), 811A, 813, wide 845 (Sophia, Shuguang metal plate, TJ), 845B (Shuguang), F2A, GM70, PX25, ST-18 bulb, ST-19 bulb, T-20 bulb.*
---
HAL-O III-100: With extra-heavy-gauge stainless steel C-ring and pure titanium isolation pads, HAL-O III-100 thoroughly tames microphonics in super-giant tubes 3-1/2" to 4-5/8" diameter (89mm to 118mm), including 833, KR T-1610 (Kronzilla), and tubes using T-36 bulb.
Customer Reviews
100
reviewers would recommend this product
Write a Review
Ask a Question
03/20/2023
Anonymous

United States
I recommend this product
Products from this website are truly the BEST !!!!!
Purchasing items from this website has been game-changing. All the items that I have purchased speak for themselves. I am glad I made the purchases. I will buy from this company always in the future.
09/23/2022
Han K.

Netherlands
I recommend this product
Hal-o3 stabilizer
Great product. More realistic sound. Better holographics. Use them on my sophia electric 12au7. Amp is a prima luna evo 400i.
08/27/2022
Richard B.

United States
I recommend this product
10 Stars? YES!
10 stars possible? Really quite surprising how much of an improvement over my beloved RX dampers I have on all 26 tubes in my system. I have been using the RX now for many years successfully on every tube type I have tried them on. I recently had to replace my RX for my preamp power tubes due to a different size and decided to try the Halo-III. Wow, what a difference these make. Now, I am having to consider upgrading all my other RX to the Halo-III's when I can. These are simply sublime. A must-try product. Well done, Robert!
07/12/2022
charles r.

United States
I recommend this product
Lamm Ref Power supply tubes.
Worked like a charm. More info, better transparency. But them.
07/03/2022
Jonathon H.

United States
I recommend this product
Nice products
Herbie's tube instruments were recommended by multiple members in my hobby groups/circles over a few months. When I ran into some power tubes that had a ringing issue, I decided it was time to give some type of tube dampening a try. I researched a few and kept coming back to Herbie's website. I liked the concept and no-BS manner in which his products are presented. No outlandish claims to convince you that they are worth more, just what it is, what it's made of, what it does, and the price. So far I have tried to the middle-grade tube instruments in multiple sizes and the Premium tube instruments in one size. They have served their purpose well. If you need devices like this for your amp and you want something that looks professional and works better than it needs to, give them a try. In this case, you get what you pay for. I have my eye on one of his turntable mats next. Happy listening!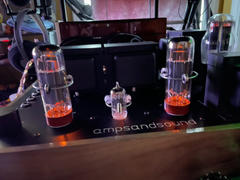 06/30/2022
Anonymous

United States
I recommend this product
REMEDY FOR MICROPHONIC TUBES
So far the HAL-O 111 stabilizer have improved 6H30, 7308 and 6X4A vacuum tubes. Excellent product.
06/23/2022
Anonymous

United States
I recommend this product
Great Products, Great Customer Service!
fast fair friendly transaction! great communication, items were exactly as pictured, quickly shipped at low cost and sound great in multiple A/B listening tests. i would highly recommend and happily use this vendor and their products again!
05/03/2022
Jeff

United States
I recommend this product
Focus Focus Focus
The overall effect these Hal-o tube dampeners have on my Luxman sq-n100 amp is greater focus. Absolutely more clarity to snare drums and better definition to the high-hat. Bass is now almost too much with this 12 watt amp that power my Tekton Design Perfect Set speakers. Outstanding product!
01/05/2022
Anonymous

United States
I recommend this product
Halo- 11 stabilizer
Works as it should on my 300B WE tubes, Highly recommend
12/24/2021
Norman G.

United States
I recommend this product
Herbie's Audio Lab HAL-O III tube dampers w/ Music Reference RM-10 MKII amplifier
Time tested 75 year old audio fart in dedicated studio = McIntosh, Electrocompaniet, SOTA Star Saphire, Electro-Acoustics CPA-100A JFET Control Preamplifier, NAD M2, Chapmans, Snells & Salks. Close attention to Room Tuning, electricity upgrades, isolation and resonances since mid-90's. The HAL-O IIIs are being used in tandem with Marigo Sound Lab VTS tuning dots on the glass base of the 6 tubes. I began with 2 on the input tubes to experiment, discovering it took about 4 days to fully blossom after a bit of a leading edge etch. Enough improvement to justify 4 more dampers on the output tubes, with similar results. My audio hobby is a process, moving GREAT sound forward. HAL-O's...more dynamic, stage, timbre and more calm...the AAAHHHhhhh factor, as my friend likes to say. Dealing with Robert is icing on the cake. Norm (Pinthrift)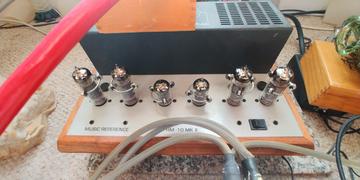 12/21/2021
Anonymous

United States
I recommend this product
Elegantly Engineered
A beautifully made tube damper. Easy to install and remove if you are tube rolling. Sonic impact is subtle and positive in my system.
10/13/2021
Anonymous

United States
I recommend this product
HAL-O III-9 review
I'am an old fan of Herbie's Audio Lab Vacuum Tube Stabilizers. They give total vibration control, and free all the micro-details in sound. Recently got HAL-O III-9 for high temperature tubes (up to 538° C), like in my BAT VK-53 SE preamplifier. Soviet 6H30 SuperTubes are very hot. Their original use was in critical space and military applications within the Soviet Union. They are widely used in High-end audio by BAT, Audio Research and Conrad Johnson. #herbieaudiolab #vibration #tubes #vacuumtubes #balancedaudiotechnology #audioresearch #conradjohnson #highend https://www.instagram.com/p/CU91PibsCnr/?utm_medium=copy_link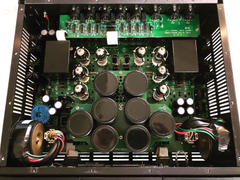 choosing a selection results in a full page refresh