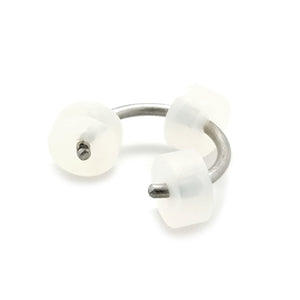 A weak link in just about any component audio system are the links themselves! Some audiophiles try to overcome this weakness by "hotwiring" their interconnects directly to component circuit boards – and still, high frequency micro-vibrations remain a problem.
Now, there is a solution. HAL-O JR. Damping Instruments fit snuggly over most interconnect plugs to neutralize micro-vibrations. The JR. is a miniature version of the highly acclaimed HAL-O Damping Instrument, and has been proven to effectively reduce microphonic distortion in audio components.
Without the HAL-O JR. Damping Instrument, interconnects act as conveyors, transmitting vibrations from one component to another. Like a child's "telephone" made of tin cans interconnected by a wire or string, vibrations at one end are readily transmitted to the other, and vice versa. In most audio systems, interconnects also encounter airborne vibrations which are passed on to the components to create distortions in capacitors, tubes, digital processors and other sensitive electronics. HAL-O JR. and HAL-O Damping Instruments are also effective for damping capacitors and other sensitive electronic parts directly.
---
HAL-O Jr: Fits most RCA plugs, 1/4" headphone plugs, coaxial S/PDIF, I2S, DIN, BNC, USB, and fiber optic interconnect plugs, electronic parts, tonearms, and cables approximately 1/2" (11-15mm) in diameter.
Weight - 2.12 grams.
---
HAL-O Mini Jr: Little sibling to the HAL-O JR., this damping instrument is just the right size for banana plugs, Mini DIN plugs, spade lugs, cables, capacitors, Nuvistors, subminiature vacuum tubes, tonearms, and other devices approximately 1/4" to 7/16" (6.3mm - 11mm).
Weight – 2.06 grams.
Customer Reviews
Write a Review
Ask a Question
I recommend this product
Amazing service
I ordered several items from Spain, I got wrong with one unit but Robert solved the problem fast and efficiently so I am very grateful, nice service. Regarding the quality of his products I apply them to the preamp valves and the interconnects getting a more focused and calmed scene that makes me very happy.
04/13/2022
Mark M.

United States
I recommend this product
Mark Mack
I think Herbies tube dampers and interconnect dampers have made an improvement in my system
03/25/2022
Jim

United Kingdom
I recommend this product
Almost unbelievable!
After fitting some of Herbie's tube dampers with exceptional results I next fitted the HAL-O Jr on my SME 309 tonearm. It brought more of the same improvements as previous Herbie's products (I'm spotting a recurring theme here!), more space, detail, richness, harmonic information and improved bass, among other things. The music is overall more involving and envelopes you, making it a more satisfying, enjoyable and thought-provoking experience. Considering the price of the HAL-O Jr this is almost unbelievable.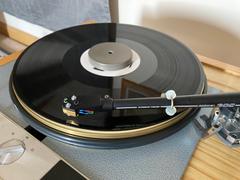 02/11/2022
Anonymous

United States
I recommend this product
HAL-O Jr. Tonearm/IC Damper
Installed on pivot end, just ahead of anti-skating and lifting mechanism of an FR-64S Fidelity Research tone arm. Amazing results giving the tonearm a new level of performance by eliminating inherent tone arm resonance. Clearer vocals and much lower cleaner bass response. Installed a second HAL-O Jr. on the DIN end of phono cable close to the FR-64S tone arm with additional benefits. Good stuff!
09/09/2020
Alexis P.

United States
EXCELLENT QUALITY PRODUCT
I have been using Herbie's products for a very long time, always with excellent results. (And if you are not satisfied, they have an excellent satisfaction guarantee policy!) The IC damper is not different than their other products in terms that they do exactly what they say their products do. I just installed the IC damper on my cables going from my turntable to my phono preamp (on the preamp side). I am using a Lyra Kleos MC feeding a Musical Surroundings Nova Phonomena and i can hear a difference. I still need to determine if it is a difference i like, but again, i know Herbie is there if i don't. However, as with all of the other products i currently use, it has always been a positive experience and they are keepers.
08/08/2020
barry r.

United States
WORKS AMAZING !
I have had them for 6 months before realizing I did not have them put on correctly ( the damping pieces were on odd angles ring was too tight) . I resized the outer metal ring and reinstalled. They make a huge difference on the JMW memorial arm on my VPI Classic table ( just 2 of them placed on front and back of the arm tube at the counterweight ). Highest recommendation !
08/14/2019
donald t.

United States
Cost vs sonic upgrade
These products bring a new meaning to cost vs benefit, they all do what they are meant to do. The grunge busters are by far the best damping items on the market, the halo jr I use as a micro adjuster ( I slide it back and forth for that extra tone, with the added benefit of damping the vibrations in my tone arm.
09/18/2019
rick m.

United States
Great product!
The HAL-O Jr. Tonearm/IC Damper do as advertised. They have reduced some vibrations in my system making it cleaner and a more enjoyable listening experience. A fine product for very little investment!
choosing a selection results in a full page refresh