This firm yet loosely crosslinked material is formulated specifically for blocking mechanical soundwave energies. Wide footprint gets a good grip and provides excellent lateral stability. Each Big Fat Dot supports and isolates from five to more than 200 pounds (90kg).
Big Fat Dot is 1-5/16" (33.3mm) diameter by 1/4" (6.4mm) thick. Perfect for floor-standing speakers, monitors, loudspeaker and stand decoupling, module decoupling, subwoofer, electrostatics, amplifier platforms, equipment racks.
Other sizes:
Small Fat Dot: 3/4" dia. x 1/4" thick
Square Fat Dot: 1.06" square x 1/4" thick
X-Large Fat Dot: 1.5" dia. x 1/4" thick
Giant Fat Dot: 1.75" dia. x 3/8" thick
Big, Small, Square, and X-Large Fat Dots are the same thickness and can be mixed and matched, or stacked, for unique applications. Use only as an interface between broad, flat surfaces (for use between spike and flat surface, use Herbie's Decoupling Glider or Cone/Spike Isolation Bases. For use on carpet, use Herbie's Fat Gliders.)
Fat Dots are not weight-specific. The major factor is the amount of vibration-blocking "beef" involved. Because of the wide variation of vibrational environments Fat Dots may be employed in, specific recommendations are not always possible. Various Fat Dot sizes have a lot of overlap in their capacities, so choosing between them in many cases in not critical. Standard Big Fat Dots, however, have proven to be particularly effective throughout a wide range of vibrational circumstances and loudspeaker types. Square Fat Dots are very popular as an isolation and decoupling interface between monitor speakers and stands (four under each speaker cabinet is recommended).
---
Adhesive: Monitor speakers often sit on small stand plates, causing a potential for a speaker being accidently bumped off the stand. Blue Tac is a common remedy. Though achieving some isolation benefit, this material induces some linear compromises, sonically falling significantly short compared to Fat Dots.
dBNeutralizer Fat Dots are available with a mild pressure-sensitive adhesive applied to one side or both. Though this unique adhesive makes only a moderately strong bond compared to conventional pressure-sensitive adhesives, Dots can be difficult to remove if adhered via both sides because getting adequate leverage can be difficult. When separated, the adhesive layer might remain on the stand or speaker instead of the Fat Dot, though the adhesive layer and Dot can usually be repositioned quite easily. Adhesive on one side only is recommended whenever appropriate.
Sticky Big Fat Dot and Sticky Square Fat Dot are the same as Fat Dots above (6.4mm thick), with the added adhesive not increasing overall thickness significantly.
All Fat Dots are sold individually, not as a set.
Customer Reviews
Write a Review
Ask a Question
09/06/2023
Anonymous

United States
I recommend this product
Herbie's Fat Dots
Very nice footer between my Audio Note speakers and Sound Anchor stands. Way better then blu tak
08/08/2023
Michael M.

United States
I recommend this product
Fat Dots - square
I purchased a set of Fat Dots to place between my B&W 805 D3 speakers and Solid Steel SS-6 stands. The dots are serving their purpose and are the perfect decoupler for this application. Fat Dots and Solid Steel stands are a perfect match. IsoAcoustic pucks are too large for most top plates on stands. I love the low profile look of the dots. They are much better than using blutac.
06/20/2023
Douglas B.

United States
I recommend this product
Herbie's Fat Dots rule the waves
Do not know how they work, do not care, only that they do. Placed under ATC SCM 20 passive monitors mounted on 23" Sound Anchors with T plates. Tighter bass, better attack with vocals and instruments, blacker background. Cost of entry, profoundly cheap. This is a secondary system for my wife: Rega Apollo transport, Mojo Audio Mystique' 3 DAC. Luxman 509X integrated, Puritan PSM power conditioner and appropriate cabling throughout all set on a Quadraspire SVT2 stand.
05/04/2023
Anonymous

United States
I recommend this product
thank you for a great product
I used these on my CD player. what an improvement on the sound. thank you herbs audio lab.
04/26/2023
Stewart M.

United States
I recommend this product
No More Blue Tack
Ordered the Herbie dots to use between my new Harbeth 40 speakers and their platforms. Didn't want to use Blue Tack on new speakers. The dots worked great and they are as advertised.
04/03/2023
Anonymous

United States
I recommend this product
Soft Fat Dots under Optical Drive - Vibration Tamed!
I've purchased HAL products in the recent past and have always been super impressed with the quality, price + performance. When it came time to address the vibration of my Blu-Ray Player/CD Ripper I was drawn to HAL products. The fact that I was considering an audio vibration solution for an optical drive did cause me a bit of hesitation. I'm happy to report that Herbie's Soft Fat Dots took care of the vibration in short order! Plus the drive runs quieter. Great service, plus got the job done! Thank you Robert!
03/17/2023
Anonymous

United States
I recommend this product
Works Great
Tried a couple of different items, Herbie's worked & sounded the best. Put them on Omega HO speakers stacked on RSL subs, cleaned up the sound. Highly recommend buying.
03/10/2023
Anonymous

United States
I recommend this product
Worked well on my floor standing speakers
Four Fat Dots worked really well under my floor standers clearing up the mid bass bloat I was experiencing when they were resting directly on the hardwood floor. They did not, however, work as well under my subwoofer as I lost a fair bit of lower frequency extension.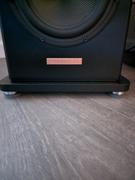 01/23/2023
Anonymous

United States
I recommend this product
Subtle reductions lead to great improvements
Placing this material under your equipment leads to subtle improvements in Drive, time, and atmosphere which help in refining the system's potential to an even greater level. For less than $50 these can help you bring equipment to their furthest potential to the same tune as if you were spending ten to fifteen times as much. Great product HAL!
11/28/2022
Anonymous

Malaysia
I recommend this product
Herbie fat dots
I use these under my ATC standmount speakers. They give a very balanced sound. Very good value for the money.
11/24/2022
Stephen H.

United States
I recommend this product
Herbies Works As Always
Replacing a few different yields the most detail and fullest sound.
09/17/2022
Juan L.

United States
I recommend this product
All That Tight Bass
I have used Herbie's tenderfeet and big fat dots to great effect. Initially it appears as if the bass is leaner, but further listening reveals the bass to actually be tighter. Works great under source components, amps, and speakers.
choosing a selection results in a full page refresh