Herbie's Hush Puckies provide intimate "grounding" of cone and spike vibrations and a superb decoupling/isolation interface on uncarpeted surfaces for light to medium-duty applications. Great for sharply pointed turntable cone feet and small loudspeakers. Micro-vibration blocking dBNeutralizer base is bonded to your choice of three disk metals:
Brass: Traditional audio standard because of easy machinability and low cost.
Stainless Steel: Economical alternative to titanium.
Titanium: The ultimate for sonic neutrality.
1" wide by .25" tall (25.4mm x 6.4mm).
Extra-Thick version available for extra macro-vibration duty like footfall issues. .385" tall.
Customer Reviews
Write a Review
Ask a Question
02/15/2022
Anonymous

United States
I recommend this product
Hush Puckies with Cones for Platform Isolation
I've been a happy long term client of Herbie's Audio Lab (tenderfeet, fat grounding bases, grungebusters, fat dots) but recently replaced some very popular (and more expensive) acoustic isolation devices used between my rack shelf and maple platforms that are placed beneath my tube amps, preamp; and DAC. The overall effect was more than I expected. Cleaner, tighter sound overall. Especially with my big bottle KT150 mono blocks and tube preamp, I thought the isolation really benefited my sound. Based on that, I now have more hush puckies on order for beneath my turntable's platform. Highly recommended products. Especially if you are willing to use them throughout your system - the cumulative effect is pronounced.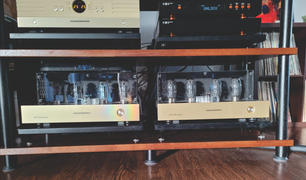 03/20/2021
H E.

United States
Hush Puckies
As usual, the products and customer service from Herbies Audio Lab is 5 stars and first class. They always do a great job and will help customers anyway they can. Herbies is the best!
02/21/2020
Philip V.

United States
Excellent!
I am sharing this information for fellow Music Hall MMF owners who desire to add additional isolation to their table. The MMF separates the motor from the table so you must raise the motor along with the table if you replace the factory provided pucks with these premium pucks. I used titanium cones and hush pucks standard thickness. As you can see from the pictures, the belt actually rides center so this combination works great. With solid maple and the pucks speaker vibration is mitigated.
02/13/2020
David C.

United States
Mitigated Feedback Demons
Placed Herbie's Hush Puckies (stainless) between my turntable's spiked feet (Scheu/Eurolab Premier II) and its maple butcher block shelf. I have limited options for my audio system configuration, so have my audio rack/turntable situated between my speakers. I had been getting some nasty feedback with certain LPs at moderately loud levels, and the Hush Puckies have mitigated most of the issues…not totally, but quite well and more than I had really expected. I'll be trying some additional isolation solutions (e.g., shelf to rack isolation methods), but the Herbie's have been great. (Also use Herbie's sliders between my speaker spikes and carpeted floor…that also had provided some feedback mitigation.)
06/20/2019
Bob P.

United States
I recommend this product
Herbie's Hush Puckies
Excellent quality. I used these under my ClearAudio Emotion turntable w/Satisfy arm and new ClearAudio Aurum Beta S Mark II cartridge. Bass seems a little tighter, beautifully clear mids, and extended highs. Some slight sibilance is gone. Of course, I spent over 3 hours setting up the TT and cartridge. A great addition to my system.
I recommend this product
baby booties and Klipsch rp 500 sa atoms speakers
Simply putting these booties on the speakers made the bass bigger and fuller, the treble and mid range noticeably clearer and the speaker was even a little louder just with the addition of these footers. Terrific change for the better.
choosing a selection results in a full page refresh