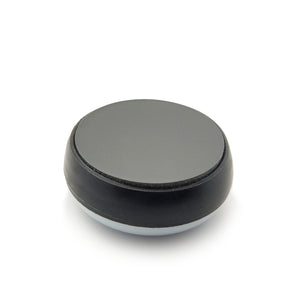 Herbie's dBNeutralizer Fat Dot with Magic Slider provides mobility and superb "Fat Dot" decoupling on almost any kind of smooth floor or thin, unpadded carpet. With extra-thick dBNeutralizer pad and smooth polymer bottom, Little Fat Glider achieves a superior level of sonic perfection. Superb for loudspeakers and cabinets weighing up to about 100 pounds (45kg) on bare or thinly carpeted floor. 
Available with or without pressure-sensitive adhesive.
Recommended to support broad, flat surfaces only; not for use under spikes.
Dimensions: 1-3/8" diameter by 1/2" high.
Customer Reviews
Write a Review
Ask a Question
10/18/2023
Rick S.

New Zealand
I recommend this product
Little Fat Glider
I bought these for my Devore Fidelity O/93 speakers. I often need to move the speakers and I wanted to protect my polished wooden floors. The gliders are perfect for this and would have been a worthwhile purchase, if that was all they did. However, they made a significant improvement to the sound in the room - better definition all round, but especially in the lower frequencies. The gliders exceeded my expectations.
07/22/2023
Richard R.

United States
I recommend this product
Fat Gliders
I stuck the adhesive backed Little Fat Gliders on the bottom of the outrigger feet of my Monitor Audio Silver 500 speakers and W-12 Subwoofer. They are now super easy to move on the hardwood floor and the bass has tightened up by getting rid of a low level resonance off the floor.
04/16/2023
Stevan I.

Australia
01/11/2023
Barry W.

Netherlands
I recommend this product
Little Fat Gliders
I had neglected the importance of controlling vibration in my hifi system. Boy, what a mistake! Over the last few months, I've eliminated vibrations as much as I can with great results. For my speakers, I was using a wooden block but heard about Herbie's Audio Lab and got 2 sets of their Little Fat Gliders. The wooden blocks were OK but I think the LFGs have added a degree of refinement and subtlety over the blocks. Very glad I made the purchase. Herbies seems like a good company to deal with and will order more stuff when the need arises. Great value to over the competition,
11/22/2022
Charles E.

United States
I recommend this product
Little Fat Gliders
Bought a set of 8 to go under walnut slab platforms I built for my Tekton speakers. I needed to be able to slide the speakers out into the room for listening, then back close to the wall when I'm done. These Gliders work like a dream, I can slide the heavy load with one toe. Thanks Herbie's for the great product!
07/18/2022
Rusty N.

United States
I recommend this product
Not sure it's right product, need help, please contact me
I have called and emailed you several times requesting someone contact me. I believe I ordered the wrong product and need to speak with someone about a different one. It's hard to do when no one will contact me. Not sure what the issue is but I'm not impressed with situation. Rusty Nixon
05/22/2022
Sonkpol K.

Thailand
I recommend this product
Superb product
I'm very impressed with the gliders, as they changed nothing in sound of my Harbeth with Tontreger stand, but improved image and soundstage. Really happy with them.
08/29/2021
Anonymous

United States
I recommend this product
Jury Is Still Out!
Just put the Little Fat Gliders in play yesterday under some granite slabs that my speakers now sit on. There has been little to no affect on the sound, negatively or positively. They do make it easier to slide the speakers for positioning. Thanks!
01/24/2021
Stephen C.

United States
These are excellent and the perfect solution to what I was looking for
The title says it all. My new Klipsch reference speakers were too heavy to move in and out of their locations with no room on either side when I needed to get behind them. These dodads did the trick! Now they slide quite easily while remaining firmly on the floor.
01/20/2021
Hank D.

United States
Little Fat Gliders taming my Dynaudios
These little guys are on duty isolating energetic Dyns from my loft flabby wood floor. When I'm finished near field listening, the pads allow speakers to easily slide back up against the wall... faster than Derek Jeter stealing a base. Spikes can be a pain in the neck.
11/21/2020
Michael C.

United States
Perfect solution
Allowed me to easily work thru the best position for my speakers and improved the tightness of the music.
11/16/2020
Richard M.

United States
Little Fat Gliders work well
After having a great experience with decoupling gliders on the stands for my main speakers, I decided to try some little fat gliders on my old NHT 2.3 tower speakers which have been repurposed for our basement. Adding the gliders to some outriggers I fabricated helped remove a low midrange resonance and also provided at least the perception of a clearer top end. And the speakers are much easier to move to optimize placement!
choosing a selection results in a full page refresh