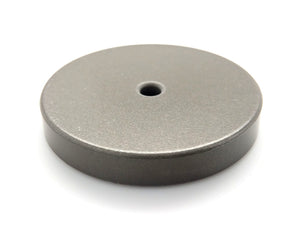 A molded and hand-machined non-magnetic composite of fluorocarbons and metallic particles formulated for use with Herbie's turntable mats to enhance overall turntable performance. Stabilizer is not a clamp or conventional record weight – it's designed to add a moderate amount of virtual mass to the record without clamping.
Recommended for all turntables using a Way Excellent II Turntable Mat, especially turntables with delicate suspension like Linn LP12. For turntables with adjustable suspension, adjust suspension to optimize performance with Stabilizer).
Dimensions (each): 2-7/8" (73mm) diameter, 1/2" (12.7mm) tall. Weight: 163.5 grams (5.8 oz.)
Customer Reviews
Write a Review
Ask a Question
02/18/2022
Steve C.

United States
I recommend this product
Best match for the Herbies Mat
If I have learned anything in my 50+ years of audio it's that everything matters. I've owned a Herbies mat for years and put it in place while running in my recently acquired Zu Audio Denon DL-103R on my Technics SL-1200G. I've collected a number of record weights over the years but none of them seemed like a great match for this set up. So I ordered a SuperSonic Record Stabilizer figuring I'd send it back if I didn't like it. Well, to make a long story short, it was no contest. The SuperSonic Record Stabilizer is the best match I've heard with the Herbies mat. It was well worth the not-very-expensive cost. Will it be the best for you? I can't say since, as noted above, I think everything matters. It will depend on the rest of the system. My gut tells me that it probably will be though. If you like the mat in your system you will probably love the SuperSonic Record Stabilizer. It seems to be the perfect balance. Not too damped, not too loose. This porridge is just right!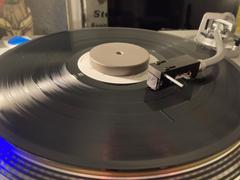 01/11/2022
Rick

United States
I recommend this product
Nice addition
The Supersonic Record Stabilizer seems to help expand the soundstage. I'm using it on a 1987 Denon direct drive turntable. I press it down lightly on the lp to make sure of a good, flat as possible, connection to the platter. Also, can be used with your Dust cover down when playing if you wish!
09/10/2021
Anonymous

United States
I recommend this product
Herbie's SuperSonic Stabilizer Is Great!
Love the pairing of Herbie's Way Excellent ll mat with this complementary Stabilizer. My soundstage seems wider and the music is beautifully defined and rich. Herbie's is the Greatest!
06/15/2021
Chris O.

United States
I recommend this product
Working Well With Other Upgrades
This is part of the overall hop-up of my "rat-rod" Dual 1246, which also includes a Herbie's Way Excellent II Turntable Mat and four Soft Fat Dots. Got this combination of parts to help isolate the reinforced United Audio plinth I swapped-in, to replace the 1246's original plastic plinth. Stuck in the same corner as the speakers, this combination is now holding-up well in what I thought would be an impossible feedback situation.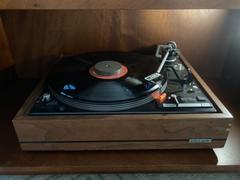 03/06/2021
Greg L.

United States
SuperSonic Record Stabilizer
This stabilizer is perfect for the delicate suspension of my AR-XA turntable.
03/26/2020
Harrie W.

Netherlands
SuperSonic Record Stabilizer and Way Excellent II Turntable Mat
For several weeks I bought the turntable mat with the record puck for my Project Xtention 9. The first few LPs were very disappointing. I actually started to regret my purchase. But, now after a few weeks it sounds really great, depth, stage, the sounds of the instruments sound very real, a lot of peace and a nice penetrating low like with a bass, but also voices such as Lou Rawls or Barry Write. A good LP sounds very good, but a moderate recording also sounds mediocre. You are directly confronted with the quality of the pressing. Apparently the mat and puck needed some playtime. The record puck is a nice addition to the mat. One drawback that nevertheless shocked me was the import duties. Keep in mind. Ultimately, the product is plus shipping plus import duties. This was a shock. Is it worth this? Absolutely.
10/01/2019
Michael W.

United States
Best value
Great products , Fast shipping, a company you can trust. Thank you, Michael Walker
I recommend this product
Good but needs some work..
Brings subtle improvement when used with Herbie's mat even with perfectly flat records. However it is very slippery and you have to make a conscious effort and keep your fingers wet to avoid dropping it. I had to cover its side with sticky Velcro to make it more comfortable to handle. I would also prefer its color to be either pure white or black, if possible at all.
Super Improvement
My setup consists of Technics 1200 TT, Nagaoka MP-200 cart, Conrad Johnson tube pre and power amps and Klipsch speakers, and I only listen to vinyl. I was using a cork mat and clamp and felt my my system sounded a little too bright. The Herbie's puck and mat made a huge improvement: extended low end and super full sounding now. I feel like I'm finally getting that Conrad Johnson "caramel" tube sound. I'm really happy and highly recommend Herbie's puck and mat combo. Thank you.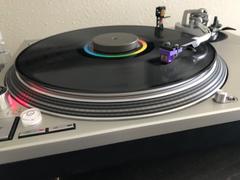 Makes a difference,
More music. Less noise. Blacker background. This is the most recent addition of Herbies products to my system. Like the others, it makes a big difficult for a small price. My only concern is dropping it, since all sides are smooth. I make a point to flip my hand over when moving it
Herbie's Super Sonic Record Stabilizer
I purchased this record stabilizer together with the Way Excellent II 2mm turntable mat to improve the quality of the sound coming from my Rega Planar 3 turntable. The record stabilizer was selected as opposed to a standard metallic weight based on the recommendation on Herbie's Audio Lab's website, as a companion to the Way Excellent II mat. The stabilizer with the mat enabled the music to sound clearer and with a bit deeper bass. Just to ensure that I did hear an improvement, I removed the stabilizer and replayed a track on the record, then I played it again, this time with the stabilizer applied. Yes, with keen listening, I could hear that the music sounded fuller, clearer and with deeper bass. This stabilizer works as designed to help keep the record firmly pressed against the mat and platter, thus reducing opportunities for unwanted vibrations which tend to negatively impact the sound by dampening the quality of the music and introducing noise. I gladly recommend the use of this stabilizer to stabilize records, especially if the records are slightly warped. Otherwise, just use it to improve the overall quality of the sound coming from your turntable. You won't be disappointed.
06/14/2019
Roy B.

United States
I recommend this product
SuperSonic Record Stabilizer
Easy on, easy off, works well with unwarped records (for slightly warped ones I still need my record clamp). It lets the record lay perfectly on the Way Excellent Mat. Thank You.
choosing a selection results in a full page refresh