SOLD INDIVIDUALLY, NOT AS A SET (4 recommended for most components)
Individually molded with a proprietary platinum-cure silicone blend formulated in-house in consultation with Wacker Chemie AG of Germany for maximum micro-vibration absorption. Recommended for audio and video components weighing from 2 to 220 pounds (100kg).
Particularly well-suited for CD/DVD and SACD players, DACs, Blu-ray Players, preamps, power supplies and conditioners, turntables, and power amplifiers. Delivers a full-bodied and quick, highly articulate result with amazing linear extension. Works equally well with solid-state and tube components. Does not "ooze," mar, or discolor surfaces. A thin decoupling grungebuster Dot is adhered to the base of each Tenderfoot (Extra-Firm version has black grungebuster Dot).
Two versions available:
TenderSoft: for components weighing 40 pounds or less (18kg)
Extra-Firm: for components of virtually any weight up to 220 pounds (100kg).
Dimensions: 1.1" x 1.1" x .65" tall. (28mm x 16.5mm). Default recommendation: four Tenderfoot isolation feet per component.
Though scarcely ever really needed, pressure-sensitive adhesive is an available option.
---
Big Tall Tenderfoot: Same as above except molded extra tall to lift components free of tall factory feet. Also great for turntables having severe footfall or other macro-vibrational issues. Superior upgrade for AR, Thorens, and VPI suspension springs.
Dimensions: 1.18" x 1.18" x 1.02" tall. (30mm x 30mm x 25.9mm)
Customer Reviews
Write a Review
Ask a Question
11/26/2023
Murray P.

New Zealand
I recommend this product
Good products, good price
I bought a number of tenderfoots to put under my Antipodes K50 Music Server, Aries Cerat Kassandra DAC and MusikLab M300 Power Amps when I installed the equipment into a new rack. The rack itself has no vibration control, and the footers are supporting the equipment chassis directly bypassing whatever footers that equipment has. I'm pleased with the results. The sound hangs together a bit better than it did - it feels more 'right'. I recommend the Herbies approach as a cost effective way to minimise the impact of air / floor transmitted vibrations on sensitive equipment.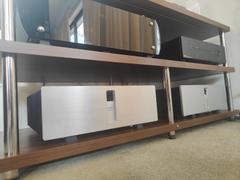 11/07/2023
Hemanth S.

United States
I recommend this product
Now we're done
My latest purchases were to finally isolation the PS Audio Power Plant and my big tube amp. Both had been sitting on their own factory feet, so let's Herbie them to complete the system full of Herbie feet. More relaxed. That's the impression I got almost immediately. Perhaps a veil or fuzziness now removed from isolation the Power Plant and further with the Amp. Tweaks are the last frontier of system optimization and Herbie's footers have consistently performed for me.
10/31/2023
Oddur T.

Iceland
I recommend this product
With Melos 400 power amplifiers
Installing the Tenderfooters under the Melos tube amplifiers gave a noticable improvement in bas tightness and widened the soundstage.
10/20/2023
Anonymous

Canada
I recommend this product
Tenderfeet are the best!
I have been using tenderfeet for many years and have them beneath all of my components. In my system they offer the best performance for the cost, by far, in comparison to other footers I've tried. Love them, *highly* recommended!
10/02/2023
John T.

United States
I recommend this product
Tenderfoot Review
I bought four of these to put between my Panasonic DP-UB820 and Lumagen Pro video processor which tends to run a little hot. The Tenderfoots created just right amount of air space between the two units without sacrificing stability whatsoever. A happy purchase.
09/06/2023
Ken A.

United States
I recommend this product
Herbie's soft Tenderfeet
First it needs to be disclosed that my use of the Tenderfeet are not conventional but are very effective when used as a Vibration Transducer device in conjunction with Walker Audio Resonance control discs. They have proven to be very effective when used on speakers, components, audio rack shelves, power supplies and Acoustic treatments such as ASC Tube traps. Highly recommended in both the intended application under components and as a component of vibration transducers.
08/23/2023
David R.

United Kingdom
I recommend this product
Turntable Isolation
Just received my Tenderfeet order and installed underneath the isolation platform (54mm solid birch ply) I built for my Origin Live Sovereign TT. The platform & TT weigh in at a combined c.37kg so sourcing isolation support options were limited & costly. This is a fantastic addition with an immediate improvement to sound quality - bass extension with clarity and air around instruments are two things that stand out. It's allowing my TT to sound its best in a very musical way. I hoped for some improvement with this purchase, but it has far exceeded my expectations. A superbly cost effective upgrade.
07/03/2023
Ron B.

United States
I recommend this product
Component Foot Dampers
Greet product at a fair price. Great customer service. Quick ship time.
06/28/2023
Fabian

Switzerland
I recommend this product
Novice, doux point gras etc.
Cela fait que quelques mois que j utilise les produits herbies audio. Les novice sous amplis tube, dac, et bientôt conditionneur, les doux point gras sous alimentation lineaire et decoupage, box internet, distributeur reseaux bonn n 8 etc. Après de nombreux essais croisés, j en deduit plusieurs points tres positif. Meilleurs bande passante, homogene, sans projection. Grave tendu, ferme, physique, medium riche en details, aigus filant haut sans agressivité ni brillance. L ammortissement des vibrations est parfaite. Les tenderfeet etant mes preferés. Avec les dozx points gras sous les appareils legé. Travail parfait entre ses deux article. J ai decouplé mon plateau en bois massif lamelé et collé avec les doux pts gras moyen. 12 pcs posé sur un. Meuble stabl av norstone. Verre de 15mm epaisseur. Tous a pris forme sur la musique. Fluide et organique, en gardant l espace holographique et les effets spacial. Franchement je suis heureux avec ses produits herbies. Meilleur choix pour decoupler et armoniser votre systeme a moindre frait. Je viens de commander les stabilisateurs dia 73mm. Pour essais sur mon serveur lecteur zenith innuos et mon dac holo audio spring kte. J ecrirait a se propo dans qq semaine. Merci herbies, j ai plus a chercher d autres systeme.
04/20/2023
Harris M.

United States
I recommend this product
Tenderfeet Firm & Small
Excellent product and long time fan. These give you the performance of products that cost 3 to 5 times more. Excellent isolation, stability, and quality materials. I have sets from years ago, so they absolutely hold up well. Solid recommendation
03/31/2023
Richard H.

Canada
I recommend this product
Tednerfoot feedback
Recently added 4x tenderfoot under my streamer and 4x softdots under my step-up transformer. No audio component should be overlooked. These, along with several other great Herbie's products are well worth the small investment for high performance.
03/20/2023
Anonymous

United States
I recommend this product
more tenderfoot and others
Just wanted to isolate my new monobloc amps, preamp and phono preamp.
choosing a selection results in a full page refresh