SOLD INDIVIDUALLY, NOT AS A SET (4 recommended for most components)
Individually molded with a proprietary platinum-cure silicone blend formulated in-house in consultation with Wacker Chemie AG of Germany for maximum micro-vibration absorption. Recommended for audio and video components weighing from 2 to 220 pounds (100kg).
Particularly well-suited for CD/DVD and SACD players, DACs, Blu-ray Players, preamps, power supplies and conditioners, turntables, and power amplifiers. Delivers a full-bodied and quick, highly articulate result with amazing linear extension. Works equally well with solid-state and tube components. Does not "ooze," mar, or discolor surfaces. A thin decoupling grungebuster Dot is adhered to the base of each Tenderfoot (Extra-Firm version has black grungebuster Dot).
Two versions available:
TenderSoft: for components weighing 40 pounds or less (18kg)
Extra-Firm: for components of virtually any weight up to 220 pounds (100kg).
Dimensions: 1.1" x 1.1" x .65" tall. (28mm x 16.5mm). Default recommendation: four Tenderfoot isolation feet per component.
Though scarcely ever really needed, pressure-sensitive adhesive is an available option.
---
Big Tall Tenderfoot: Same as above except molded extra tall to lift components free of tall factory feet. Also great for turntables having severe footfall or other macro-vibrational issues. Superior upgrade for AR, Thorens, and VPI suspension springs.
Dimensions: 1.18" x 1.18" x 1.02" tall. (30mm x 30mm x 25.9mm)
Customer Reviews
93
reviewers would recommend this product
Write a Review
Ask a Question
I recommend this product
Herbies tenderfoot
Wall mounted turntable picking up vibrations from subs , replaced steel spikes with tenderfeet , they perform well Replaced turntable with a pioneer DJ PLX-1000 With this turntable and tenderfeet i can crank it loud and no problems For home use only
06/23/2022
tim d.

United States
I recommend this product
tender feet
used tenderfeet and bases to eliminate the sprung suspension of my VPI HW 19MKIV Nice upgrade! Cleared up a resonance that was apparent in recordings of keyboards and pianos.
03/31/2022
Phillip B.

United States
I recommend this product
Nice Feet
Works well with all audio gear. They are neither bright nor dark with a fat bass. In fact, my gear did not change the sound that I paid for and enjoyed, unlike spikes and other overbuilt and priced footers that cost hundreds, and all they did is strip the sound of color, body, and overtones just for a clean sound with a loss of natural dynamics. I was surprised to say the least, I brought mine for the fun of it, thinking last call on footers, done with them, well, I'll be buying more.
03/23/2022
Simon v.

Netherlands
I recommend this product
More control, more separation
It was a big suprise to me what some good footers can do. I attached them to my integrated amp and it feels like there is more control and the instruments are a bit more separated from eachother. Awesome tweak!
03/20/2022
BT

United States
I recommend this product
Tenderfeet
I don't have a high end turntable. It's a 1980 Onkyo CP-1280F. The original feet had some foam and springs; they're long gone. So I put a double set of tenderfeet underneath where the footers would go AND put that on a 4" maple block which also has double tenderfeet underneath it! That's 16 tenderfeet underneath the turntable! Do I have footborne vibrations?! NO! Does my music sound great?! Yes!
03/18/2022
Steven R.

United States
I recommend this product
Tenderfeet to the Rescue
One can count on Herbie's products 100%. Why? Because they work 100%. As my system has reached its zenith it's easier and easier to discern what Herbie's products do. One can get great results by purchasing four Tenderfeet and slapping them under a product. I've always heard the results of adding Herbie's products to my system. But as your system improves one can not only hear the improvement that's made by you'll find where each Tenderfoot is placed under a component makes a big difference. Just moving them a few mm at a time is easily heard. If you can't hear what placement position does or heaven forbid what they do on first placement then your system needs done work. It's not the Herbie's product at fault that's for sure. And you know even if you don't like them or hear what they can do they have a 60 day no question return policy. So buy a few as Mom and Dad give them a try. I've used: Tenderfeet (all four varieties, Big Fat Dots, Supersonic Stabilizers, Baby Booties, Tube Dampers, Giant Sliders, and more.
03/09/2022
Anonymous

United States
I recommend this product
Tenderfoot
Easy, quick, effective, quality. Great product!
02/23/2022
Ronald G.

United States
I recommend this product
Multi-Product Review
Herbie's Audio Lab (HAL) products are consistent, effective, easy to use and reasonably priced. Because of the effectiveness of HAL products across a wide weight range of electronics and speakers, I have been able to ditch a dog's breakfast of weight-specific and difficult-to-position isolators, pucks, platforms and feet. I use Square Fat Dots between my monitors and their stands; Regular Threaded Stud Gliders in place of the spikes that came with the stands; Giant Threaded Stud Gliders on my subwoofer; TenderSoft Tenderfeet under each electronic component, and under my power conditioner; and SuperSonic Stabilizers (2) on top of each electronic component. I have added these products little by little — each time hearing better definition and more "there" there. The Square Fat Dots under my KEF LS50s (non-Meta) allowed them to fulfill their promise as reference monitors. And my latest update — the Giant Threaded Stud Gliders under my Totem KIN 8-inch powered subwoofer — replaced far more expensive pucks that, while better than the factory feet, were transferring vibrations to my floor and limiting the performance of the sub in ways I had not recognized until I swapped in the Stud Gliders. Immediately, this small "bass fill" sub became a room-filling monster, but still with musical tightness and tone differentiation. The sub now sounds huge, centered and effortless in a way that makes the KEFs sound completely full-range. In short, my entire system now sounds "like it should," and I've had music on for six to eight hours at a time while working from home. Now all I have to do is sell all my pucks, platforms and "isolators."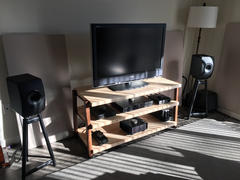 02/15/2022
Allen B.

United States
I recommend this product
Tenderfeet are excellent
I use tenderfeet for most all my audio and power components with the exception of my turntable which sounds best with fat grounding base(s) installed beneath the stock feet. After comparing quite a few isolation products, including well respected and more expensive options, I've settled that tenderfeet offer the cleanest, tightest, most cohesive isolation for my system. I no longer shop around. While the effect on an individual component is sometimes subtle, the overall benefit is easily heard. In my opinion, the best benefit is gained when these (and maybe other HAL products) are used throughout a system. The old adage 'benefits are cumulative' rings true in my experience. And of course, the price point for HAL products makes them highly accessible purchases, even if incremental, to achieve that system wide benefit.
01/30/2022
Rui A.

Portugal
I recommend this product
Subtle but noticeable effect
Below a metal plate that holds the Aries femto (1st Gen) and the LPS, it's noticeable a more detailed sound. In practice, some background sounds, never heard before, are now present. Need more time to have a better understanding of the global effect, but until now very promising.
01/24/2022
Patrick C.

United States
I recommend this product
Tenderfeet Under Turntable Motor
Just the right balance between stability and cushioning. Four tall firm tenderfeet also gave me the right height, so the motor is now level with the plinth.
01/02/2022
Edward B.

United States
I recommend this product
Herbie's Tenderfoot solved transformer hum issue
After completing the restoration of a vintage HH Scott tube amplifier, we heard a very slight transformer hum, which was just vibration and not in the audio signal. We thought of trying the Herbie's Tenderfoot to replace the stock feet of the amplifier and it solved the issue immediately. Herbie's products DO work well!!
choosing a selection results in a full page refresh