SuperSonic Stabilizer is a fluorocarbon and metallic composite for use on top of components to increase overall efficiency of compliant isolation feet like Herbie's Tenderfeet and Iso-Cups. Not a mass-loading weight, components are stabilized similarly to resting your palm gently on top of a component, reducing upper-chassis vibration considerably. A strategic, non-magnetic blend of ferrous and non-ferrous particles helps to weaken and disperse RFI and other electromagnetic interference. A thin decoupling layer of black elastomer on the bottom protects component surfaces and prevents the Stabilizer from sliding.
We recommend two Stabilizers for most audio and video components. They can be stacked together or spaced separately on the component. For smaller components like some DACs, power supplies, and small CD players, one Stabilizer will do. (Additional weight can be placed on your Stabilizer if you like (e.g., lead fishing weights, sand bag, decorative objects); the Stabilizer will decouple your component from the added weight while still transferring more virtual mass to the component.)
SuperSonic Stabilizer is also effective on top of amplifier transformers, on rack shelves, as a base under component feet, and other vibration control applications.
Dimensions (each): 2-7/8" (73mm) diameter, 1/2" (12.7mm) tall. Weight: 167.4 grams (5.9 oz.)
Heat-resistant to 500º F (260º C).
Customer Reviews
Write a Review
Ask a Question
02/03/2021
Daniel L.

United States
SuperSonic Stabilizers with Tenderfeet and Fat Dots
I use SuperSonic Stabilizers in combination with Tenderfeet and Fat Dots. The Tenderfeet and Fat Dots were an immediate and noticeable improvement by themselves. The Stabilizers enhance that improvement. Focus in the sound stage, sounds snaps into place. I'm using them on top of my tube amp, tube phono stage, SACD player, speakers, and sub. Thanks!
01/05/2021
Kim A.

Norway
Very Nice
I first try 3 on my components, 2x Isotek evo3 Sigmas and on my Nad M33 First impressions was whooo!! Now I have 6 pcs on each speaker, 2 on every components, and 6 on my sub, 1 on my router, 1 on my Apple TV 4K. I am in music Nirvana with my system I also use Tenderfeet on every components and ISO Acoustic Gaia on the speakers Very nice products.
08/28/2020
William R.

United States
A great way to damp and isolate components.
I purchase two of the SuperSonic Stabilizers recently and have one from a past purchase. One of these on a component is equivalent to spending about a half hour to an hour taking the component apart and applying damping material to the inside surfaces. Doing both is ideal but most of us don't have an endless amount of time to disassemble every component. The result is a calmer, truer to tone audio system. Just nicer to listen to.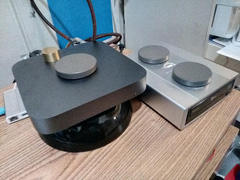 05/15/2020
Julien M.

United States
Incremental improvement
These are not night and day, but together with other Herbie's products Have a cumulative positive effect and help improve the perceived noise floor significantly. The system is "quieter" and music flows a little more effortlessly. I use Herbie's products across my whole system. Start with your DAC or analog source and live down the component chain.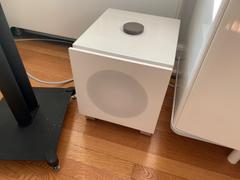 02/13/2020
Paul B.

United States
Find just the right placement and these Stabilizers are golden
I've used the Supersonic Stabilizers to generally good effect for the past few years on various digital source components. Just now, though, I discovered their true worth, just by sliding back the stack a little from dead center (YMMV on correct positioning). Using Miles Davis' In a Silent Way as the audition disc, significant improvement in focus and firmness over what I've heard previously--and John McLaughlin's guitar is now integrated in its rightful place with the other soloists, rather than drifting in and out of the mix as seemed to be the case previously.
02/02/2020
Michael K.

United States
Skeptical, but quite surprised
When it comes to audiophile tweaks, I'm usually skeptical.of lofty claims. I'm not one of the "cables don't matter" crowd, but I've seen and, more importantly, heard elaborate and expensive tweaks that made no difference in sound. This can't be said for the SuperSonic Stabilizer. I ordered two for the top of my new Arcam CD player, and was pleasantly surprised to hear an improved clarity and depth in instruments and voice. I've since ordered another set.
01/24/2020
Andrew G.

United States
great product and company
I purchased this mat, and it's quite the upgrade from the stock one. I accidentally purchased a stabilizer thinking it was another product, and they were quick and helpful with the return. A+
08/09/2019
Iago V.

Spain
UltraSonic Rx Damping
Very good product. The RXs installed in the preamp tubes have contributed to the adjustment of my HiFi system. When installing them it has become clear that the amplifier generated small resonances in medium and treble. The RXs have eliminated a part of them, and as a result the speaker image has increased. Iago Vázquez, Spain.
Excellent item.
Is not my first one. Great on top of REL sub woofers.
Extraordinary, icing on the cake product.
After isolating all my components, i found these to be the icing on the cake, i simply placed the Supersonic stabilisers central on top of all my components without the need to keep moving them around, they brought extraordinary focus and realism to the big 3D picture, all the Herbies products i use have lifted the performance of my system to new heights, i use Townshend Seismic Platforms along with Black Iso Cups and balls, i am now one very very happy camper.
Very good
Contrary to the other review in this page, I have no need to experiment. Maybe i was lucky. I dropped one stabilizer in the top of my small Rel sub woofer, and the bass came to focus. As side result, the general sound become more natural. . Nothing dramatic, but very obvious. For 32.00 dollars, best price-performance tweak ever. It will stay there, in my sub. Tomorrow I will play with my SACD player, and if I find improvement, will buy another stabilizer.
They Work
The combination of Sonic Stabilizers and Tender Feet have made a significant, positive difference atop my various "best-in-class budget audiophile" components. For me, the acid test is what happens when they are removed. To my ears, removing them yields the sonic equivalent of wearing smudged eyeglasses. No other type of "weighting" or mechanical "stabilizing" has given me this quality of result. A great product!
choosing a selection results in a full page refresh