SuperSonic Stabilizer is a fluorocarbon and metallic composite for use on top of components to increase overall efficiency of compliant isolation feet like Herbie's Tenderfeet and Iso-Cups. Not a mass-loading weight, components are stabilized similarly to resting your palm gently on top of a component, reducing upper-chassis vibration considerably. A strategic, non-magnetic blend of ferrous and non-ferrous particles helps to weaken and disperse RFI and other electromagnetic interference. A thin decoupling layer of black elastomer on the bottom protects component surfaces and prevents the Stabilizer from sliding.
We recommend two Stabilizers for most audio and video components. They can be stacked together or spaced separately on the component. For smaller components like some DACs, power supplies, and small CD players, one Stabilizer will do. (Additional weight can be placed on your Stabilizer if you like (e.g., lead fishing weights, sand bag, decorative objects); the Stabilizer will decouple your component from the added weight while still transferring more virtual mass to the component.)
SuperSonic Stabilizer is also effective on top of amplifier transformers, on rack shelves, as a base under component feet, and other vibration control applications.
Dimensions (each): 2-7/8" (73mm) diameter, 1/2" (12.7mm) tall. Weight: 167.4 grams (5.9 oz.)
Heat-resistant to 500º F (260º C).
Customer Reviews
100
reviewers would recommend this product
Write a Review
Ask a Question
07/24/2023
Anonymous

United States
I recommend this product
It works! BUT...
My experience with these stabilizers is that it works pretty well but it depends on the component at hand. For example, differences were pretty negligible with my headphone amp and music streamer. They have a pretty thick chassis so it's likely that contributed to its ineffectiveness. I started to hear improvements when I tried them on my DAC and power regenerator. Those have a fairly thin chassis and opening for air to flow through. So everyone's mileage will vary, it just depends. As for sound, it is a pretty subtle difference but worthwhile for me nonetheless. It provides more focus to the music and cleans up the entire frequency range, allowing things to sound that much more natural. Again, it's not a night and day difference but it all adds up.
11/04/2022
Anonymous

Thailand
I recommend this product
Supersonic Stabilizer
The Stabilizers have reduced vibrations and noises from my PC based streamer; resulted in a more clear and smoother sounding.
10/18/2022
Vince H.

United States
06/16/2022
david s.

United States
I recommend this product
xcellent as usuall
Herbies products are so good.Were else can you customize your gear with reasonably priced quality products like the herbies line...case closed.
12/28/2021
Raymond Q.

Singapore
I recommend this product
SuperSonic Stabilizer
Before buying this SuperSonic Stabilizer, I was very sceptical about it. I was thinking that it might be the weight of it to stabilise. Anyway, I bought 2 of it to try. I had tried to place them on amplifier, dac, streamer, power conditioner and power for dc. All of them have some effect on the sound but on some components, the effects is more. Even the placement on different position on top of the component can cause a difference in the sound. What changes does this SuperSonic Stabilizer cause? Well, I notice that the vocal is more focus and less digital. The vocal will sound more analogue and not diffuse. I was quite amazed of the effect. For my system, the most difference will be on DAC and Streamer. I also notice that I place it on the position of the transformer will have good effect as it seems it will disperse the RFI or other magnetic field around it which it is advertised. After almost a year, I buy another 2 which I intend to stack it or put them another components. After much trying, stacking seems better. The vocal seems even more focus and the clapping seems even more analogue and real! The bass seems more detail and every stroke of the bass hit sound so clear and distinct. I should have buy them earlier. I do not know what is inside the SuperSonic Stabilizer but it really works as what it advertise. What I have learn is once I have a system which sounds good to me, I will use Herbie's Audio item to refine the overall sound which is more effective than changing speakers or components which previously I have been doing it. Now, I no longer crave for better speakers or components. Now, I also learn that vibration on the components or speakers does affect the sounds. I will not buy any speakers with amplifier inside as there is no way to isolate the amplifier from vibration after experiencing Herbie's Audio items. I have more trust in Herbie's Audio items. I bought a lot of other stuffs from them like tube dampers, fat dots, and many other items. You got to try this SuperSonic Stabilizer and you have to buy a pair to start off instead of 1 as the effect is more obvious and you can have more combination like stacking or placing it on different components. Hope this helps. Really got to try it and I am sure you will not regret it.
12/13/2021
Willie M.

United States
I recommend this product
Super sonic stabilizer
Super sonic stabilizer is an amazing product truly a must have. I have three on all of my components along with the tender feet the system is truly transformed. Remarkable
11/09/2021
Anonymous

United States
I recommend this product
Super Sonic Stabilizer works
Hello, I feel that the SSS works to lower noise floor and to dampen the top of the cabinet quite nicely. It is worth the price of admission. I don't know if I would call it a stabilizer. Perhaps a Dampener. There is an article in May's AudioXpress magazine about a device that measures micro vibrations, by George Ntanavaras. Perhaps that could actually demonstrate your SSS's ability to dampen vibrations. Thanks for all your affordable products
10/06/2021
Frank W.

United States
I recommend this product
Supersonic Stabilizers
In conjunction with the tenderfeet, the stabilizers made a noticeable improverment as stated by the majority of reviews. I placed one on top of my cd player direct center over the drawer. The second was centered over the transformer on the power amp. I could immediately here an improvement in transients. The soundstage was already wide and deep but with the stabilizers it also increased in height. Any edginess on the very upper register of piano was completely removed. As others have stated, they add the finishing touch or icing on the cake.
06/09/2021
Alexis P.

United States
I recommend this product
Such a simple looking product with amazing results
The Stabilizer, as all of Herbie's Audio Lab's products does what they say it does. I placed mine on my amp and I can tell it is making a difference, even if it is small on the mid-highs range. With the addition of HF Tuning fuses it helped eliminate a region of glare in my system. I can play around by moving the Stabilizer to different components to tune my system to specific music genres.
02/03/2021
Daniel L.

United States
SuperSonic Stabilizers with Tenderfeet and Fat Dots
I use SuperSonic Stabilizers in combination with Tenderfeet and Fat Dots. The Tenderfeet and Fat Dots were an immediate and noticeable improvement by themselves. The Stabilizers enhance that improvement. Focus in the sound stage, sounds snaps into place. I'm using them on top of my tube amp, tube phono stage, SACD player, speakers, and sub. Thanks!
01/05/2021
Kim A.

Norway
Very Nice
I first try 3 on my components, 2x Isotek evo3 Sigmas and on my Nad M33 First impressions was whooo!! Now I have 6 pcs on each speaker, 2 on every components, and 6 on my sub, 1 on my router, 1 on my Apple TV 4K. I am in music Nirvana with my system I also use Tenderfeet on every components and ISO Acoustic Gaia on the speakers Very nice products.
08/28/2020
William R.

United States
A great way to damp and isolate components.
I purchase two of the SuperSonic Stabilizers recently and have one from a past purchase. One of these on a component is equivalent to spending about a half hour to an hour taking the component apart and applying damping material to the inside surfaces. Doing both is ideal but most of us don't have an endless amount of time to disassemble every component. The result is a calmer, truer to tone audio system. Just nicer to listen to.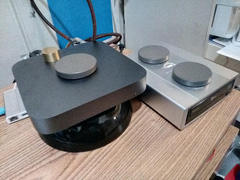 choosing a selection results in a full page refresh