UltraSonic Rx Damping Instruments help to bring out the microdynamic speed, linearity, and detail of your source material. Besides reducing microphonic anomalies, Rx allows a freer musical flow, curing a harsh and stealthy "electronics factor" or "dryness" that ultimately ails even some of the most finely honed audio systems. Your tube gear will achieve a fluid, dynamic musical potential like it was engineered to do.
Mildly spring-tempered titanium C-ring holds three modified PTFE isolation pads. Each pad holds a specially formulated polymer O-ring against the tube glass.
Herbie's most popular damping instrument, UltraSonic Rx is appropriate for all audio vacuum tubes, handling radiant heat up to a constant 482° F (250° C).
---
UltraSonic Rx-Mini: For sub-miniature and Nuvistor tubes approximately 3/8" diameter (9.2mm to 10.4mm), including 5703, 6111, 6112, 6020, 6021, 6088, 6CW4, 6DS4, 6DV4, 6N16B, 7586, 7587, 7895, 8056, 8058, T3 bulb.
---
UltraSonic Rx-7: For 7-pin miniature tubes and all tubes approximately 5/8" to 3/4" diameter (16mm to 19mm), including 0A2, 0B2, 0C2, 1S5, 12AE6, 12FK6, 12FM6, 12X4, 304B, 3A5, 3S4, 403A/B, 408A, 5591, 5651, 5654, 5654SQ/W, 6005, 6186, 6AK5, 6AK5W, 6AL5, 6AN4, 6AQ5, 6AQ6, 6AU6, 6BH6, 6C4, 6ER5, 6FG5, 6FQ5A, 6FS5, 6FY5, 6GK5, 6J1, 6J1P, 6J1P-EV, 6J6, 6N4, 6P17, 6X4, 6Z4, 7543, 9001, DCC90, DL92, EC90, EF95, M8100, OA2, OB2, OC2, SBA6. (Most 7-pin miniature tubes, at about 19mm diameter [3/4"], can also use UltraSonic 9.)
---
UltraSonic Rx-9: Fits miniature 9-pin tubes and all tubes 3/4" to 7/8" diameter (19mm to 22mm), including 10GV8, 12AT7/ECC81, 12AU7/ECC82, 12AV7,12AX7/ECC83, 12AY7, 12AZ7, 12B4, 12BH7, 12BY7, 12BZ7, 12DW7, 12FQ7, 2C51, 396, 396A, 417, 5670, 5687, 5751, 5755, 5814, 5842, 5879, 5963, 5965, 6072, 6189, 6201, 6267, 6350, 6385, 6414, 6519P, 6688, 6829, 6840, 6922, 6955, 6973, 6AN8, 6BL8, 6BM8/ECL82, 6BQ5/EL84, 6AW8, 6AW8A, 6BQ7, 6BZ7, 6BW4, 6C19P, 6CA4, 6C45, 6CG7, 6CS7, 6DE7, 6DJ8/ECC88, 6E5P/6E5PI, 6EJ7, 6EU7, 6FQ7, 6GC7, 6GF7A, 6GH8(A), 6GU7, 6GW8, 6H23N, 6H30, 6H6PI, 6N1P, 6N2, 6N2P, 6N23P, 6N30, 6N30P, 6N3P, 6N6/6H6PI, 6N6P, 6P1, 6P1P, 6P1P-EV/6II1II-EB, 6S19P, 6S4, 6U8(A), 6V4, 7025, 7044, 7058, 7062, 7119/E182CC, 7189, 7199, 7308, 7788, 7AU7, 7DJ8, 8416, CCa, D3a, E288CC, E80CC, E80F, E88CC, EC86, ECC189, ECC40, ECC802S, ECC803/S, ECC81, ECC82, ECC83, ECC85, ECC86, ECC99, ECF80, EL821, ECL86, EF184, EF800, EF86, EL821, EL84, EL86, EM84, EZ80, EZ81, M8162, PCC88, PCL82, PCL86, SV83, (T-6 1/2 bulb).
---
UltraSonic Rx-25: Fits all tubes approximately 1" to 1-1/16" diameter (23mm to 28mm), including metal 12SC7, 5693, "slim" 5Z4, "slim" 6AU4, metal shell 6F6, 6J5, 6R7, metal 6SC7, metal 6SJ7, "slim"6SN7, metal 6V6, 6X5.*
---
UltraSonic Rx-30: Fits narrow, straight-sided octal tubes and all tubes approximately 1-1/8" to 1-1/4" diameter (28mm to 32mm), including 0A3A (straight-sided), 1266, 12AX3, 12J5/GT, glass 12SJ7, 12SJ7GT, 12SL7/GT, 12SN7/GT, 3CM, 437A, 4P1L, 5691, 5692, 5852, "slim" 5AR4 (G.E., Sovtek/Reflektor, T-9 bulb), 5Y3, 5Y3GA, 5Y3GT, "wide" 5Z4, 6106, 68HC, 6AH4, 6AU4GT, 6AU4GTA, 6AU5, 6AX4GT, 6AX4GTA, 6AX4GTB, 6BL7, 6C5S, 6CJ3, 6D22S, 6DA4/6DA4A, 6DN7, 6EA7, 6EM6, 6EM7, 6EW7, straight-sided 6F6G, 6FD7, 6FM7, 6FY7, 6H4GT, 6J8P, 6K11, 6L6, 6N8P, 6N9P, 6R7GT (glass T-9 bulb), 6SC7 (glass tube), 6SF5-GT (glass tube), 6SH7, glass 6SJ7, 6SJ7GT, "slim" 6SL7, 6SN7, 6SN7GT-series (6SN7GT, 6SN7GTA, 6SN7GTB, 6SN7WGT, 6SN7WGTA), 6V6, 6V6GT (GE, Sylvania, Tung-Sol), 6X5G/GT/WGT, 6Y6, 7355, 7591, 7868, 7N7, C3G, C3M, EC8020, "narrow" EL34 (E-H, Mullard, SED "Winged C," Siemens, Svetlana, Telefunken, NOS Tesla, Tung-Sol), EL34/6CA7 (Svetlana), EL34B (Tung-Sol), GZ30, MT8 bulb, PL504, OA3A (straight-sided), T-9 bulb, VT-231.*
---
UltraSonic Rx-35: Fits standard, straight-sided octals and all tubes approximately 1-5/16" to 1-7/16" diameter (33mm to 36mm), including 5AR4 (Amperex, G.E., Japanese "Mullard" copy, Mullard, JJ, Shuguang), "slim" 6CA7 (Tung-Sol), 6H6, standard 6L6/5881, 6L6B, 6L6GT, 6L6WGB, 6SF5 (metal shell), 6V6GT (RCA), 6V6S (JJ), E34LS, ECC33, medium-diameter EL34 (Amperex, Philips, JJ, some Mullards, Valvo), EL34B (Shuguang), GZ34 (GE, JJ, Mullard, Philips, Raytheon, RCA), KT77.*
---
UltraSonic Rx-40: Fits wide and bottle-shaped octals and all tubes approximately 1-1/2" to 1-5/8" diameter (37mm to 44mm), including 0A3 (bottle-shape), 0C3, 0D3, 1626, 19, 27, 30, 37, 3DG4, 520B (near bottom of tube), 5881, "fat-bottle" 5AR4 (Amperex, Mullard, T-11 bulb), 5AW4, straight-sided 5R4-types, straight-sided 5U4 and 5U4-GB (T-12 bulb), 5V3, 5V4, 5Y3GB, 5Y4GA, 5Z4G, 5Z4P, 6080, "slim" 6550, straight-sided 6AS7, 6BY5/G/GA (straight-sided), 6C6, 6C8G, "Big Bottle" 6CA7 (E-H, GE, Sylvania, etc.), "Black Bottle" 6CA7-Z, 6F8G, 6HB5, bottle-shape 6J5 (ST-12 bulb), 6JN6, 6L6GC(E-H, Mazda, JJ, GE, RCA, Sylvania, Tungsol), 6L6WGC, 6LF6, 6P3P, Sophia Electric "bottle" 6SL7 and 6SN7, 7027/A, 7236, 76, 84, 8417, 85, CV3798, "Fat Bottle" EL34 (Big Bottle), EL509, G75/2D, straight-sided GZ32, "slim bottle" GZ37, KT90, OA3 (bottle-shape), OC3, OD3, PL509, QS150/40, VR105, VR75/30, VR75/40.*
---
UltraSonic Rx-50: For all tubes approximately 1-3/4" to 2-1/8" diameter (45mm to 54mm), including 10Y, 101F, 1610, 2A3 (Brimar, E-H, E-H Gold, RCA, Sovtek, Sylvania, Tung-Sol), 26, 274B (Western Electric), 307A, 35, 350B, 3A/110A, 3A/110B, 3D21A, 421A, 422A, 45 (RCA, Sylvania, TJ, Tung-Sol), 46 bottle-shape, 572-10, 5998, bulb-shaped 5R4-types, 5R4WGA/B (Tung-Sol), bottle-shape 5U4G, 5V4, 5Y3G (Sylvania), 5Z3, 5Z3P/A, 5Z4G (Brimar), standard and wide 6550 (E-H, GE, Philips, RCA, SED, Svetlana, Sylvania, Tung Sol), 6550A, 6550C, bulb-shape 6AS7, 6AS7G, 6B4, 6B4G, 6BY5/G/GA (bottle-shape), 6CA7-Z, 6C33C (upper portion of tube), bulb-shape 6F6G, 6H13, 6H13C, bulb-shape 6L6G, 6N13P, 6Y6G, 71A, 80 bottle-shape, 801/801A, 807, straight-sided 811, 814, C327 ("bulb" 27), CX4, bottle-shaped octals like AZ4, CV181/ECC32, CV181TII (Psvane 6SN7), CV181-Z (Shuguang), CV378 (Mullard), EL156, EL37, bottle-shaped GZ32 (Mullard), GZ33, KT120, KT66, KT88 (E-H, EAT, GEC, Gold Lion/Genalex, JJ/Tesla, SED, Shuguang, Sovtek, Svetlana), PX4, ST-14 bulb, ST-16 bulb, U52.*
---
UltraSonic Rx-55: For jumbo-size tubes 2-3/16" to 2-5/16" diameter (55mm to 59mm), including 101D/101F, narrow 211 (RCA), 211/VT-4C (GE), 2A3 (EML), 2A3-Mesh (EML), 274A, 300B "Balloon" (KR), Svetlana 300B, Takatsuki TA-300B, 45 (EML), 46 globe-shape, large bottle 5Y3GB (smaller Mazda uses UltraSonic 40), 80 globe-shape, "narrow" 805 (RCA, United), 829B, 841, 842, narrow 845 (Amperex, RCA), 845A (Shuguang), 872, GE211, "Big Bottle" GZ37, KT150 (specify size "60" in comments section of order form), SV811-10, ST-17 bulb, T-18 bulb.*
---
UltraSonic Rx-65: With plenty of flex to accomodate a wide range of tube diameters, fits giant tubes from 2-3/8" to 3" diameter (60mm to 76mm), including 101D "tennis ball," 101J, 102B, wide 211 (Sophia, TJ), 274B (EML, Shuguang, Sophia, Valve Art), 2A3-40W (JJ), 2A3 Meshplate (Sophia, TJ), 2A3 Globe Meshplate (Sophia, TJ), 2A3C (Shuguang), 300B (AVVT, E-H, EML, JJ/Tesla, Sovtek, KR, TJ/Full Music, Western Electric), 300B-XLS (EML, KR), Meshplate 300B (EML, Golden Dragon, TJ, Sophia, Shuguang, Valve Art), 300B Globe Meshplate (Sophia, TJ), 32B, Globe 45 (TJ/Full Music/Sophia), 45C, 45N, EML 45-mesh, 50, 520B, EML 5U4G-Mesh & 5Z3-Mesh,6C33C (wide portion of tube), 803, "wide" 805 (Amperex, Shuguang, TJ), 811A, 813, wide 845 (Sophia, Shuguang metal plate, TJ), 845B (Shuguang), F2A, GM70, PX25, ST-18 bulb, ST-19 bulb, T-20 bulb.*
---
UltraSonic Rx-100: With extra-heavy-gauge stainless steel C-ring and four isolation pads, UltraSonic 100 dampers thoroughly tame microphonics in super-giant tubes 3-1/2" to 4-5/8" diameter (89mm to 118mm), including 833, KR T-1610 (Kronzilla), and tubes using T-36 bulb.
---
Changing Gear?  UltraSonic Rx isolation pads can be slid off one titanium C-ring and onto another. If you need a different size than what you have, spare C-rings are available, so you don't have to buy a whole damping instrument to change sizes.
Go to UltraSonic Rx Isolation Pad Only
Customer Reviews
Write a Review
Ask a Question
11/07/2020
Alexis P.
United States
These are a must
All of my tubes in my Rogue ST90 Super Magnum and now my Music Hall 25.3 DAC have Herbies Damping Instruments. They really work and improve the sound in all areas that audiophiles look for, but also in musicality. You can't beat these for the price.
10/12/2020
NOGUEIRA J.
Canada
Superb!
Rx damping instrument allowed me to keep the best properties of my tube preamp (Schiit Freya+) and corrected the less desirable bass exageration typical of tubes. Bass notes are much more articulated. Highly recommended!
10/06/2020
Tracy S.
United States
Great solution!
Repeat purchase customer for the UltraSonic Rx Damping Instrument. A simple, yet elegant solution to address negative tube microphonic characteristics.
08/28/2020
Daniel C.
United States
purchased UltraSonic Rx Damping Instrument
Using all halos on my Amare tube DAC with 4 x 6922 tubes....amazing. I just got a nice MHDT Orchid tube DAC, with one 396A WE tube...so I tried a silicon red ring I had lying around...not much difference. I went to Herbies website, with my intent on another Halo...but saw the ultrasonic instrument...so I ordered one.. Well, the ultrasonic on the 396A fit perfect..and the sound was dramatically better...no background tube hiss or slight micro-phonics in distant background...dead quiet...which allows the soundstage to fill in the magic. Highly recommend!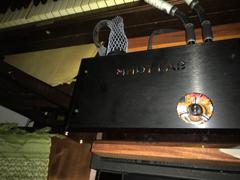 08/09/2020
Michael M.
United States
HERBIE'S RX-9 TUBE DAMPERS
This review is for Herbie's RX-9 Tube Dampers. Rather than put dampers on all tubes, I chose to put a pair on my input tubes in my modified Monarchy NM24 tube dac and a pair on my tubes in the V2 and V7 positions which amplify and buffer the RIAA output in the phono section of my restored Citation 1 preamp. I wanted to hear how much difference my system's presentation would be just treating the source of my digital and my analog. My digital consists of a Mark Levinson 390s as a transport that feeds the modified Monarchy NM24 via the Creative Concept digital cable. The Monarchy NM24 is powered by the Monarchy Regenerator that I set at 120 Hz and 117 v. The tubes in my Monarchy NM24 Dac are 1965 Siemens Halski CCa. My analog consists of a Thorens 126 MKIII that has a modified tonearm with a 103r cartridge which feeds an Allnic AUT-2000 SUT which feeds the phono section of the Citation 1. The tubes in the Citation 1 are 1957 Mullard MC-1s. Herbie's RX-9 Tube Dampers resolve recorded events on a higher level demonstrating a greater revelation of that event. The dampers reveal nuances, coherence, texture, tonality, Prat, etc, which provide a greater sense of reality. The dampers enhance your system's "Musicality" providing an emotional connection that contributes to a heightened level of musical enjoyment. https://www.audiocognoscenti.com/blog
08/01/2020
Glenn K.
United States
They work and are cheap!
Tube dampers and isolation footers are effective in reducing vibrations, resulting in better bass, better imaging and clearer vocals.
07/15/2020
Nigel B.
United States
A quick and simple upgrade
Excellent build quality! The Herbie's Audio Lab UltraSonic Rx Damping Instruments are a quick, inexpensive and simple way to take your tube gear to a new level. Highly recommended.
07/15/2020
Tom Y.
Canada
Happy Tubes
The tube dampers for the KT 77 tubes are doing exactly what I expected. Excellent. Unwanted resonances and harmonics are gone, background is blacker. Sweet. Tubes are happy, I'm happy....thank you Robert. Tom , Smithers, British Columbia
06/24/2020
Roberto R.
United States
Met my expectations.
Fantastic build quality. Placed on my Gold Lions K77s. Just makes everything more solid as far as sound. Fuller, more texture. Super happy with product.
Dampers and Giant Fat Gliders
I figured I could use a couple tweaks to a new system and I've gone with tube DAC, preamp, and power amp. 17 tubes in all. And I used Herbies dampers on them all. Nice change in percussion. Cymbals and snare more realistic. Detail in the music and separation of instruments more pleasant to listen to. Then...I decided to try Herbies Giant Fat Gliders on my speakers and audio table. Now things really opened up! Bass was more dynamic and realistic. Solos stood out from the background music more. Piano and horns were more like live music. Very pleased with both changes. And very affordable. I was going to go with a more well known (and much more expensive) set of speaker isolators, but I'm glad I saved the several hundred dollars because my system took on an immediate and obvious positive change. The great thing about Herbies is you get 60 days try out. Any reason you don't like them? Just send them back. Cant lose. Thanks Herbies.
05/21/2020
Michael G.
United States
Tube dampers
I ordered 2 tube dampers RX version, for my mapletree OD 300 headphone amp. I have Very good highly regarded tubes in this amp. It only requires 2 tubes one driver, one output, neither tube is microphonic, neither tube has any noise whatsoever, after placing the dampers on the treble became smoother but still extended, the Bass, wow it really tightened up became more focused, as did the entire soundstage. These Herbies dampers I now consider A Must have for any tube set up. I've been an audiophile for 30 years plus, These really work, I'm not going to call them an audio Tweak, that doesn't do them Justice, I'm calling them an Audio Essential for tube equipment . Highly Recommended. .
03/01/2020
Rich H.
Canada
Ultrasonic RX dampers on ARC Reference 3, 6h30p-dr output tubes
As good as the NOS Reflector 6h30p-dr tubes are, they blow away any other 6h30 makes I have heard, these dampers put this pre amp in another league. Like some of the other ARC owners reviewing this product, my thoughts are pretty much the same. Especially about the soundstage height, and how real instruments sound, in my case some recordings with stand up bass, they now have more texture, and less boomy sounding, and cymbals sound incredibly real. I also put the Halo 111 on the NOS GE 6550 rectifier tube. All in all they are an excellent product and worth the money. Rich H.
choosing a selection results in a full page refresh