UltraSonic Rx Damping Instruments help to bring out the microdynamic speed, linearity, and detail of your source material. Besides reducing microphonic anomalies, Rx allows a freer musical flow, curing a harsh and stealthy "electronics factor" or "dryness" that ultimately ails even some of the most finely honed audio systems. Your tube gear will achieve a fluid, dynamic musical potential like it was engineered to do.
Mildly spring-tempered titanium C-ring holds three modified PTFE isolation pads. Each pad holds a specially formulated polymer O-ring against the tube glass.
Herbie's most popular damping instrument, UltraSonic Rx is appropriate for all audio vacuum tubes, handling radiant heat up to a constant 482° F (250° C).
---
UltraSonic Rx-Mini: For sub-miniature and Nuvistor tubes approximately 3/8" diameter (9.2mm to 10.4mm), including 5703, 6111, 6112, 6020, 6021, 6088, 6CW4, 6DS4, 6DV4, 6N16B, 7586, 7587, 7895, 8056, 8058, T3 bulb.
---
UltraSonic Rx-7: For 7-pin miniature tubes and all tubes approximately 5/8" to 3/4" diameter (16mm to 19mm), including 0A2, 0B2, 0C2, 1S5, 12AE6, 12FK6, 12FM6, 12X4, 304B, 3A5, 3S4, 403A/B, 408A, 5591, 5651, 5654, 5654SQ/W, 6005, 60FX5, 6186, 6AK5, 6AK5W, 6AL5, 6AN4, 6AQ5, 6AQ6, 6AU6, 6BH6, 6C4, 6ER5, 6FG5, 6FQ5A, 6FS5, 6FY5, 6GK5, 6J1, 6J1P, 6J1P-EV, 6J6, 6N4, 6P17, 6X4, 6Z4, 7543, 9001, DCC90, DL92, EC90, EF95, M8100, OA2, OB2, OC2, SBA6. (Most 7-pin miniature tubes, at about 19mm diameter [3/4"], can also use UltraSonic 9.)
---
UltraSonic Rx-9: Fits miniature 9-pin tubes and all tubes 3/4" to 7/8" diameter (19mm to 22mm), including 10GV8, 12AT7/ECC81, 12AU7/ECC82, 12AV7,12AX7/ECC83, 12AY7, 12AZ7, 12B4, 12BH7, 12BY7, 12BZ7, 12DW7, 12FQ7, 2C51, 396, 396A, 417, 5670, 5687, 5751, 5755, 5814, 5842, 5879, 5963, 5965, 6072, 6189, 6201, 6267, 6350, 6385, 6414, 6519P, 6688, 6829, 6840, 6922, 6955, 6973, 6AN8, 6BL8, 6BM8/ECL82, 6BQ5/EL84, 6AW8, 6AW8A, 6BQ7, 6BZ7, 6BW4, 6C19P, 6CA4, 6C45, 6CG7, 6CS7, 6DE7, 6DJ8/ECC88, 6E5P/6E5PI, 6EJ7, 6EU7, 6FQ7, 6GC7, 6GF7A, 6GH8(A), 6GU7, 6GW8, 6H23N, 6H30, 6H6PI, 6N1P, 6N2, 6N2P, 6N23P, 6N30, 6N30P, 6N3P, 6N6/6H6PI, 6N6P, 6P1, 6P1P, 6P1P-EV/6II1II-EB, 6S19P, 6S4, 6U8(A), 6V4, 7025, 7044, 7058, 7062, 7119/E182CC, 7189, 7199, 7308, 7788, 7AU7, 7DJ8, 8416, CCa, D3a, E288CC, E80CC, E80F, E88CC, EC86, ECC189, ECC40, ECC802S, ECC803/S, ECC81, ECC82, ECC83, ECC85, ECC86, ECC99, ECF80, EL821, ECL86, EF184, EF800, EF86, EL821, EL84, EL86, EM84, EZ80, EZ81, M8162, PCC88, PCL82, PCL86, SV83, (T-6 1/2 bulb).
---
UltraSonic Rx-25: Fits all tubes approximately 1" to 1-1/16" diameter (23mm to 28mm), including metal 12SC7, 5693, "slim" 5Z4, "slim" 6AU4, metal shell 6F6, 6J5, 6R7, metal 6SC7, metal 6SJ7, "slim"6SN7, metal 6V6, 6X5.*
---
UltraSonic Rx-30: Fits narrow, straight-sided octal tubes and all tubes approximately 1-1/8" to 1-1/4" diameter (28mm to 32mm), including 0A3A (straight-sided), 1266, 12AX3, 12J5/GT, glass 12SJ7, 12SJ7GT, 12SL7/GT, 12SN7/GT, 3CM, 437A, 4P1L, 5691, 5692, 5852, "slim" 5AR4 (G.E., Sovtek/Reflektor, T-9 bulb), 5Y3, 5Y3GA, 5Y3GT, "wide" 5Z4, 6106, 68HC, 6AH4, 6AU4GT, 6AU4GTA, 6AU5, 6AX4GT, 6AX4GTA, 6AX4GTB, 6BL7, 6C5S, 6CJ3, 6D22S, 6DA4/6DA4A, 6DN7, 6EA7, 6EM6, 6EM7, 6EW7, straight-sided 6F6G, 6FD7, 6FM7, 6FY7, 6H4GT, 6J8P, 6K11, 6L6, 6N8P, 6N9P, 6R7GT (glass T-9 bulb), 6SC7 (glass tube), 6SF5-GT (glass tube), 6SH7, glass 6SJ7, 6SJ7GT, "slim" 6SL7, 6SN7, 6SN7GT-series (6SN7GT, 6SN7GTA, 6SN7GTB, 6SN7WGT, 6SN7WGTA), 6V6, 6V6GT (GE, Sylvania, Tung-Sol), 6X5G/GT/WGT, 6Y6, 7355, 7591, 7868, 7N7, C3G, C3M, EC8020, "narrow" EL34 (E-H, Mullard, SED "Winged C," Siemens, Svetlana, Telefunken, NOS Tesla, Tung-Sol), EL34/6CA7 (Svetlana), EL34B (Tung-Sol), GZ30, GZ34 (Gold Lion), MT8 bulb, PL504, OA3A (straight-sided), T-9 bulb, VT-231.*
---
UltraSonic Rx-35: Fits standard, straight-sided octals and all tubes approximately 1-1/4" to 1-7/16" diameter (32mm to 36mm), including 5AR4 (Amperex, G.E., Japanese "Mullard" copy, Mullard, JJ, Shuguang), "slim" 6CA7 (Tung-Sol), 6H6, standard 6L6/5881, 6L6B, 6L6GT, 6L6WGB, 6SF5 (metal shell), 6V6GT (RCA), 6V6S (JJ), E34LS, ECC33, medium-diameter EL34 (Amperex, Philips, JJ, some Mullards, Valvo), EL34B (Shuguang), GZ34 (GE, JJ, Mullard, Philips, Raytheon, RCA), KT77.*
---
UltraSonic Rx-40: Fits wide and bottle-shaped octals and all tubes approximately 1-1/2" to 1-5/8" diameter (37mm to 44mm), including 0A3 (bottle-shape), 0C3, 0D3, 1626, 19, 27, 30, 37, 3DG4, 520B (near bottom of tube), 5881, "fat-bottle" 5AR4 (Amperex, Mullard, T-11 bulb), 5AW4, straight-sided 5R4-types, straight-sided 5U4 and 5U4-GB (T-12 bulb), 5V3, 5V4, 5Y3GB, 5Y4GA, 5Z4G, 5Z4P, 6080, "slim" 6550, straight-sided 6AS7, 6BY5/G/GA (straight-sided), 6C6, 6C8G, "Big Bottle" 6CA7 (E-H, GE, Sylvania, etc.), "Black Bottle" 6CA7-Z, 6F8G, 6HB5, bottle-shape 6J5 (ST-12 bulb), 6JN6, 6L6GC(E-H, Mazda, JJ, GE, RCA, Sylvania, Tungsol), 6L6WGC, 6LF6, 6P3P, Sophia Electric "bottle" 6SL7 and 6SN7, 7027/A, 7236, 76, 84, 8417, 85, CV3798, "Fat Bottle" EL34 (Big Bottle), EL509, G75/2D, straight-sided GZ32, "slim bottle" GZ37, KT90, OA3 (bottle-shape), OC3, OD3, PL509, QS150/40, VR105, VR75/30, VR75/40.*
---
UltraSonic Rx-50: For all tubes approximately 1-3/4" to 2-1/8" diameter (45mm to 54mm), including 10Y, 101F, 1610, 2A3 (Brimar, E-H, E-H Gold, RCA, Sovtek, Sylvania, Tung-Sol), 26, 274B (Western Electric), 307A, 35, 350B, 3A/110A, 3A/110B, 3D21A, 421A, 422A, 45 (RCA, Sylvania, TJ, Tung-Sol), 46 bottle-shape, 572-10, 5998, bulb-shaped 5R4-types, 5R4WGA/B (Tung-Sol), bottle-shape 5U4G, 5V4, 5Y3G (Sylvania), 5Z3, 5Z3P/A, 5Z4G (Brimar), standard and wide 6550 (E-H, GE, Philips, RCA, SED, Svetlana, Sylvania, Tung Sol), 6550A, 6550C, bulb-shape 6AS7, 6AS7G, 6B4, 6B4G, 6BY5/G/GA (bottle-shape), 6CA7-Z, 6C33C (upper portion of tube), bulb-shape 6F6G, 6H13, 6H13C, bulb-shape 6L6G, 6N13P, 6Y6G, 71A, 80 bottle-shape, 801/801A, 807, straight-sided 811, 814, C327 ("bulb" 27), CX4, bottle-shaped octals like AZ4, CV181/ECC32, CV181TII (Psvane 6SN7), CV181-Z (Shuguang), CV378 (Mullard), EL156, EL37, ER300b (Elrog 300b), bottle-shaped GZ32 (Mullard), GZ33, KT120, KT66, KT88 (E-H, EAT, GEC, Gold Lion/Genalex, JJ/Tesla, SED, Shuguang, Sovtek, Svetlana), PX4, ST-14 bulb, ST-16 bulb, U52.*
---
UltraSonic Rx-55: For jumbo-size tubes 2-3/16" to 2-5/16" diameter (55mm to 59mm), including 101D/101F, narrow 211 (RCA), 211/VT-4C (GE), 2A3 (EML), 2A3-Mesh (EML), 274A, 300B "Balloon" (KR), Svetlana 300B, Takatsuki TA-300B, 45 (EML), 46 globe-shape, large bottle 5Y3GB (smaller Mazda uses UltraSonic 40), 80 globe-shape, "narrow" 805 (RCA, United), 829B, 841, 842, narrow 845 (Amperex, RCA), 845A (Shuguang), 872, GE211, "Big Bottle" GZ37, KT150 (specify size "60" in comments section of order form), SV811-10, ST-17 bulb, T-18 bulb.*
---
UltraSonic Rx-65: With plenty of flex to accomodate a wide range of tube diameters, fits giant tubes from 2-3/8" to 3" diameter (60mm to 76mm), including 101D "tennis ball," 101J, 102B, wide 211 (Sophia, TJ), 274B (EML, Shuguang, Sophia, Valve Art), 2A3-40W (JJ), 2A3 Meshplate (Sophia, TJ), 2A3 Globe Meshplate (Sophia, TJ), 2A3C (Shuguang), 300B (AVVT, E-H, EML, JJ/Tesla, Sovtek, KR, TJ/Full Music, Western Electric), 300B-XLS (EML, KR), Meshplate 300B (EML, Golden Dragon, TJ, Sophia, Shuguang, Valve Art), 300B Globe Meshplate (Sophia, TJ), 32B, Globe 45 (TJ/Full Music/Sophia), 45C, 45N, EML 45-mesh, 50, 520B, EML 5U4G-Mesh & 5Z3-Mesh,6C33C (wide portion of tube), 803, "wide" 805 (Amperex, Shuguang, TJ), 811A, 813, wide 845 (Sophia, Shuguang metal plate, TJ), 845B (Shuguang), F2A, GM70, PX25, ST-18 bulb, ST-19 bulb, T-20 bulb.*
---
UltraSonic Rx-100: With extra-heavy-gauge stainless steel C-ring and four isolation pads, UltraSonic 100 dampers thoroughly tame microphonics in super-giant tubes 3-1/2" to 4-5/8" diameter (89mm to 118mm), including 833, KR T-1610 (Kronzilla), and tubes using T-36 bulb.
---
Changing Gear?  UltraSonic Rx isolation pads can be slid off one titanium C-ring and onto another. If you need a different size than what you have, spare C-rings are available, so you don't have to buy a whole damping instrument to change sizes.
Go to UltraSonic Rx Isolation Pad Only
Customer Reviews
97
reviewers would recommend this product
Write a Review
Ask a Question
03/06/2023
Anonymous

United States
I recommend this product
Tube Rings
Some people believe tube rings improve sound due to reduced vibration of the tube with the rings. This makes sense. There is little to lose and something to gain, so I tried them. The best description I have to offer is that the sound appeared "clearer" with greater low level detail present. On a scale of 1 to 10 with 1 meaning no difference and 10 being transformational, they are a 5, always to be a part of a reference tube system
02/24/2023
Anonymous

United States
I recommend this product
UltraSonic Rx
Well made. Fast shipping.
02/03/2023
Anonymous

Slovakia
I recommend this product
UltraSonic Rx Damping Instrument
When I bought my amplifier, I received 4 older Hal-O dampers, which greatly improved the sound quality, so there was no question of trying a higher-level damper. And yes, there is a positive change in sound quality. I can only recommend. The amplifier is a Pathos Inpol2.
01/14/2023
Anonymous

United States
I recommend this product
Tube dampeners
I recently bought a set of tube dampeners for the output stage of my power amplifier. The amplifier had the set of dampeners from the manufacturer, when I installed Herbie's dampeners there was a subtle improvement in the imaging, the instruments already existing localization became more defined, spatial notes (3D definitions) became clear and the tonal balance was more delicate, particularly on the higher end spectrum. The sound became more realistic, more palatable. I mention it was a subtle change to point out that the system has to be revealing for these changes to be meaningful, but these changes, some may call them diminishing returns) make the difference between a great system and a system that engages you and keeps you wanting to hear more and more. Thank you for these great products!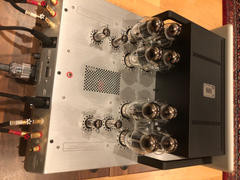 11/28/2022
Anonymous

Hong Kong
I recommend this product
UltraSonic Rx Damping Instrument
Works! Seems to sharpen the sound and make the imaging more focused.
10/18/2022
Bob B.

United States
I recommend this product
Super Premium Game Changing Tube Saver
The Herbie's Audio Lab Rx-9 Tube Dampers are extraordinarily well made and make a real difference to sonic stability and tube life. My Valhalla 2 has a very simple/clean OTL circuit which means tube rolling can really pay off in amazing-for-the-money sound. Using a tube extender to make it easier to tube roll and better manage heat extends the tubs out of the case which increases the benefits of tube dampening. The 2 taller (output) tubes now last much longer before they get noisy. The 2 shorter (input) tubes (which have the most subjective impact on sound quality) seem to keep their rich tube sound longer. With the price of tubes skyrocketing, my Herbie Rx-9 Tube Dampers are an excellent investment!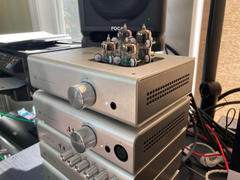 10/16/2022
Anonymous

Slovakia
10/11/2022
Jason M.

United States
09/21/2022
Frank P.

United States
I recommend this product
UltraSonic RX Tube
I ordered these for 2 large mono 845 tube amps. Based on my room setup I have no other option than to place the amps on the floor between the speakers. I was having issues at higher volumes tied to the woofers exciting the tubes. It was suggested I damp the tubes. After installing the Herbie dampers the problem went away completely. The pleasant surprise was unexpected in that I also had an improvement in low level details even at lower volumes. What a treat. My system sounds so much better. I went ahead and just ordered the Rx Damping devices for my preamp tubes. Can't wait to hear what they'll do. I have considered items like this as questionable tweaks and only went ahead because of the issue I was having. Hearing the improvement and considering the minimal investment, I recommend The Herbie's products without reservation. The other nice benefit is that the quality and visual appeal of the product is really nice and doesn't take away from the beauty of the equipment they're used on. Happy Customer!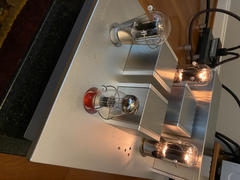 09/10/2022
DAVID L.

Australia
I recommend this product
UltraSonic Rx Damping Instrument
These little beauties have found a happy home under my Tekton Perfect SET 15 speakers. They are providing that solid foundation on a timber floor --and they make it very easy to move the speakers around, sometimes in incremental adjustments. No more tilting the weight on the spikes and hoping for the best. Convenience and functionality.
09/03/2022
David E.

Canada
I recommend this product
Tube halos
Very happy. Have used them for years on all my tubes. Just upgraded my pre amp.
06/09/2022
Anonymous

United States
I recommend this product
Pleasant Surprise
I really did not expect to hear much improvement. I was amazed at the difference! Much better bass definition and imaging.
choosing a selection results in a full page refresh