UltraSonic Rx Damping Instruments help to bring out the microdynamic speed, linearity, and detail of your source material. Besides reducing microphonic anomalies, Rx allows a freer musical flow, curing a harsh and stealthy "electronics factor" or "dryness" that ultimately ails even some of the most finely honed audio systems. Your tube gear will achieve a fluid, dynamic musical potential like it was engineered to do.
Mildly spring-tempered titanium C-ring holds three modified PTFE isolation pads. Each pad holds a specially formulated polymer O-ring against the tube glass.
Herbie's most popular damping instrument, UltraSonic Rx is appropriate for all audio vacuum tubes, handling radiant heat up to a constant 482° F (250° C).
---
UltraSonic Rx-Mini: For sub-miniature and Nuvistor tubes approximately 3/8" diameter (9.2mm to 10.4mm), including 5703, 6111, 6112, 6020, 6021, 6088, 6CW4, 6DS4, 6DV4, 6N16B, 7586, 7587, 7895, 8056, 8058, T3 bulb.
---
UltraSonic Rx-7: For 7-pin miniature tubes and all tubes approximately 5/8" to 3/4" diameter (16mm to 19mm), including 0A2, 0B2, 0C2, 1S5, 12AE6, 12FK6, 12FM6, 12X4, 304B, 3A5, 3S4, 403A/B, 408A, 5591, 5651, 5654, 5654SQ/W, 6005, 60FX5, 6186, 6AK5, 6AK5W, 6AL5, 6AN4, 6AQ5, 6AQ6, 6AU6, 6BH6, 6C4, 6ER5, 6FG5, 6FQ5A, 6FS5, 6FY5, 6GK5, 6J1, 6J1P, 6J1P-EV, 6J6, 6N4, 6P17, 6X4, 6Z4, 7543, 9001, DCC90, DL92, EC90, EF95, M8100, OA2, OB2, OC2, SBA6. (Most 7-pin miniature tubes, at about 19mm diameter [3/4"], can also use UltraSonic 9.)
---
UltraSonic Rx-9: Fits miniature 9-pin tubes and all tubes 3/4" to 7/8" diameter (19mm to 22mm), including 10GV8, 12AT7/ECC81, 12AU7/ECC82, 12AV7,12AX7/ECC83, 12AY7, 12AZ7, 12B4, 12BH7, 12BY7, 12BZ7, 12DW7, 12FQ7, 2C51, 396, 396A, 417, 5670, 5687, 5751, 5755, 5814, 5842, 5879, 5963, 5965, 6072, 6189, 6201, 6267, 6350, 6385, 6414, 6519P, 6688, 6829, 6840, 6922, 6955, 6973, 6AN8, 6BL8, 6BM8/ECL82, 6BQ5/EL84, 6AW8, 6AW8A, 6BQ7, 6BZ7, 6BW4, 6C19P, 6CA4, 6C45, 6CG7, 6CS7, 6DE7, 6DJ8/ECC88, 6E5P/6E5PI, 6EJ7, 6EU7, 6FQ7, 6GC7, 6GF7A, 6GH8(A), 6GU7, 6GW8, 6H23N, 6H30, 6H6PI, 6N1P, 6N2, 6N2P, 6N23P, 6N30, 6N30P, 6N3P, 6N6/6H6PI, 6N6P, 6P1, 6P1P, 6P1P-EV/6II1II-EB, 6S19P, 6S4, 6U8(A), 6V4, 7025, 7044, 7058, 7062, 7119/E182CC, 7189, 7199, 7308, 7788, 7AU7, 7DJ8, 8416, CCa, D3a, E288CC, E80CC, E80F, E88CC, EC86, ECC189, ECC40, ECC802S, ECC803/S, ECC81, ECC82, ECC83, ECC85, ECC86, ECC99, ECF80, EL821, ECL86, EF184, EF800, EF86, EL821, EL84, EL86, EM84, EZ80, EZ81, M8162, PCC88, PCL82, PCL86, SV83, (T-6 1/2 bulb).
---
UltraSonic Rx-25: Fits all tubes approximately 1" to 1-1/16" diameter (23mm to 28mm), including metal 12SC7, 5693, "slim" 5Z4, "slim" 6AU4, metal shell 6F6, 6J5, 6R7, metal 6SC7, metal 6SJ7, "slim"6SN7, metal 6V6, 6X5.*
---
UltraSonic Rx-30: Fits narrow, straight-sided octal tubes and all tubes approximately 1-1/8" to 1-1/4" diameter (28mm to 32mm), including 0A3A (straight-sided), 1266, 12AX3, 12J5/GT, glass 12SJ7, 12SJ7GT, 12SL7/GT, 12SN7/GT, 3CM, 437A, 4P1L, 5691, 5692, 5852, "slim" 5AR4 (G.E., Sovtek/Reflektor, T-9 bulb), 5Y3, 5Y3GA, 5Y3GT, "wide" 5Z4, 6106, 68HC, 6AH4, 6AU4GT, 6AU4GTA, 6AU5, 6AX4GT, 6AX4GTA, 6AX4GTB, 6BL7, 6C5S, 6CJ3, 6D22S, 6DA4/6DA4A, 6DN7, 6EA7, 6EM6, 6EM7, 6EW7, straight-sided 6F6G, 6FD7, 6FM7, 6FY7, 6H4GT, 6J8P, 6K11, 6L6, 6N8P, 6N9P, 6R7GT (glass T-9 bulb), 6SC7 (glass tube), 6SF5-GT (glass tube), 6SH7, glass 6SJ7, 6SJ7GT, "slim" 6SL7, 6SN7, 6SN7GT-series (6SN7GT, 6SN7GTA, 6SN7GTB, 6SN7WGT, 6SN7WGTA), 6V6, 6V6GT (GE, Sylvania, Tung-Sol), 6X5G/GT/WGT, 6Y6, 7355, 7591, 7868, 7N7, C3G, C3M, EC8020, "narrow" EL34 (E-H, Mullard, SED "Winged C," Siemens, Svetlana, Telefunken, NOS Tesla, Tung-Sol), EL34/6CA7 (Svetlana), EL34B (Tung-Sol), GZ30, GZ34 (Gold Lion), MT8 bulb, PL504, OA3A (straight-sided), T-9 bulb, VT-231.*
---
UltraSonic Rx-35: Fits standard, straight-sided octals and all tubes approximately 1-1/4" to 1-7/16" diameter (32mm to 36mm), including 5AR4 (Amperex, G.E., Japanese "Mullard" copy, Mullard, JJ, Shuguang), "slim" 6CA7 (Tung-Sol), 6H6, standard 6L6/5881, 6L6B, 6L6GT, 6L6WGB, 6SF5 (metal shell), 6V6GT (RCA), 6V6S (JJ), E34LS, ECC33, medium-diameter EL34 (Amperex, Philips, JJ, some Mullards, Valvo), EL34B (Shuguang), GZ34 (GE, JJ, Mullard, Philips, Raytheon, RCA), KT77.*
---
UltraSonic Rx-40: Fits wide and bottle-shaped octals and all tubes approximately 1-1/2" to 1-5/8" diameter (37mm to 44mm), including 0A3 (bottle-shape), 0C3, 0D3, 1626, 19, 27, 30, 37, 3DG4, 520B (near bottom of tube), 5881, "fat-bottle" 5AR4 (Amperex, Mullard, T-11 bulb), 5AW4, straight-sided 5R4-types, straight-sided 5U4 and 5U4-GB (T-12 bulb), 5V3, 5V4, 5Y3GB, 5Y4GA, 5Z4G, 5Z4P, 6080, "slim" 6550, straight-sided 6AS7, 6BY5/G/GA (straight-sided), 6C6, 6C8G, "Big Bottle" 6CA7 (E-H, GE, Sylvania, etc.), "Black Bottle" 6CA7-Z, 6F8G, 6HB5, bottle-shape 6J5 (ST-12 bulb), 6JN6, 6L6GC(E-H, Mazda, JJ, GE, RCA, Sylvania, Tungsol), 6L6WGC, 6LF6, 6P3P, Sophia Electric "bottle" 6SL7 and 6SN7, 7027/A, 7236, 76, 84, 8417, 85, CV3798, "Fat Bottle" EL34 (Big Bottle), EL509, G75/2D, straight-sided GZ32, "slim bottle" GZ37, KT90, OA3 (bottle-shape), OC3, OD3, PL509, QS150/40, VR105, VR75/30, VR75/40.*
---
UltraSonic Rx-50: For all tubes approximately 1-3/4" to 2-1/8" diameter (45mm to 54mm), including 10Y, 101F, 1610, 2A3 (Brimar, E-H, E-H Gold, RCA, Sovtek, Sylvania, Tung-Sol), 26, 274B (Western Electric), 307A, 35, 350B, 3A/110A, 3A/110B, 3D21A, 421A, 422A, 45 (RCA, Sylvania, TJ, Tung-Sol), 46 bottle-shape, 572-10, 5998, bulb-shaped 5R4-types, 5R4WGA/B (Tung-Sol), bottle-shape 5U4G, 5V4, 5Y3G (Sylvania), 5Z3, 5Z3P/A, 5Z4G (Brimar), standard and wide 6550 (E-H, GE, Philips, RCA, SED, Svetlana, Sylvania, Tung Sol), 6550A, 6550C, bulb-shape 6AS7, 6AS7G, 6B4, 6B4G, 6BY5/G/GA (bottle-shape), 6CA7-Z, 6C33C (upper portion of tube), bulb-shape 6F6G, 6H13, 6H13C, bulb-shape 6L6G, 6N13P, 6Y6G, 71A, 80 bottle-shape, 801/801A, 807, straight-sided 811, 814, C327 ("bulb" 27), CX4, bottle-shaped octals like AZ4, CV181/ECC32, CV181TII (Psvane 6SN7), CV181-Z (Shuguang), CV378 (Mullard), EL156, EL37, ER300b (Elrog 300b), bottle-shaped GZ32 (Mullard), GZ33, KT120, KT66, KT88 (E-H, EAT, GEC, Gold Lion/Genalex, JJ/Tesla, SED, Shuguang, Sovtek, Svetlana), PX4, ST-14 bulb, ST-16 bulb, U52.*
---
UltraSonic Rx-55: For jumbo-size tubes 2-3/16" to 2-5/16" diameter (55mm to 59mm), including 101D/101F, narrow 211 (RCA), 211/VT-4C (GE), 2A3 (EML), 2A3-Mesh (EML), 274A, 300B "Balloon" (KR), Svetlana 300B, Takatsuki TA-300B, 45 (EML), 46 globe-shape, large bottle 5Y3GB (smaller Mazda uses UltraSonic 40), 80 globe-shape, "narrow" 805 (RCA, United), 829B, 841, 842, narrow 845 (Amperex, RCA), 845A (Shuguang), 872, GE211, "Big Bottle" GZ37, KT150 (specify size "60" in comments section of order form), SV811-10, ST-17 bulb, T-18 bulb.*
---
UltraSonic Rx-65: With plenty of flex to accomodate a wide range of tube diameters, fits giant tubes from 2-3/8" to 3" diameter (60mm to 76mm), including 101D "tennis ball," 101J, 102B, wide 211 (Sophia, TJ), 274B (EML, Shuguang, Sophia, Valve Art), 2A3-40W (JJ), 2A3 Meshplate (Sophia, TJ), 2A3 Globe Meshplate (Sophia, TJ), 2A3C (Shuguang), 300B (AVVT, E-H, EML, JJ/Tesla, Sovtek, KR, TJ/Full Music, Western Electric), 300B-XLS (EML, KR), Meshplate 300B (EML, Golden Dragon, TJ, Sophia, Shuguang, Valve Art), 300B Globe Meshplate (Sophia, TJ), 32B, Globe 45 (TJ/Full Music/Sophia), 45C, 45N, EML 45-mesh, 50, 520B, EML 5U4G-Mesh & 5Z3-Mesh,6C33C (wide portion of tube), 803, "wide" 805 (Amperex, Shuguang, TJ), 811A, 813, wide 845 (Sophia, Shuguang metal plate, TJ), 845B (Shuguang), F2A, GM70, PX25, ST-18 bulb, ST-19 bulb, T-20 bulb.*
---
UltraSonic Rx-100: With extra-heavy-gauge stainless steel C-ring and four isolation pads, UltraSonic 100 dampers thoroughly tame microphonics in super-giant tubes 3-1/2" to 4-5/8" diameter (89mm to 118mm), including 833, KR T-1610 (Kronzilla), and tubes using T-36 bulb.
---
Changing Gear?  UltraSonic Rx isolation pads can be slid off one titanium C-ring and onto another. If you need a different size than what you have, spare C-rings are available, so you don't have to buy a whole damping instrument to change sizes.
Go to UltraSonic Rx Isolation Pad Only
Customer Reviews
Write a Review
Ask a Question
10/19/2023
Anonymous

United States
I recommend this product
Ultrasonic Rx Damping Device
Very pleased with the engineering design and quality of the Ultrasonic Rx Tube/Valve Damping devices. I purchased five for the power supply and the CD/SACD player combination. Andrew W.
09/15/2023
Anonymous

United States
I recommend this product
Ultrasonic Rx tube dampers actually work.
I placed the tube dampers on the rectifier tube and all the tubes in the amplifier. (I couldn't quite get to the preamp tube) . The effects were immediate: less noise, greater separation and sound stage resolution. I'm pretty sure these dampers are in place permanently. Great product.
07/26/2023
Michael G.

United States
I recommend this product
RX -30 Rectifier Tube Damper
The Herbie's line of tube dampers are the only ones that I will use. Besides this rectifier ring, I also use the RX dampers on my phono preamp 6922 tubes. They DO make a difference for the better in most cases. The RX line of dampers are my favorite. Bass is tighter and deeper and there's more focus to the sound. Placement on tube is important or you might lose some of the air in the music. A rectifier is not directly in the audio chain, but the ring definitely makes a positive difference to the sound.
06/02/2023
JING Q.

Singapore
I recommend this product
Probably the best tube dampers in the market
Are they expensive? They are certainly not cheap BUt they works. Was tube rolling my ARC I/50 and trie dvarious dampers I just could get it right. There was always some smearing at the top on loud music. Long story short. Once I installed these. The stock tubes worked perfectly everything is balance. Only thing was I got the RX no $ for the flagship. Maybe someday.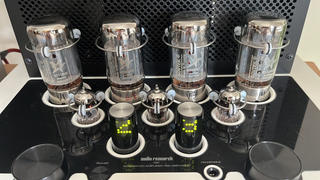 I recommend this product
UltraSonic Rx Damping Instrument
The sound of my audio is more precise.
04/25/2023
Glenn F.

United States
I recommend this product
Consistently good!
Needed another pair for a higher temp tube. Easy as can be, solid and great fit! A++
04/19/2023
Domenico S.

Italy
I recommend this product
Ultra Sonic
I Vostri prodotti ,testati dopo essere stati acquistati ,sul mio impianto hanno dato risultati molto positivi ,hanno svolto il compito di smorzare le vibrazioni delle mie ( ottime) valvole ,senza alcuna variazione sonica . Ottimo prodotto e ottimo progetto .Nota negativa : costano troppo ! ne ho comprati tre ,tra dazi doganali e spedizione ho pagato ben 140 Euro !
04/17/2023
Peter D.

Ireland
I recommend this product
Works fantastic
Exactly what I needed. It works fantastic Thank your
03/27/2023
Anonymous

Australia
I recommend this product
Great Product and great service
Great Product and great service....fast postage
03/27/2023
KR

United States
I recommend this product
RX-9
Absolutely positively one of the best investments for your tubes. Makes it as quiet as its gonna get.
03/16/2023
Greg J.

United States
I recommend this product
Awesome Company with GREAT products !!!!!!
This is a great website. I have found some really great items that have made quite a difference in my audio system. Again, great website.
03/06/2023
Anonymous

United States
I recommend this product
Tube Rings
Some people believe tube rings improve sound due to reduced vibration of the tube with the rings. This makes sense. There is little to lose and something to gain, so I tried them. The best description I have to offer is that the sound appeared "clearer" with greater low level detail present. On a scale of 1 to 10 with 1 meaning no difference and 10 being transformational, they are a 5, always to be a part of a reference tube system
choosing a selection results in a full page refresh